We found over four dozen quality free poetry and prose contests with deadlines between February 15-March 31. View their profiles now! See below for contests we especially recommend for writers at the beginning, intermediate, and advanced stages of their careers, and our selection of calls for submissions. In this issue: the conclusion of "La Belle Dame Sans Merci", illustrated by Julian Peters.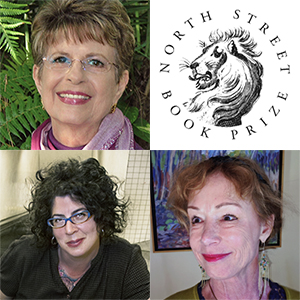 We are thrilled to announce the winners of our first North Street Book Prize competition for self-published books. They are Gloria Taylor Weinberg (top left), Jenna Leigh Evans (bottom left), and Elizabeth Kirschner (bottom right). They each received $1,500, a marketing consultation with Carolyn Howard-Johnson, a $300 credit at BookBaby, and three free ads in this newsletter. We also commend our six Honorable Mentions—Tricia Cerrone, Nat Goodale, Delaney Green, Alec Hastings, Russel Lazega, and Deborah McCarroll, and seven Finalists—Max Gordon, Cheryl Sawyer, G.G. Silverman, Beth Lyon Barnett, Eugene McCreary, Rose Mary Stiffin, and Monica Vickers. Judges Jendi Reiter and Ellen LaFleche reviewed 400 entries. We awarded $6,000 in all. Please read excerpts from our winners' outstanding novels and memoirs, with critiques by the judges and advice for future contestants. See the press release about the winners. Our new competition opens today, with a deadline of June 30. ENTER HERE.
Don't forget! Our no-fee Wergle Flomp Humor Poetry Contest deadline is April 1. Our Tom Howard/John H. Reid Fiction & Essay Contest deadline is April 30.