We're putting energy to work
It has been a busy start to the year for EECA Business. We have sponsored a couple of notable events in the energy space, including the Downstream conference on the 5th and 6th of March which showcased the use of renewable technologies, discussed the changing energy retail landscape and greenhouse gas emissions, among other topics pertinent to those in the energy sector.
We said congratulations to a couple of our clients for their efforts to go carbon neutral this year: The Warehouse announced that it had become carbon neutral, achieving the CarboNZero certification by buying carbon credits, offsetting emissions and planting trees. They are the third major retailer in the world to go carbon neutral. Days later, SkyCity also announced that they were intending to be carbon neutral by the end of the year, with SkyCity Adelaide to follow next year.
In December, we shot two technology demonstration videos to show the public some of the excellent ways businesses are innovating to reduce their emissions and put the environment first (while saving significant costs at the same time). The tech innovations installed at these two businesses were brought to fruition with support from EECA's technology demonstration funding. The government scheme provides co-funding support to early adopters of new and under-utilised technologies if it will deliver energy and/or carbon emissions savings. To find out more about the funding click here.
Did you know that EECA Business has its own video channel full of advice and inspiration for businesses wanting to reduce energy waste? If you haven't already subscribed, check it out and subscribe here.
Please let us know if you have any suggestions or feedback on our newsletters, we like to hear your views!
Harnessing Methane for Power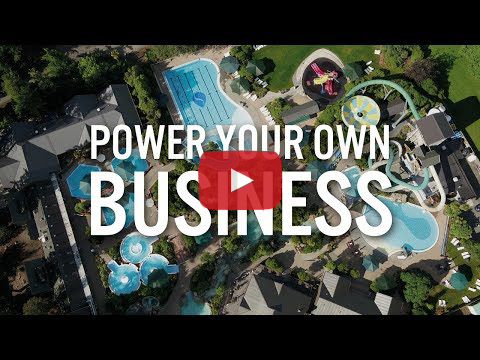 One of the biggest tourist attractions in New Zealand – Hanmer Springs Thermal Pools & Spa in Canterbury – is cutting harmful greenhouse gas emissions by up to 100,000 cubic metres a year. The business, with support from EECA's technology demonstration funding, has installed a micro turbine to convert waste methane gas into power. The gas is released in the process of extracting thermal water from 200 metres under the ground, and is now being captured and run through the generator. The generator is the first of its kind to be used in New Zealand, and harnessing the methane for electricity sees the business holding the world's smallest petroleum mining permit.
The innovation is expected to slash the amount of the gas being released into the atmosphere by an amount equivalent to 1,385 tons of carbon dioxide a year.
And by using the electricity generated by the turbine to power the business sustainably, the pools – which attract more than half a million visitors a year - are reaping significant savings as well. Already electricity costs have reduced by 14.5 per cent, a net saving of $35,000 per year).
Laundering with Ozone saves up to 95% on Hot Water Bill
Tendercare laundry in Rotorua has installed a laundry ozone gas generator, which replicates the conditions of a storm, introducing ozone into the water under pressure. Thanks to this technology the business is now saving 30% on their water bill, and up to 95% on their hot water bill – while actually increasing their loads of commercial laundry.
EECA's energy graduate helping KiwiRail to save energy
Malia Vehikite is working hard to reduce energy waste and significant carbon emissions in the sustainability and strategy team at KiwiRail, as part of the Energy Efficiency and Conservation Authority's (EECA) graduate program. KiwiRail is aiming to cut its emissions in line with the Paris Agreement by 2030, and ultimately to go Carbon Zero by 2050. From projects that have been implemented with Malia's help, and before she started with KiwiRail, they estimate a yearly savings of 18,761 tonnes of carbon dioxide emission from next year. Through EECA's technology demonstration funding, they have innovated to reduce energy wastage, as well as other initiatives, such as upgrading facilities lightings to LEDs, which have also resulted in significant energy and costs savings.
Synlait switches on first Large-Scale Electrode Boiler
Synlait has just announced that New Zealand's first large-scale electrode boiler is now operational at their Dunsandel site in Canterbury. Supported by EECA's Tech Demo funding, it provides renewable process heat to the advanced dairy liquids facility. The electrode boiler is 99% efficient, up to 30% more efficient than coal burners. Over the next decade they estimate it will save the equivalent emissions from 9,600 homes or 5,300 cars.
Deloitte Energy Excellence Awards open for entries
EECA Business is proud to support the Deloitte Energy Excellence Awards again in 2019, by sponsoring the Large Energy User Initiative of the Year Award.
The award is open to New Zealand's large energy users (e.g. industrial and corporate organisations that use large volumes of energy (electricity, gas, coal, transport fuel etc.) at a single site or across multiple sites. So, benchmark yourself against the best and demonstrate your outstanding energy-related initiative undertaken over the last two years (started, completed or ongoing) to be in the running.
The Deloitte Energy Excellence Awards provide an annual opportunity to recognise excellence and achievement across the energy sector. The 2019 Deloitte Energy Excellence Awards will be held on Wednesday 21 August, at Cordis Auckland and it will be the awards' tenth anniversary.
Energy and Carbon Manager Professional Training
Energy and Carbon Manager Professional is a dynamic and continuously updated programme to equip participants with the skills and knowledge to develop and lead significant energy management programmes. Developed in consultation with business and energy specialists and key Government agencies, the course utilises real energy use and carbon emissions data from the participant's organisation meaning that the successful completion of the course provides immediate and tangible business benefits.
This course has been designed for a wide range of organisations, industries and people and is relevant both for those in large organisations and consultants who deliver specialised carbon and energy services to their clients. The course ensures carbon / energy / sustainability / facility / sustainability / manufacturing / industrial process managers can lead their organisation's response to Government, international policy and market demand to mitigate carbon emissions and manage climate change risk.
Course Dates: 11-14 June 2019 (Tuesday-Friday)
Training Venue: Karstens, Level 4, 205 Queen Street, Auckland
Meridian switching their fleet to electric - and sharing the results
The Climate Leaders Coalition recently published a case study focusing on Meridian's journey to electrify its fleet - a useful document for any business considering going electric.
The Coalition promotes business leadership and collective action on climate change. Several of EECA's carbon-conscious client businesses have signed up.
Meridian's fleet of passenger vehicles is currently more than 50% pure electric. The company says on average, it is saving around $5000 a year on maintenance and fuel costs for each vehicle.