Vol 22 No 24 23 March 2017
Senior Trophy Triumph
What a fine victory for The High School Senior 1 team who won the Leinster Hockey Association Senior Trophy yesterday defeating Mount Temple Comprehensive School 2-0. Despite the pouring rain and a punishing north-east wind, our players skillfully pushed two goals home and prevented the opposition from scoring throughout. This was a tremendous end-of-season game for our Senior 1 hockey squad and for our Form 6 boys it was especially poignant. After 6 years of early morning starts and late night training sessions, in darkness and all weathers, our players have been relentless in their dedication to this sport and to The High School. We offer each of them our thanks for their commitment. We know that they take away with them not only numerous trophies and medals but also countless memories and life-long friendships. Well done everyone!
Junior Drama
This year's Junior Play is "The Further Adventures of Nick Tickle, Fairytale Detective". It is full of fun and mischief with laughs guaranteed. Come along on Thursday 30 March at 7.30 pm. Pupils €5 and adults €7.
The High School Past
Pupils' Annual Dinner
Calling on past pupils, parents, and friends of the school! The High School and Diocesan Past Pupils' Annual Dinner takes place at Old Wesley Rugby Football Club on Friday 5 May at 7.00 pm. We would like to encourage you to come along to what will be a fantastic evening with great food, and a chance to meet old friends and more importantly to meet new ones.
The dinner is open to everyone associated with The High School. It is not necessary to be a past pupil: we would like parents and friends of the School to join us on the night too. The dinner is a black tie event and tickets cost €50 per person or €25 to recent school leavers. Please email jgillis@techcom.ie or check the HSD PPU website www.hsdppu.com for further details.
Habitat Swim Success
Congratulations to our High School swim team who participated in a marathon event last Tuesday to raise funds for Habitat for Humanity. Junior pupils swam a kilometre while seniors swam a mile. Well done to everyone involved!
SCT Leinster Plate Final
The High School SCT will compete in the final of the Vinnie Murray Plate competition against Presentation College Bray at Donnybrook Stadium on Friday 24 March at 1.30 pm. We enclose video footage from the day that these fine players won the League at the same venue earlier this season. We wish our rugby seniors every success in the Plate final.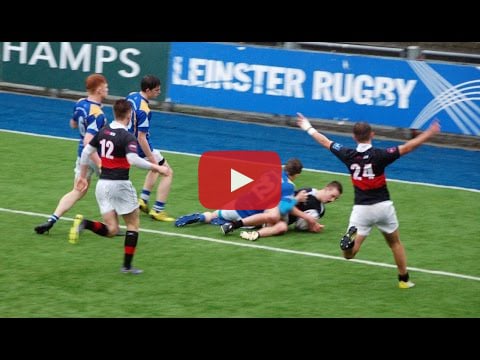 Ad Astra Scholarship
Acclaimed violinist and past pupil Luke Kehoe Roche (HSD, 2010-2016) along with Dr Whitford attended the Ad Astra Academy Awards Ceremony held recently in O'Reilly Hall, University College Dublin. Luke is one of a number of High School pupils who have been awarded the Ad Astra scholarship in recent years.
Ad Astra scholars benefit from mentoring, a range of tailored supports and a substantial scholarship which can be used to offset the cost of fees, accommodation, or used as a bursary. We should like to congratulate Luke on his success and wish him every success in his engineering studies at UCD. Click on the link below to enjoy some of Luke's wonderful playing, recorded at The High School Summer Concert last year.
An Honour for Annalise
It was wonderful to see High School past pupil Annalise Murphy (HSD, 2002-08) and her mum Cathy lead the St Patrick's Day Parade down O'Connnell Street in Dublin in her role as Grand Marshall. We are certainly very proud of our much admired past pupil and all that she continues to achieve.
Junior A Plate Final
We wish our Junior A Girls' Hockey team all the best as they face Rathdown School in the Plate final today. The match begins at 12.30 pm. A full match report will feature in our next newsletter. Good luck girls!
Vaccination Reminder
The follow-up vaccinations for Form 1 are scheduled for Monday and Tuesday, 27 and 28 March.
29 Mar 17 - Junior Play - open dress rehearsal, 2.30 pm

30 Mar 17 - Junior Play, 7.30 pm
5 Apr 17 - Diagnostic assessment - incoming Form 1 pupils, 3.00-5.00 pm

7 Apr 17 - Spring term ends, 11.55 am