Increase in gastro outbreak in child care & mosquito bites and Ross River virus
Read the latest health advisories

General practices, are you prepared for potential COVID-19 outbreaks over summer?
Come to our webinar on 9 December for info on pathways and more

The results are in! Telehealth: Phone or video?
Thank you to those who participated in last week's survey

Improved access to mental health services
Patients can call 1800 595 212 to access free support

Practice managers & admin staff, this My Health Record webinar is for you
Ensure your practice is meeting the compliance requirements for MyHR

Webinar: Ethical considerations in cancer care
Join the discussion with Southern Melbourne Integrated Cancer Service on 7 Dec

The impact of COVID-19 on Childhood Vaccinations
Read the latest report from NCIRS

National survey of primary health care nurses
Go in the running to win a $1,000 Red Balloon experience voucher

Professional development and events
A list of upcoming education events
Warning on increase in gastro outbreaks in childcare
Parents and carers are urged to keep young children at home if they are sick amid a rise in outbreaks of viral gastroenteritis in interstate and Victorian childcare centres.
New South Wales, Queensland and Western Australia have seen significantly higher numbers of reported outbreaks than usual. Outbreaks in Victoria are also increasing as childcare centres return to normal operation.
Viral gastroenteritis is highly infectious. Symptoms include nausea, vomiting, diarrhoea, fever, abdominal pain, headache and muscle aches. They can take up to three days to develop and usually last between one or two days, sometimes longer.
Read the full advisory here.
Health warning on mosquitoes and Ross River virus
Residents and visitors to Victoria are being warned to protect themselves against mosquito-borne diseases.
Ross River virus has been detected in mosquitoes in the Gippsland Lakes area around Ninety Mile Beach.
The best protection from these diseases is to avoid mosquito bites with mosquito repellents; wearing long, loose fitting clothing when outside; and ensuring accommodation are properly fitted with mosquito nettings or screens.
These viruses can cause symptoms including joint pain and stiffness, headache, fever, rash and fatigue.
Doctors should consider the possibility of mosquito-borne disease in patients presenting with a compatible illness, especially after travel to rural or regional Victoria.
A blood test early in the illness can indicate potential acute infection and should be repeated two weeks later for confirmation.
A range of information relating to protecting against mosquito bites is available on the Beat the Bite campaign page on the Better Health Channel.
Read the full advisory here
General practices, are you prepared for potential COVID-19 outbreaks over summer?
Coming into the holiday period, it's important for your staff to know what to do in case of an outbreak of COVID-19 - especially if you have less staff, or different staff rostered over summer.
We're here to help!
Please save the date for this special 45min webinar over lunchtime to help you prepare.
There'll be more details to come, but we'll cover COVID-19 positive pathways (including Alfred, Monash and Peninsula hospital response), a handy checklist for your practice, and the opportunity to ask questions.
When: Wednesday, 9 December, 12.30 pm - 1.15 pm
Cost: Free
Register here.
The results are in!
Telehealth: Phone or video?
Thank you to the 140 people who responded to our recent Telehealth general practice survey!
Results at a glance:
62% of respondents indicated using telephone only, as it was the easiest method technically for both you and your patients.
38% of respondents indicated using a mix of phone and video.
56% of respondents indicated that patient preference was the biggest factor influencing your decision about phone vs. video.
Don't forget, SEMPHN can provide the VideoCall platform for free if you are billing the MBS telehealth items. VideoCall makes the workflow easier, using a link that the patient clicks on to enter a virtual 'waiting room'.
If you've read the HealthVitalIT guidance on remote consultations and your clinical team wants to use video consultations, get in touch with our team, who can explain more about it and can register your clinic: 03 8514 4460 or digitalhealth@semphn.org.au.
Improved access to mental health services
HeadtoHelp provides advice and a welcoming place for everyone who needs mental health and wellbeing support. It is available to all Victorians of all ages, whether their mental health issues are pre-existing or have emerged during the coronavirus pandemic.
HeadtoHelp is that extra help GPs may need right now to manage the increased number of people who are needing mental health support.
It provides care navigation, access to a multidisciplinary mental health team at the hubs and a team-care approach, to complement and supplement GP care.
The HeadtoHelp hubs are now open at 15 locations across Victoria.
The three hubs in our region are:
Berwick Healthcare, 76 Clyde Road, Berwick, Victoria, 3806
Young Street Medical and Dental, 89/97 Young Street, Frankston, Victoria, 3199
Officer Medical Centre 4 Cardinia Road, Officer, Victoria, 3809.
Services are also available via telehealth.
For more information visit www.headtohelp.org.au or call 1800 595 212.
Webinar: My Health Record compliance requirements
(practice managers and admin staff)
If your practice is using My Health Record (MyHR) you must have processes in place that fulfill governance obligations, especially regarding security around access and controls for privacy.
If you're not up to date with the obligations or you need a refresher, this webinar from the Australian Digital Health Agency should be useful. There are multiple options for dates and times.
Topics include:
Understanding the legislative framework for accessing MyHR
Creating and maintaining security and access policies for MyHR
Managing MyHR user accounts and training registers
Understanding the importance of Health Identifiers
Designating roles and responsibilities for practice staff engaging with MyHR
When and how to access a patient's MyHR.
Registration links: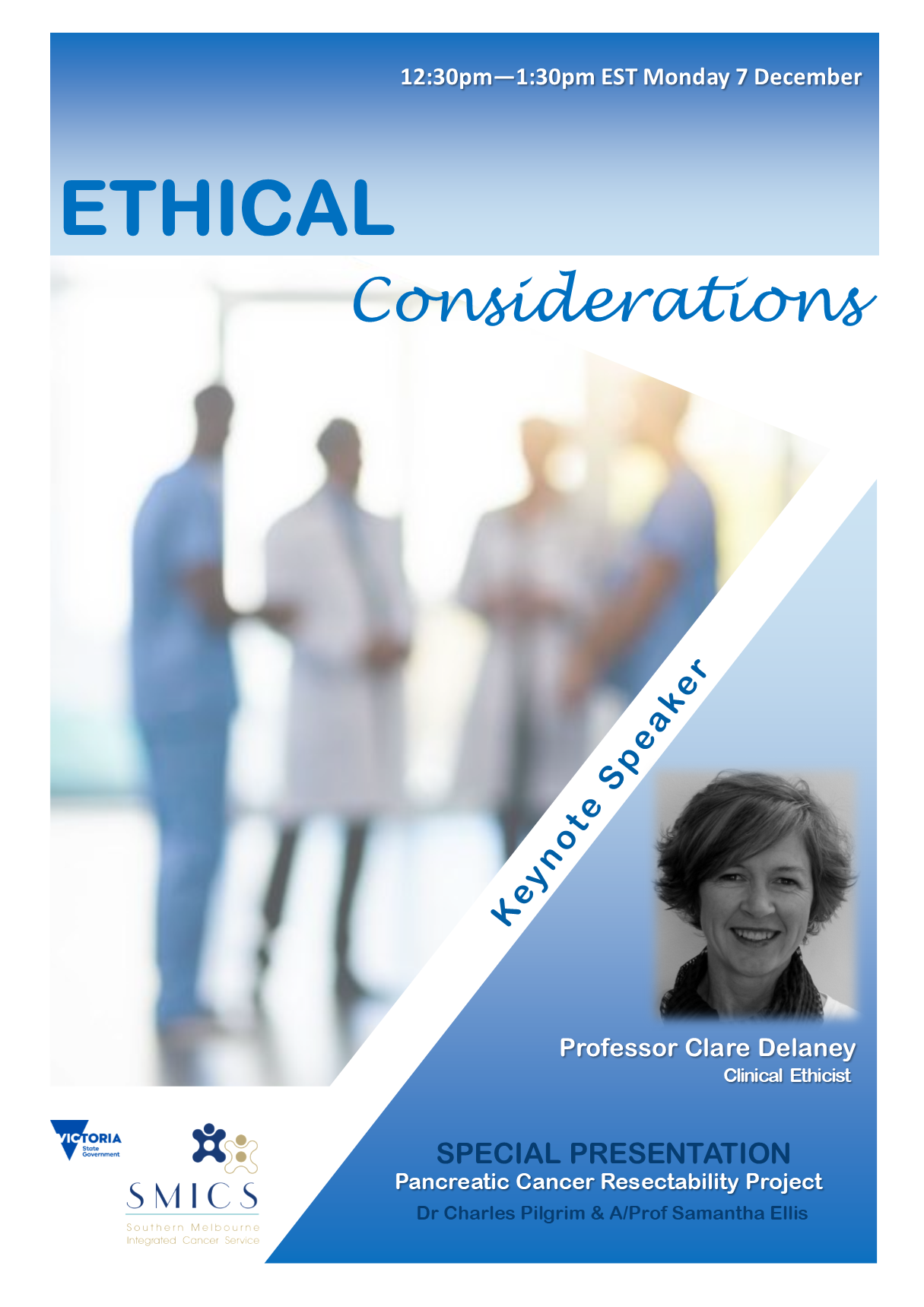 Webinar: Ethical considerations in cancer care
Join Southern Melbourne Integrated Cancer Service (SMICS) as they discuss the impact COVID-19 has had on the cancer workforce and future ethical considerations in cancer care.
Victoria's health care workers are likely to encounter moral distress, anxiety and regret arising from ethical challenges in cancer care.
Discussion points include the impact of patients presenting with later stage disease, and the capacity of the health care system to cope with the expected surge in cancer diagnoses.
Additionally, the pilot of a newly developed radiological report to define resectability of non-metastatic pancreatic ductal adenocarcenoma (PDAC) will be presented. Join Dr Charles Pilgrim and Associate Professor Samantha Ellis as they discuss how accurate and consistent reporting of disease stage and resectability status will reduce variation in care and outcomes for patients with pancreatic cancer.
When: Monday, 7 December, 12.30pm - 1.30 pm
Cost: free
Register here.
Have you seen SEMPHN's cancer pathways? Click here to view the Optimal (Cancer) Care Pathways.
The impact of COVID-19 on Childhood Vaccinations
The COVID-19 pandemic has caused widespread social disruption globally, with routine immunisation services affected in many countries.
Researchers from the National Centre for Immunisation Research and Surveillance (NCIRS) analysed Australian Immunisation Register (AIR) data, assessing uptake monthly and at earlier time points than usual, to determine if the pandemic and associated response measures such as physical distancing and movement restrictions have impacted vaccination uptake in young children.
The report "COVID-19: Impact on routine childhood vaccination uptake in Australia" released last week found no substantial impact on vaccination uptake at any of the National Immunisation Program schedule points of 2, 4, 6, 12, 18, and 48 months of age, at national or state/territory level, for vaccines due up to July 2020.
Read the COVID-19: Impact on routine childhood vaccination uptake in Australia report here
Immunisation is a key priority area of SEMPHN. The SEMPHN Immunisation webpage has been recently revised and provides a quick-reference guide for GPs and Practice Nurses on frequently-used immunisation topics, guidelines, tips and support.
National survey of primary health care nurses
Nurses, this is your chance to tell it like it is. The 2020 APNA Workforce Survey is your opportunity to feedback on working conditions and professional concerns of primary health care nurses across Australia.
The survey, run by the Australian Primary Health Care Nurses Association, is open to nurses working in general practices, aged care, Aboriginal and Torres Strait Islander health plus all other non-hospital community settings.
Every nurse who completes the survey has the chance to win a $1,000 Red Balloon experience voucher.
Professional development and events