Takahē numbers continue to see significant growth and DOC's Takahē Recovery Programme continues to work towards returning takahē to the wild. April is Takahē​ Awareness Month - a time to celebrate these unique taonga and the mahi that the Takahē Recovery Programme, along with the support of our partners, does to ensure takahē are never again considered extinct.
Takahē in snow at the Burwood Takahē Centre. Photo by S. Kiss
Takahē Recovery Programme Management
In October 2019 we celebrated the takahē population surpassing 400 individuals. What's more important to note is the population's increasing security and health status. With 130 breeding pairs established in the population, there is a near equal sex ratio and a significant growth in breeding potential. As proof, this breeding season, 54 chicks were produced across the breeding programme - the first time we have seen this number above 50.
We are hopeful (COVID-19 delays pending) that 2020 is going to be a pivotal year for the Takahē Recovery Programme, as we invest in research to inform our future management decisions.
Takah
ē
Team in lock down
During lockdown our Takahē Recovery Team have set up our office spaces at home and we are keeping connected virtually. Our two on-site rangers, James and Lisa, have been completing the essential work of keeping the takahē fed and safe at the Burwood Takahē Centre. They have been sharing lots of updates, including the birds in the first snow of the season. Here's a brief interview with them during lockdown.
We are looking forward to returning to work, outside of our homes, when the COVID-19 Alert Levels are reduced further. Particularly, for some face to face banter and time with the birds. Autumn is a very busy period for the Programme, with banding, vaccinations, bird transfers and fostering migrant birds at Burwood all usually scheduled. So we will be playing catch up through the winter months.
Welcome Estelle
In 2019 we welcomed Estelle Leask, as the Ngāi Tahu representative on the Takahē Recovery Group - the advisory board of specialists that help guide the management direction of the Recovery Programme. Estelle has taken over the reins from Sandra Cook, who we wish to thank for her passion and input over the years. Takahē are a taonga species of Ngāi Tahu, who are DOC's primary partner in Takahē Recovery. Estelle is also part of our wider Kākāpō/Takahē Operations whānau and we look forward to learning from her and strengthening our active partnership with Ngāi Tahu,
Research and where to next
As we continue to see consistent population growth, the Programme can now focus on the next challenges. We are continually reviewing everything we do, and always seeking new tools to improve the success of managing the species. The current research focus is mapping the takahē genome, and seeking a snapshot of true genetic relatedness and existing diversity within the population. Significant effort is also being put into improving knowledge of the response of takahē to various predator control methods. For wild populations to thrive, it is critical that pest control is effective and compatible with takahē.
Takahē pair, Whito and Bligh, in the sun. Photo by A. Kohler
Young takahē family at the Burwood Takahē Centre. Photo by L. van Beek
Group of sub-adult takahē feeding in the first snow at the Burwood Takahē Centre. Photo by L. van Beek
Estelle Leask, Ngāi Tahu representative on the Takahē Recovery Group. Photo by Rob Tipa
Banding juvenile takahē at the Burwood Takahē Centre. Photo by H. Dodson
Recently released takahē getting its bearings in the wild, Te Puhi-a-noa / Murchison Mountains. Photo by A. Clare (Fulton Hogan)
Takahē Awareness Month round up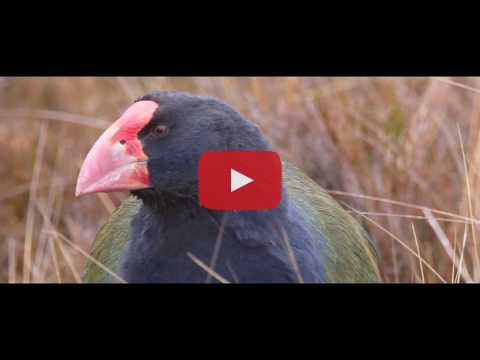 Takahē - pūkeko comparison. Image by DOC
Feeling artistic? -Try out the takahē colouring in activity. Image by DOC
Takahē showing its bright iridescent blue-green feathers. Photo by S. Kiss
Half of the current total takahē population is now living in the wild. As Te Puhi-a-noa / Murchison Mountains reach carry capacity and the Kahurangi takahē head into their third winter in their new home, the team are on the search for more new wild sites.
Te Puhi-a-noa / Murchison Mountains
Wild releases
In early 2015, the Te Puhi-a-noa / Murchison Mountains takahē population reached a low of an estimated 68 birds. But due to the increased productivity of the breeding programme, across the sanctuary sites and the Burwood Takahē Centre, regular releases to supplement the population have recommenced.
Since 2015, 101 takahē have been release into the less populated territories across Te Puhi-a-noa, leading to the last remnant population site reaching near carry capacity.
Surveys
Over the summer, the Takahē Rangers spent some time exploring the neighbouring western valleys and the Stuart Mountains to the north, for sign of takahē roaming beyond the Te Puhi-a-noa / Murchison Mountains' peninsula. This exercise provided valuable insight into both the numbers of takahē beyond the Special Takahē Area, and the identification of further large areas of suitable takahē habitat.
Every three years, the team completes a comprehensive on-foot survey of the Te Puhi-a-noa / Murchison Mountains takahē territories. These surveys allow the ground-truthing of the population modelling used to estimate the wild site's population size. The modelling is based on historic breeding and recruitment data and adult survivorship rates extrapolated from the fates of a portion of birds that are regularly monitored throughout the year remotely via transmitters.
The next survey is scheduled for this coming summer. It will also provide important information on where there are vacant territories to target future releases and hopefully also present opportunities to evaluate the fate of many of the recently released birds.
Risk of predation
Takahē are susceptible to stoat, predation, and this winter we are moving into the peak risk period of the current stoat plague event. As the available food from the previous beech mast runs out and rodent numbers drop, the elevated stoat population will be looking for alternative food sources, the large blue flightless variety included.
There is a network of 3500 stoat traps in Te Puhi-a-noa / Murchison Mountains, but unfortunately even with the trapping in place, the wild takahē population suffers around a 20% loss in a stoat plague year. Without the trapping, this figure would be much higher; in 2007 the takahē that were outside of the trapped area suffered heavy losses of more than 60%.
Gouland Downs, Kahurangi National Park
Two years have passed since we took the pioneering step of re-introducing takahē to Kahurangi National Park - a wild site they haven't roamed for 100 years. We are monitoring the birds frequently and the initial results of habitat suitability are looking promising. We observed a higher level of partner swapping (including sponsor birds Shadowfax and Tametame) and moving around than expected in the first year. But the majority of the birds appear to have settled into breeding territories now.
This summer there were seven nesting attempts across the Kahurangi population, but unfortunately, a period of extreme weather meant that most of these nests failed. However, it is encouraging to see that the birds are in adequate condition to breed.
The Heaphy Track is providing the unique opportunity to see takahē in the wild. Some of the takahē pairs are living close to the huts - with lots of positive takahē observation comments in the hut visitor books.
Searching for the next wild site
With the takahē population growing at 10% per year, there will be a continual need for new wild takahē sites. Selecting new sites takes time, and is an ongoing process; which involves liaising with iwi and stakeholders, inspection visits, habitat and nutrient analysis, and ensuring there is adequate predator control in place.
In order to return takahē to the native grasslands of the South Island (their former range), we need large spaces with low densities of introduced mammalian predators.
Mali Morgan of Te Rūnanga o Awarua assisting with a health check of sub-adult takahē prior to its release into the wild. Photo by A. Clare (Fulton Hogan)
Some of the 41 takahē released into Te Puhi-a-noa / Murchison Mountains this summer. Photo by A. Clare (Fulton Hogan)
Takahē Rangers Glen and Jason listening for takahē calls during on-foot survey in the Mystery Burn, Te Puhi-a-noa / Murchison Mountains. Photo by J. Harvey
Te Puhi-a-noa / Murchison Mountains Special Takahē Area trapping network results from January 2020 trap check; Red = stoat captures, blue = rat captures. Image by DOC
DOC 200 trap being installed in Point Burn, Te Puhi-a-noa / Murchison Mountains in 2012. Photo credit DOC
Stoat with takahē egg. Photo by R. Curtis
Fitting a transmitter to wild takahē. Photo by H. Dodson.
Recently released takahē in Gouland Downs, Kahurangi National Park. Photo by J. Osborne
The network of 17 island and mainland takahē sanctuary sites across New Zealand, house just over a quarter of the total population. They provide a secure bank of the takahē population's genetic diversity and are producing half the breeding programme's output. This summer, 18 sanctuary-raised birds were released into the wild - that is a significant contribution!
Sanctuary Highlights
At last count, 26 chicks were produced across the takahē sanctuary sties. Some highlights include: 9 juveniles being produced on Mana Island and two sets of two juveniles at Sanctuary Mountain Maungatautari.
Many of the takahē at these sites receive weekly supplement feeds of pellets. This is to ensure they are getting a fully balanced diet. The rangers conducting this essential work have been reported entertaining takahē antics as the birds explore their different sanctuary sites beyond their usual haunts, in the absence of visitors.
Parentage mysteries solved
Previously unknown parentage has been assigned to a number of takahē individuals at sanctuary sites around the country. In the past when eggs were lain by breeding trios or quads it was impossible to determine parentage. However, the team at AgResearch, have now been able to provide these valuable answers.
Auckland Zoo welcomes new pair
Whito, a female hatched on Mana Island and her Burwood hatched mate Bligh, were transferred from Punanga Manu o Te Anau / Te Anau Bird Sanctuary to Auckland Zoo in July 2019. The pair, who can be found in the Zoo's High Country Habitat enclosure, provide an opportunity for large numbers of kiwis and internationals to connect with this iconic New Zealand species.
Where takahē live. Image by DOC
Sub-adult Tureiti watching over the youngest member of their takahē whānau, this season's chick on Mana Island. Photo by C. Jacobson
Whito and Bligh entering their new home at Auckland Zoo. Photo by Auckland Zoo
The Burwood Takahē Centre, the hub of the takahē breeding programme, is running at full capacity with 23 breeding, pairs. Some of the original pens erected in the late 80s are having an extensive (and much needed) upgrade to ensure the birds are kept safe.
Burwood population
We have experienced another successful breeding season - producing 28 juvenile takahē, including our first attempt at facilitating takahē triplets. In order to maximise the breeding output at the Centre we intensively manage the nests. Early in the season, if pairs have only one fertile egg or young chick, opportunities to combine their young with a similar aged clutch or chick are utilised. This management technique allows for the increased potential productivity of both pairs, as the first pair will hopefully re-nest and raise a second clutch.
A number of last year's chick cohort, earmarked to be released into one of the wild sites, also remain at the Centre. Many of these birds have been learning valuable life lessons helping raise this season's young.
Infrastructure
Upgrade
The Burwood Takahē Centre was established in 1985, to accommodate the artificial incubation of wild lain eggs. The chicks were then puppet raised for a period and fostered on to resident adult takahē, before being released back into the wild at one year of age.
Three of the original pens, which housed these young birds, are being replaced by a suite of 16 interconnecting pens. Referred to as the "Downhill Pens", they are utilised as fostering and quarantine holding pens for takahē being transferred in, out and sometimes within, Burwood.
Our ranger Chris Phillips led the work on the pens' upgrade, with materials provided by the Programme's Official Supplier - Mitre 10. Chris shares some of his insights into the new pens' planning and design.....
"A predator fence has one primary function - keeping out undesirable pests. This should be fairly simple, right? Simple it may sound, but to create a fence that resists pests consistently, is low maintenance, efficient, and affordable, is quite an expectation. In addition, the fence design must take in to account the species it protects to ensure no adverse effects – in our case takahē.

One can learn a lot from a less than perfect predator fence. I have been fortunate to have spent hours pondering the merits of such fences as I have maintained various styles in my almost decade working for the Department.

The construction basis itself started with identifying problems with other fences. Stage two was to design a fence that mitigated every one of these identified issues, whether relating to materials or construction flaws.

One of the biggest challenges in the design was creating a "cap" at the top of the fence to prevent cat and mustelid access into the pens. Multiple designs were investigated. The use of plastic polypropylene and similar long-life products is essential to ensure a good economic lifespan in our harsh Southland conditions."
Like the wider Takahē Recovery Programme, fence design at Burwood has been evolving over the years. Our situation is slightly unique in that Burwood is not a public site and to keep takahē safe we do not require the exclusion of rodents.
We drew on our experiences and those of other sanctuaries utilising predator proof fencing, to help design the best fit for our needs, at a much lower cost than commercial options available.
Great work Chris!
Takahē on nest. Photo by DOC
Takahē Conservation Dog Yuki successfully locates a takahē chick for fostering. Photo by J. Reardon
Takahē pair feeding chick, Burwood Takahē Centre. Photo by L. van Beek
Juvenile takahē and parent, Burwood Takahē Centre. Photo by S. Kiss
Previous Downhill Pens, with basic internal fences and chicken wire capture pens. Photo by DOC
The new Downhill Pens, with interval access and built in capture pens. Photo by S. Kiss
The nearly complete, Downhill Pen configuration. Photo by S. Kiss
Chris and Takahē Conservation Dog Pai, Burwood Takahē Centre. Photo by K. Taylor
Donate to help protect takahē. All proceeds go directly to support Takahē Recovery.
Our Partners and Supporters
Takah

ē

Recovery Partners

Our partnership with Fulton Hogan is now entering its fourth year in July, along with the ongoing support from the New Zealand National Parks and Conservation Foundation and our 'official supplier' Mitre 10 New Zealand.

The past year in our partnership with Fulton Hogan has seen many great achievements, acknowledgements, and milestones passed. Fulton Hogan's ongoing enthusiasm to get involved and lend a hand in Takahē Recovery has resulted in over 810 engagements of staff and families in conservation activities since we began working together in 2016. We also hosted our largest Family takahē day out at Willowbank Wildlife Reserve with the Christchurch teams. Fulton Hogan's active support of takahē and willingness to advocate for the Recovery Programme to their staff, families, and wider industry has greatly contributed to the growing awareness and regard for takahē as a taonga species.
Senior Takahē Ranger Glen Greaves and Graeme Johnson of Fulton Hogan, releasing takahē at Mackenzie Hut, Te Puhi-a-noa / Murchison Mountains. Photo by A. Clare (Fulton Hogan)
Rick Harrowven, Fulton Hogan winner of an engineer competition to design a portable takahē capture pen, brings a caught wild takahē in for a health check in Gouland Downs. Photo by DOC