The e-newsletter from Forrest Workshops
Amateur vs Professional. I spent the long weekend mortaring, sanding, painting, wiring, plumbing, drilling, oiling, cleaning, caulking and puttying. Know enough about enough trades to be completely dangerous. With a modicum of confidence, I can tackle a few semi-handy tasks, from fixing dripping taps to repainting rooms and resealing the vanity unit. However I occasionally drift into "you REALLY should call someone for that" territory (we won't talk about my wiring a new ceiling fan switch... upside down, Miss Jane...)
There are little jobs that, were I just too busy or completely useless, I could call in a professional for, but it makes no sense, because I can complete them to a decent standard with minimal fuss or cost (investment or opportunity).
There are moderate jobs I can stretch myself on, that a professional would undoubtedly do better or more efficiently, but that my own hands can take care of to a level we can live with. Could be better? Yeah, but law of diminishing returns, and the savings I make, and I had time on the weekend so.....
Then there are the hard jobs that really should be completed by a specialist - trained, certified, skilled - where the money is worthwhile. Like the underpinning of the wonky room on the Western side of my house. Those things you honestly can't chew (so don't bother biting). Skill required. Risk aplenty. Time investment and consequence of failure massive... call the gun.
There's great satisfaction in completing tasks that are on the edge of your competency levels. Mind though it's a fine line. You're paying an opportunity cost paddling in a pool of skills and tasks that really aren't your bag (what could you be doing for higher ROI in those hours?). And step too far over the line into "incompetent and dangerous"? Any potential savings you think you were going to make... boom.
If it's deep skills and experience, or a hyper-schmick finish, or genuine efficiency and effectiveness savings you need in an arena you really don't have the talent for, call the pro. Don't make that an excuse though for the piddling stuff you really can do. Hard work and the sense of achievement of finished jobs is a great role-modelling practice.
Troy Forrest, Forrest Workshops & Strategy Road.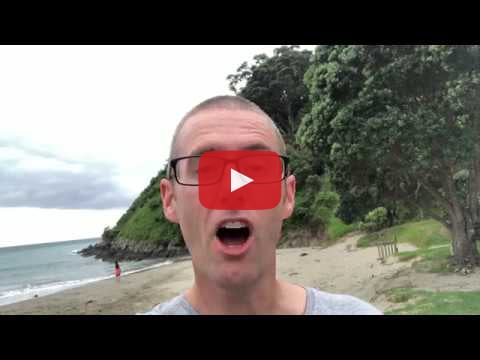 Not trying to catch flies with my gob... extolling the benefits of fresh air & strategy sessions.
Strategic play – understanding the journey to 88mph
Have you seen the "Back to the Future" movie franchise? Where a young Michael J Fox time travels with Doc in a souped-up DeLorean? They need to get their car up to 88 miles per hour to create enough energy to crack open the time wormhole. A critical mass payoff speed; a level of momentum needed to achieve a goal.
When you're contemplating strategic paths for your organisation for years ahead, consider that 88mph as it pertains to things you're already working on...
What hasn't yet hit 88mph (but if and when it does, pow, there's the pay dirt, so persist)?
What's gone past 88mph... 90mph... 95mph... but still isn't delivering?
What feels like its slowing down well before you've made 88mph... and is that speed drop-off understood... and a plan readied?
What's holding at 88mph... and is paying off... and if you can hold it there longer, will keep paying off (and do you understand the energy needed to hold there, the systems that'll capitalise on & support the momentum without proportionate ongoing investment?)
Maybe your projects or strategic priority paths aren't as binary as "zero benefit until you hit 88mph". Maybe the work getting to your target is paying off in smaller ways, in experience, in grounding for the next initiative?
What are the pre-88mph targets you should be hitting, assessing progress at, before you whack more investment continuing the pursuit of that magic 88?
What if you instead hedged your bets on two x 44mph targets rather than one big one? Not necessarily the big boom outcome, but maybe safer, maybe better to understand what your true strengths and purpose and paths pursued should be?
Then there's comparing alternate 88mph targets you aren't yet heading towards (but maybe take you further into the future than the current trajectory)...
Have you got a steam engine's worth of momentum building on your current path (that you'd have to render as "sunk cost" and dump, or dampen, to pursue an alternative...) and so is it REALLY a better fit worth slowing the train for?
The other potential 88mph paths you could take... are they from a standing start? Are you clear on how long and hard you'll have to push to build to your target velocity (can you stomach that?) And can you hitch a ride to get you up to speed faster?
Hitting a target speed requires choices, investments, building and riding energy machines, figuring out which horses are lame (bang), saying no to distractions and being really clear about what that target speed needs to deliver for you once you hit it (and if it won't.....).
And be OK with the fact the roads aren't always super-clear.
Because, Marty, where we're going, we don't need...
From "McDonald's - Behind The Arches" by John Love, on Ray Kroc.
The Green Room
Good wood from smart guest contributors. This edition…. Catherine Wells from Plansure (Financial Strategists & Planners), on engaging a younger generation with a long-term view.
"Gen Y-should-I-listen-to-you".
Coaching & mentoring questions
Thought leaders in the coaching and mentoring sphere, David Megginson and David Clutterbuck employ what they call "MDQs" - Massively Difficult Questions - in coaching conversations (named for their ability to get a coachee to pause, reflection and examine at a deeper level). From their list of over 100, here are 8;
By how much do you want to improve... by when?
How committed are you to achieving this?
How could you find the courage to do what you think is right here?
How much could you have contributed to the problem?
How pure are your intentions?
I don't know what to do about that - what do you think?
What makes you feel valued?
If your direct reports could really say what they think, without fear of offending, what might they tell you?
(Got any great MDQs you use? Love to hear! troy@forrestworkshops.com.au)
If you're going use a room with a view...
a. you better be damn compelling, and
b. know how to work the blinds.
3 ways to call bullsh*t when you're hearing it in your team discussion…
Really? Is this what you're saying.... is that really accurate / honest / going to happen?
I have a different perspective here - like to hear it?
Bullsh*t.
Grim view of grey clouds and rain. Rain that brings growth. No grey clouds, no rain, no growth.
Meet Strategy Road Associate Michelle Bakjac, a psychologist, leadership coach and workplace training facilitator that helps organisations develop and nurture cultures of wellness and resilience. If your team is heading towards or navigating some major changes and terrain shifts, speak with Michelle about strategies and support programs to help your team effectively and confidently brave the new conditions...
Hand-written With Comps…
How many hand-written notes thanking, praising, expressing gratitude have you doled out this week? 20? 5? None? Could you...
Identify 4 people in your world that are worth a piece of paper and 5 minutes
Grab the With Compliments slips, think and write and express what they (or their actions) mean for you
Ship it before days end?
Something about hand scrawl we connect with more deeply than Calibri e-font.
A rugged individual... Auckland, city of sails.
Workshops and one-on-one coaching processes are a great way to nurture bonds, feel cared about and deepen connections with other humans. Part of the benefit of that is staving off loneliness. Not the "all my friends have gone away for the long weekend" kind of temporary loneliness everyone experiences, but the deeper internally-perceived experience of disconnection or rejection. Subjective loneliness, felt even when you're surrounded by a city full of people, by family, that, left unchecked, can cause serious pain.
Jennifer Latson, in a great article in Psychology Today, talks about ways you can build a sense of social connectedness as a scaffold for your mental and emotional wellbeing, and as hedges against loneliness. Here are some tips she has on protecting yourself & others;
Talk to strangers - just put it out there, in the queue at the supermarket, or in the elevator. Say Hi. Start a conversation. Just chatting can make you happier and healthier.
Schedule face time over screen time - emailing or WhatsApp-ing can be good, but little beats the shared Oxygen, locking eyes moments only having a cuppa and chat in the same location can deliver.
Be creative - some people struggle to talk about themselves and connect with others verbally, but drawing, or writing, or dancing, can make them feel more relevant, more understood by others, and in the process, more connected and less lonely.
Use Facebook wisely - just posting holiday photos isn't going to nurture meaningful connections. Get involved in and actively contribute to smaller group chats where you can share meaningful personal connections.
Be a good neighbour - go knock on the door, chat over the fence, offer the cuppa.
A final one from me - a few years ago, I helped set up a Old Man Basketball competition for Dads at my daughters school. Busy guys that worked long hours and didn't connect with other Dads in a "Dad" kinda way often enough. Once a week, for an hour, running (puffing), having a few laughs, and a cold beer and chat at the end. We built a simple forum that was interesting to the target audience, we kept the commitment light and low, and made it fun (with maybe the most moderate physical health benefits... offset by the beer.). The emotional benefits though? Really strong.
Loneliness is tough for lots of people - can you do something about it in your space this year?
Latson, J., "Disconnection", Psychology Today, March April 2018, pp 42 - 81.
I receive these a couple of times each week, a great compilation of current retail news, trends and thinking, from a sector that pays super-close attention to customer habits, practices and changing dynamics. Worth signing on - http://insideretail.com.au.
Luft balloons* (imagine...)
Repurposing - taking the old, and using it in a new way...
... the formerly functional as aesthetically appealing art
... the old imagery as an up-to-date story of provenance
... the talents of yesterday as teachers for today
... the domain-specific skills applied in a different space (sanded, for fit, but putting the essence into a fresh environment)
... the legacy of a predecessor as a foundation or catalyst for a new movement
... the discarded elements refashioned as Steampunk mechanisms
... vintage brought out of the cupboard, washed of mothball odours, dyed a different hue and worn as cutting-edge retro chic
... rituals and practices of decades ago, brought into 2018, for connection with past and relevance for future
Take a fresh, imaginative, closer look at the practices, the pieces, the people, that have been around awhile, gotten a little frayed at the edges, the copper greening, with dust hiding their once-was-lustrousness. Blow it off? Think of a different, fresh, new, better, valuable way they can be redeployed? It HAS an application - it's up to you to find it.
Made by a man named Doug...
"Less is more". If you want to pick up a new shell (task, strategic priority, project),
you have to dump an old one. Too many = confusion, dilution and dropped shells...
Workshop hierarchy of needs
Psychologist and motivational theorist Abraham Maslow defined the human "hierarchy of needs" - the idea that there are five levels of needs that we have, and we struggle to move up the hierarchy until lower-order needs are satisfied. In a workshop, here's how that can look...
Level 1 - Physiological needs - air, food, water. Stuff needed to live. Stuffy rooms with the heater on 29, or driving a workshop for 6 hours straight without a lunch break, or inadequate fluid supplies on the table... you're not going to get much from them. Those mints aren't just for decoration, and chocolates are a level-1 turbocharge. And coffee...
Level 2 - Safety needs - the desire to not be harmed. When that wallflower is sweating bullets at the idea of being called upon to contribute in a meeting, or the boss gives a rant at the start about what the conversation MUST deliver (or else), or the vocal aggressive type starts dominating the conversation, "safety and security" are at risk, and people don't shine. The role of the facilitator - dispel fears, make participation feel safe.
Level 3 - Love & belonging needs - More than "safe", we want to be in environments, with people, that we connect with. Who we enjoy the company of. Where we (heaven forbid) have fun, and feel like we're closely connected to others. That's why Purpose, Vision, Values, War cries, mottos, pride-in-the-gurnsey pieces have such a big role in team workshops. They create a thread all can bind themselves with. Before "healthy competition", there needs to be "we've all got each other's backs, and we all love being part of this team" moments the workshop has to crystallise. Funny Powerpoint slides can help too, as is a self-deprecating facilitator all can laugh with (at?).
Level 4 - Esteem needs - recognition, status, feeling in control and good at what you do... creating moments where people can feel they're skilled, talented and have strengths they can deploy is vital to generate positive workshop outcomes and output. The S in SWOT does this, the empowering people to share their experience and ideas does this, actively recognising the value each person brings to the conversation does this. When they feel they have the skills to control the ship and have licence to grab the wheel, the group can shine.
Level 5 - Self-actualisation needs - setting and achieving goals. Getting better and growing. If your workshop doesn't include goal setting moments - for the group, and for individuals, then you're not helping them navigate to Level 5. This is where the magic happens. Mind, you can't get there skipping levels 1 to 4, so consider the sequence, moments, exercises and tools you're including to help them up the pyramid.
Geddit? Because, it's a pine twig, and there's a traffic co.... Spied by Deb. Scallywags...
If a mate has forwarded this free e-share to you and you'd like it once or twice a month, click here and type "sign me up, Scotty!" – thanks!
Thank you for reading!
Forrest Workshops custom-builds and facilitates team workshops on topics ranging from strategic planning, leadership and sales practice development, to innovation, customer experience creation and collaborating with your supply chain in an evolving market. Based in Adelaide, serving clients nationally and internationally, from SMEs to Fortune 500s.
Committed to facilitating purposeful teamwork.
NEW! Forrest Workshops For One are tailored Coaching & mentoring programs for leaders, business owners, sales and service professionals. High-touch, deep- and long-term impact support.
Contact Troy Forrest from Forrest Workshops on 0430 308963 or troy@forrestworkshops.com.au for a discussion.