Vol 22 No 16 20 January 2017
HSD Senior Hockey Victory
On Wednesday 18 January The High School Senior 1 hockey team faced Rathdown School in a battle of skill, speed, and stamina in what turned out to be a nail-biting cup match. A crowd of supporters had assembled in red and black with chants at the ready. From the starting whistle, a short corner was won by The High School which really forced Rathdown to focus. The first half was spent with narrowly-missed shots and well-practised plays producing near-perfect outcomes but with no reward resulting in a half time score of 0-0. In the opening minutes another short corner was awarded to The High School leading to a second corner where a much-needed goal was scored by Ellen Ridgeway. Although we had been playing well up to this point, putting a goal on the scoreboard really propelled us into action. Rathdown were forced onto the back foot as they were pushed to defend our well-executed attacks. Eventually our efforts prevailed as a spectacular solo goal from captain Mia Jennings brought the score to 2-0 in our favour. But all was still to play for. When Rathdown stole a goal the game rose to a frenzied pitch, but despite Rathdown's best attempts, victory belonged to The High School. Once again The High School girls showed what they are capable of and produced an amazing match for all to see. We now move through to the quarter-final of the Senior Schoolgirls Cup following a well-deserved win.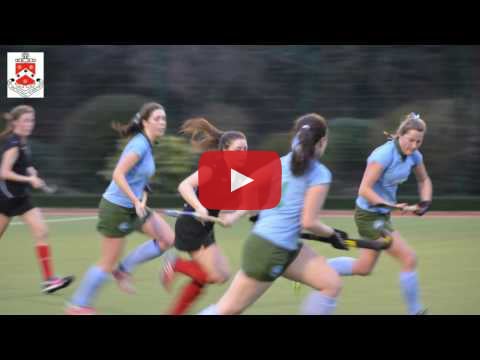 JCT Fr Godfrey Cup Match
On Tuesday 17 January The High School Junior Cup Team took on CUS in the quarter-final of the Fr Godfrey Cup at Donnybrook Stadium. It was a hotly-contested match that never failed to excite the impassioned supporters. The game got off to a lively start as both teams tried to spread the ball wide in a spectacle of attacking rugby. Midway through the first half, one of the CUS behemoths powered through The High School defence. He was felled only metres from the try line with a try-saving tackle from HSD flanker Marco Lyons. Despite this, CUS managed to cross the whitewash some phases later and went on to score two more tries. The High School fought valiantly, often putting pressure on the CUS defence through the hard and direct running of James O'Connor and Jack Farrelly. Alas, fortune was not with The High School this time, with many vital passes not going to hand in damp conditions. The result brings to an end a successful cup run for The High School JCT.
Luan Rogers
Positive Mental Health at HSD
As part of the ongoing mental health provision within The High School, the Health Promotion Committee has initiated a 10-week programme on mindfulness for pupils that started on Friday 13 January and will continue for the next 9 weeks. This programme has been specifically designed for schools and offers help with attention, recognising worries and stressors, being more aware of our surroundings, and learning how to cope with worries and stress. It is an excellent programme for all pupils, but particularly suitable for those pupils who might be facing into stressful times, and/or have other reasons to seek to help their concentration or attention as well as understanding how to use their mind to recognise negative thoughts and appreciate the present.
Click HERE to learn more.
Ireland International Past Pupil Success
Congratulations to Nicola Daly (HSD, 2000-06) who is representing Ireland at the 2017 Women Hockey World League Round 2 in Kuala Lumpur. The Green team have won matches against Kazakhstan, Hong Kong, and Malaysia to date. We wish her all the best as the competition continues.
Junior Drama Auditions
Auditions for the Junior Drama production are about to take place, so if you would like to participate in the play, or simply help out with the sets then Mr Milofsky and Ms Browne on the C floor would like to talk to you!
24 Jan 17 - Form 1 parent-teacher meeting, 1.25 pm; school closes, 12.35 pm
2 Feb 17 - Form 4 parents' meeting - Leaving Certificate choices, 7.30 pm
6 Feb 17 - Examinations commence for Forms 3, 6 (two weeks)
16 Feb 17 - Form 3 parents' meeting - Form 4 programme, 7.30 pm
17 Feb 17 - Half term begins, 11.55 am