Dr. Charles Smith at John Michael Kohler Arts Center
until May 17, 2020
The largest museum exhibition to present his work, "Dr. Charles Smith: Aurora" presents more than 150 works that were part of a major installation at the artist's home in Aurora, Illinois, from 1986 to 1999, which he titled the African-American Heritage Museum and Veterans Archive. The exhibition seeks to show the relevance of Dr. Smith's work beyond its original setting. Most of the work has not been on public view since it was last seen in Aurora in 1999.
John Michael Kohler Art Center
608 New York Avenue, Sheboygan, WI 53081
www.jmkac.org
Stephen Wright's House of Dreams and Paintings, UK
August 1 – October 31, 2019
Stephen Wright says he has been in touch with the other side for some time now. The spirits reveal themselves to him during the work process. Wright's ten new spirit paintings in mixed media are the latest spirits to emerge themselves to him.
Mccully and Crane
Cinque Port Street, Rye TN31 7AD
Stephen Wright's House of Dreams in Dulwich is open to the public on the last Saturday of each month through November. Must be booked in advance at www.stephenwrightartist.com.
Frida Kahlo Celebration in Mexico City
http://Instagram/#loscoloresdefrida
On July 6, to celebrate the 112th birthday of Frida Kahlo, Mexico City held a special exhibit in the city's central plaza. "The Colors of Frida" featured, among other things, a giant sculpture of Frida laying in her bed. The free, three-day public street show exhibited works by 32 artists from around the world.
until September 14, 2019
Les Nouveaux Troubadours presents an exhibition titled "du BIC dans le buisson!" Featuring works by Gaston Chaissac, Jean-Michel Chesné, Janko Domsic, Joël Lorand, Marilena Pelosi, Louis Pons, Evelyne Postic and others.

Musée des Arts Buissonniers
Association Les Nouveaux Troubadours - 12370 Saint Sever du Moustier, France
www.arts-buissonniers.com
July 19 – August 10, 2019
Project Ability presents "Portraits of People", an exhibition of mixed portraits and peoplescapes by John Cocozza, Rosa Lobato and Lewis Scott.
Project Ability
Trongate 103, Glasgow G1 5HD, Scotland
www.facebook.com/projectabilityglasgow
In our special summer sale, we are offering a huge 50% off back issues and books!
For orders of 10+ issues please email

info@rawvision.com

for reduced postage.
Raw Vision Short Film Competition
Below is Laron Bickerstaff's entry into the 2019 Raw Vision short film competition.
Laron Bickerstaff (b. 1971) creates stream-of-consciousness text-based artwork, exemplified in the animation "Laron's Home." Communicating in American Sign Language, his work often depicts observations of life with a deep awareness of the visual characteristics of language.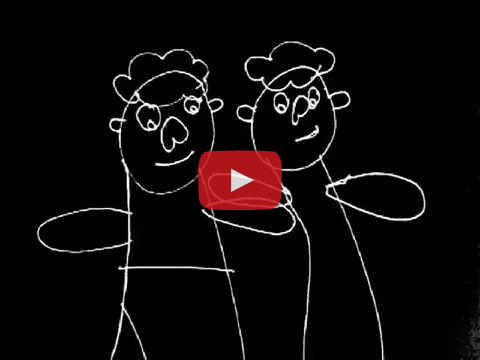 Check out the rest of the short film entries here.