21 APRIL
'Today we are able to breathe again'
In one of the most high-profile trials in recent American history, a Minnesota jury today rendered a guilty verdict on all charges against Derek Chauvin for the May 2020 murder of George Floyd. In a rare conviction of a US police officer, Chauvin faces up to 40 years in prison for the most serious count. Floyd's brother Philonise reacted saying, 'Today we are able to breathe again.' President Biden declared the crime, 'a murder in the full light of day' and many point to the pivotal role of mobile phone footage in securing a conviction. The New York Times published From Rodney King to George Floyd: Reliving the Scars of Police Violence, a video examining policing-protest cycles and the role videos have played in changing the outcome in court.
The trial concludes just ahead of this week's virtual Climate Summit. Prime Minister Morrison has joined dozens of countries around the world, including China and India, in jockeying for attention ahead of the summit. Yesterday, Morrison announced that a A$540 million investment in developing hydrogen energy and carbon capture will be in next month's budget. As big announcements are made, key questions still remain, especially whether the summit will examine Australia's role as the world's largest coal exporter.
The United States Studies Centre will soon release on climate change attitudes in the United States and Australia finding a majority of voters in both countries want to link climate change to foreign policy, but this number shrinks drastically when looking at change on the home front. The 'technology, not taxes' mantra of Australian climate policy aligns with the Biden administration's preference for carrots over sticks to enact change. Be the first to receive our new polling by subscribing to our research alerts.
To get the latest analysis on President Biden's first 100 days in office, be sure to visit our First 100 Days hub.
NEWS WRAP
Derek Chauvin guilty of murdering George Floyd
VIRTUAL EVENT

|

22 APRIL
From Trumpland to Bidenland
As Washington Bureau Chief for the ABC, Zoe Daniel had a front-row seat to the ascension and decline of Donald Trump. Seeing how he masterfully harnessed fear and anger, coupled with a reality TV-honed entertainment instinct, she bore witness to the dawn of a new era in US politics.

With a new steady, staid and significantly unassuming presidential administration, who is the anomaly – Trump or Biden? What happens to Trump followers when he's not in the White House? How does this change perceptions of US power and influence?
To discuss these issues, please join us for a webinar featuring Zoe Daniel, co-author of the new book Greetings from Trumpland in conversation with guest host Jim Middleton, former foreign correspondent and ABC political editor.
WHEN:
Thursday, 22 April, 10am AEST (Sydney) 8am AWST (Perth)
Wednesday, 21 April, 8pm EDT (Washington, DC)
COST:
Free but registration is essential.

You can also subscribe to have event invitations and reminders sent straight to your inbox, so you never have to miss an event!
ANALYSIS
As the US plans its Afghan troop withdrawal, what was it all for?
Jared Mondschein
Senior Fellow
Unlike most US presidents, Joe Biden did not come to the White House with many fixed ideological positions. He did, however, come with fixed values. Chief among them is understanding how US policies impact working American families.
In his nearly half-century of experience in and around Washington, Biden was known to ask any staffers using academic or elitist language to 'pick up your phone, call your mother, read her what you just told me […] If she understands, we can keep talking.'
The debate about the nearly 20-year US presence in Afghanistan has challenged three prior US presidents — George W. Bush, Barack Obama and Donald Trump. Yet Biden, as the first US president in 40 years to have had a child who served in combat, sees things differently.
There undoubtedly remains a strategic argument — albeit shared by increasingly fewer Americans — for maintaining a US presence in Afghanistan. Namely, that it would continue to prevent terrorists from once again making safe haven there.
But Biden's announcement that he would withdraw the remaining US troops by September essentially meant he saw no way of making the parent of another soldier killed in Afghanistan understand such an argument. As he said, 'our reasons for remaining in Afghanistan have become increasingly unclear.'
This is an excerpt from an article by Jared Mondschein in The Conversation.
Click below to read the full article.
BY THE NUMBERS
SNEAK PEEK | Climate change and foreign policy
State of the United States polling
United States Studies Centre polling from late January 2021 found that Australian Coalition (71 per cent) voters are more than twice as likely as US Trump voters (30 per cent) to agree that "dealing with climate change" is an important foreign policy goal. Subscribe here to be the first to receive our soon-to-be-released research on US and Australian climate change opinions from our late January 2021 survey of 1,186 Americans and 1,183 Australians.
For more polling insights from the United States and Australia, read our flagship publication, State of the United States: An evolving alliance agenda.
VIDEO
SOTUS2021
Managing geoeconomics, contestation and coercion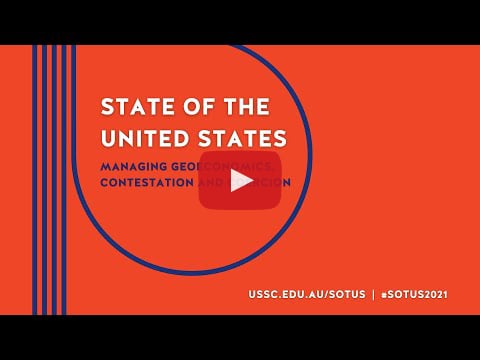 Couldn't make it to our State of the United States Conference in Canberra? Together with the PerthUSAsia Centre, we hosted an in-person half-day event to mark the launch of our State of the United States: An evolving alliance agenda joint report. One of the discussions, Managing geoeconomics, contestation and coercion, is now available for replay on our YouTube channel.

The panel featured:
James Carouso - Managing Director, BowerGroupAsia and former Deputy Chief of Mission and Chargé d'Affaires at the US Embassy Canberra (joining via video link from Singapore)
Professor Gordon Flake - CEO, Perth USAsia Centre
Dr Jeff Wilson - Research Director, Perth USAsia Centre
Hayley Channer - Senior Policy Fellow, Perth USAsia Centre
Katherine Mansted - Senior Adviser Public Policy, National Security College
Watch the full event HERE.
Catch this and other recent webinars on the USSC YouTube channel!
NY TIMES | From Rodney King to George Floyd: Inside 30 Years of America's Police Violence
Through the eyes of those who have been at the centre of previous national upheavals, the families of Rodney King, Oscar Grant and Stephon Clark watch the trial of Derek Chauvin. Watch the full video HERE.
CSPAN | Remarks from President Biden and Vice President Harris on Guilty Verdict in Derek Chauvin Trial

Watch the full video HERE
USSC + NATO EVENT | The global challenge: Building resilient citizens in an age of disinformation
First instalment of the NATO Expert Talks series presented in partnership with the NATO Public Diplomacy Division; 29 April, 4pm AEST
More information and tickets HERE