Joe Coleman at Andrew Edlin Gallery, NY
October 25 – December 7, 2019
"Joe Coleman and The Shadow Self" surveys the past 25 years of the artist's degenerate and deviant portraiture. Nineteen paintings will be presented, many borrowed from private collections, along with a selection of new and more recent works.
Coleman is also doing a rare spoken word performance with projections at the Market Hotel in Brooklyn on Sunday October 27 at 8pm. Tickets available at joecoleman.com.
Andrew Edlin Gallery
212 Bowery, New York, NY 10012
www.edlingallery.com
Market Hotel
​1140 Myrtle Ave, Brooklyn 11221
www.markethotel.org
Outside In Exhibition in London
October 28, 2019 – January 2020
The exhibition "Environments", run by Outside In, an award-winning national charity which provides a platform for artists facing barriers to the art world, will feature the work of 80 outsider artists. Works chosen range from digital print, photography, embroidery, assemblage and clay sculpture to works created with pen, pencil, chalk, oil paint, watercolour and charcoal.
Judges Grayson Perry, Cathie Pilkington and Piano Nobile Gallery director Robert Travers will announce three prizes from the selected artworks at a special event on November 8, 2019.
Piano Nobile Gallery
Kings Place, London, 90 York Way, N1 9AG
www.piano-nobile.com
www.outsidein.org.uk
Frederick Sommer at Ricco/Maresca Gallery, NY
until November 27, 2019
In collaboration with Bruce Silverstein Gallery, "Frederick Sommer: Visual Affinities" presents works by the artistic polymath who had deep interests in painting, drawing, photography, sculpture and collage. Sommer (1905–1999) was intent on expanding the limits of where beauty could be found, and after viewing a display of original musical scores, he began to formulate his own theories correlating the graphic design to the sound of musical scores.
Ricco/Maresca Gallery
529 W 20th St, New York, NY 10011
www.riccomaresca.com
Nick Blinko Wins Second Triennial of Self-taught Visionary Art Competition in Belgrade
until November 10, 2019
The second "Triennial of Self-taught Visionary Art" exhibition organised by the Museum of Naive and Marginal Art recently opened at Cvijeta Zuzorić Art Pavilion in Belgrade and is showing until November 10. British outsider artist Nick Blinko was awarded with the Grand Prix. See his work at the exhibition alongside 68 other outsider artists from around the world. Among other prizes was a lifetime achievement award for French sculptural outsider Pascal Verbena.
Cvijeta Zuzorić Art Pavilion
Mali Kalemegdan 1, Belgrade, Serbia
​www.mnmu.rs
Eileen Schaer, Isle of Man
through December, 2019
An exhibition of recent paintings by self-taught intuitive painter Eileen Schaer is being held at Sudio 42 through to December.
Studio 42
Port St Mary, Isle of Man
www.eileenschaer.com
Raw Vision 103 on its way to subscribers and available to order now!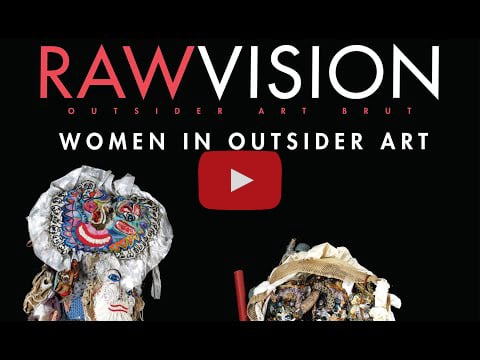 Raw Vision Short Film Competition
Below is Z. Anger's entry into the 2019 Raw Vision short film competition.
Mary Michael Shelley has been making her carved and painted pictures for 45 years. She is entirely self-taught as an artist. Shelley was inspired to make her first art in 1974 after her father gave her a gift he had made - a carved and painted picture of the farm where she grew up. Since that time Mary has produced several thousand works. Her work is in numerous collections, including the American Museum of Folk Art, Fenimore Art Museum, the National Museum of Women in the Arts, The High Museum, and the American Museum in Britain. Shelley is best known for her portrayals of diners, farms, women, and nature.