Priority registration for spring 2021
Priority registration will begin on Monday, Nov. 16, and continue until the end of the semester. The Fox School has identified some selected core courses that will be offered either 100% in person, or partially in-person and partially online. Learn more>>
Register for spring 2021 virtual immersions: Egypt and Turkey
Fox Virtual Immersions are three-credit elective courses within the IB 2509 course portfolio. To participate in a virtual immersion, you will need to enroll in the IB 2509 section for your destination. Learn more>>
We invite Fox students and alumni to join us for conversations with Fox alumni. We'll learn about their career journeys, day-to-day experiences, and key advice they have to share. There will be a 30-minute interview, followed by 15 minutes for attendee questions. Register>>
Seeking a job? You might want to cool it on the political social media posts
Social media is a haven for politically-charged content. Users routinely share their thoughts on candidates, policies and all sorts of polarizing topics. For jobseekers, this might not be a smart idea. Or, depending on the job, it could be. Read more>>
Fox School of Business / STHM Blood Drive 2020!
(in collaboration with the Red Cross)
Monday, November 16
12:00 - 5:00 p.m.
Student Activities Center 200C
All Blood Donations Tested for COVID Antibodies
Youth donors, ages 16-24, who give blood Oct. 17 – Dec. 17, 2020 will automatically receive a $10 e-gift card, by email!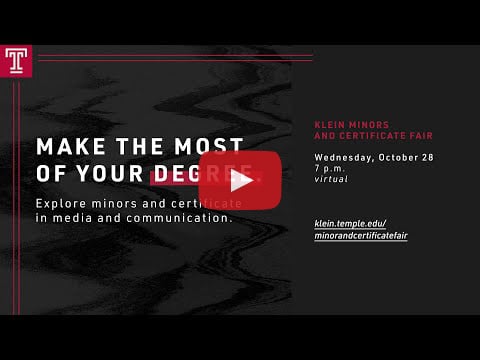 Declaring a minor from Temple's Klein College of Media and Communication can be a useful way to focus your course of study and acquire specialized skills to achieve your future goals. Did you know that Klein has 9 minor options and is also launching a new Sports Media certificate program? Adding a minor or even a certificate to your transcript and resume is the perfect opportunity to enrich yourself as a scholar and versatile media and communication professional. Minors and certificates can be completed with only an additional 18 - 21 credits (between 6 - 7 courses). Watch>>
Monday, Nov. 9
11:00 - 11:30 pm
Alcohol can have both individual and community wide effects. This program will discuss the community wide impacts of alcohol use while empowering students to create sustainable change.
Tuesday, Nov. 10
4:00 - 4:45 pm
Stigma can prevent folks from getting help. This program explores origins of mental health stigma, how students can identify and support friends who may be struggling, and how each individual can be an agent of change in reducing stigma. Help cultivate a community that cares.
Friday, Nov. 13
11:00 am - 12:30 pm
QPR is an evidence-based training designed to give students information about suicide, basic skills and confidence in talking to someone about suicide and how to refer friends and peers to the most appropriate resources for help. Space is limited for this program.
To binge or not to binge?
"What are your plans for the weekend?" "We're hoping to binge the new season of 'Ozark.' We've been waiting for this to drop on Netflix for months." But binge-watching, by definition, is not supposed to be a planned activity. It's supposed to be impulsive. Read more>>