Roger Cardinal 1940–2019 R.I.P.
Raw Vision is very sad to announce that great visionary writer and art historian Roger Cardinal passed away on November 1 at the age of 79. His revolutionary book Outsider Art, published in 1972 was the very first work in English on the subject and gave the world the name 'Outsider Art', originally as an English equivalent to Dubuffet's art brut definition.
Roger Cardinal's influence in the establishment of an entire new field of contemporary art is immeasurable. The whole incredible rise of outsider art around the world in the last 30 years, especially in the anglosphere, stems from his book and has seen thousands of books and publications, hundreds of specialist libraries and collections, regular huge museum exhibitions in many cities and thousands of art gallery shows all around the world. He was the one who sparked the magic of outsider art.
Why Now Releases Series of Video Interviews with Outsider Artists
Whynow.co.uk, a new arts and culture publisher, is releasing a new series of video interviews with outsider artists. The new series includes insights into the lives of George Widener, Albert Louden and others. To watch the new series simply sign up at WHYNOW.co.uk/subscribe and head to the watch section. To get a taste of the new series check out one of the episodes on YouTube below.
Anne Grgich Presents The Museum of UnNatural History in Shoreline, WA
until November 29, 2019
Artist and curator Anne Marie Grgich has selected over 40 artists whose work resonates powerfully with her, to showcase in "The Museum of UnNatural History" at Shoreline City Hall. Featured artists include Nancy Josephson, Gerald Matthews, Ian McMartin, Jim Ritter, Julia Sisi, Cathy Ward, Della Wells, Scott Williams and Grgich herself.
Shoreline City Hall
17500 Midvale Avenue N, Shoreline, WA 98133
annemariegrgich@gmail.com
Outside In and Ingram Inside Out, Woking UK
until January 5, 2020
Bringing together the Ingram Inside Out and Outside In collections, "The Outside and the Inside", curated by Outside In director Marc Steene, includes everything from rare pieces by Scottie Wilson and Madge Gill to the first display of Wilhelm Werner's drawings in the country.
On Thursday November 14, 7.00pm - 8.00pm, Outside In Director Marc Steene will chair a discussion with a panel including John Maizels, Editor of Raw Vision, Outside In chairperson Charles Rolls, Thomas Röske, Director of the Prinzhorn Collection, and Amanda Sutton, Director of Venture Arts. Click here to book now!
The Lightbox
Chobham Rd, Woking, GU21 4AA, UK
www.thelightbox.org.uk
Kunsthaus Kannen, Münster
until January 27 2020
Kunsthaus Kannen's 22nd Annual sales exhibition features 200 diverse pictures and objects created by 30 artists working at the studios of Kunsthaus Kannen.
Kunsthaus Kannen
Alexianerweg 9, 48163 Munster, Germany
www.kunsthaus-kannen.de
La Pop Galerie Exhibition in Montpellier
until November 22, 2019
"Outsiderama", organised by Pascal Saumade from La Pop Galerie, Sète, includes works by Noviadi Angkasapura (Indonesia), Justin McCarthy (USA), Kashinath Chawan (India), Hervé Di Rosa (France), SL Jones (USA), Reza Shafahi (Iran), Prophet Royal Robertson (USA) and others.
A+ Architecture
220 rue du Capitaine Pierre Pontal, 34000 Montpellier, France
www.lapopgalerie.fr
Dedicated to women in outsider art, this special bumper issue features: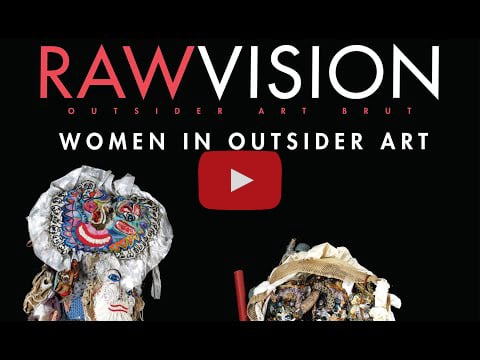 Raw Vision Short Film Competition
Below is Paolo Mucciarelli and Anna Taffurelli's entry into the 2019 Raw Vision short film competition, presenting unknown artists in their personal space.