Opening Words from the Executive Principal
Kia ora tatou, good afternoon, 你好, 안녕하세요
The seagulls and tuis are competing for supremacy. My deck doors are open, and all I can hear are birds. At this time of the morning, they would usually be competing with the sound of traffic from below and above, an urban soundscape. Today, of course, only the occasional passing car disturbs the birds. Later, I will take my daily walk, avoiding families and couples, moving into the middle of the road to ensure we have space between us. I will probably have to go to the supermarket early next week: I will wear a mask, keep my distance, and take other precautions that I would never have dreamt of before. Across New Zealand and the world, people are doing versions of the same thing: billions of us learning to behave in unfamiliar ways.
This is the last day of term, but it isn't an ordinary end of term. My conversations with students, staff and parents in April are usually full of questions and answers about holidays, but we will all be spending these two weeks at home in our bubbles. For some of us, this will be a difficult time, and I hope everyone knows that the whole Pinehurst community is here for you; but I'm hoping that, for most of us, it is a time to rest, recover and plan for the future. This has been an extraordinary three months. None of us wanted to experience anything like this. All of us have been worried about friends and family, in China, in Korea, Japan, in the UK, in the US, in Iran, in Italy, Spain and other European countries, in other places across the world. All of us have been affected profoundly because we have had to change the way we think and behave. And all of us need to acknowledge this impact, take it in, and then breathe it out. Because this has been a hard three months: for us and for our children.
But this is where we are now, and I am incredibly hopeful about the future. I am hopeful because I think that the hard times are bringing out the very best in all of us. Our staff have been amazing this term: we started with 300 students in self-isolation because they had just returned from China; on the day before lockdown arrived, we had 60% of our Primary school at home. At each step of the way, our staff have adapted and looked after the children. In the last few weeks, they have learned how to run an online school, blending platforms and strategies, making changes to suit the students' needs, juggling their own families at the same time. Our parents have been wonderful: you are supportive, you are positive and you look after the whole community as well as our children. We have parents looking after the children of essential workers right now; many parents have been supporting others in self-isolation throughout this term; all of our parents have understood, as we headed steadily into our current lockdown, that we are a community, and that we needed to work together in the interests of everyone.
Which takes me to our children. My two are currently lying in bed – teenagers need sleep, they tell me, lots of it – but they seem to be taking this change to the world they know in their stride. That's also true for nearly all of the Pinehurst children: they are so adaptable that they are learning online, becoming accustomed to a life without all the activities a typical Pinehurst child enjoys, and are showing a remarkable resilience. They have been magnificent: funny, resourceful and charming. I am hopeful for many reasons, but our children above all else.
So a few bits of information:
1. Term 2 starts on Monday 20th April. Teachers are on holiday until then, and I want them to have a good rest! The rest of us are still working, though: that includes me, our finance team, our admissions team, and our community team. Please keep in touch.
2. Term 2 invoices will go out either today or early next week. The Board have also written to all parents today: in Term 2, we will not be charging Activity Fees, and we will not be charging the Capital Levy. We will review this before Term 3 and then again before Term 4, and may remove both the Activity Fees and the Capital Levy for Term 3 and Term 4 as well. I also want to hear from parents who are finding things difficult financially at the moment: I have the option to defer fees in some circumstances. Our priority is to support you and to keep your children in school and we will work with you to do this. Please feel free to talk to me directly about this at any time.
3. Our Facebook page is our main place for community ideas for students. Even if you aren't a Facebook fan (I don't generally use Facebook either), it's worth logging on and having a look. We will continue to be very active on WeChat too, but Facebook and Instagram are our other two main social media channels. Contact Nicki Williams with ideas.
When we return in Term 2, we will be sustaining our online programme, but there may well be some differences and some developments. Our teachers are finding new ways to do things all the time. Please continue to work with us; keep asking questions; keep making suggestions; keep engaging with us and working together as a community. We expect things to get harder before they improve, which makes it even more important to work together.
On that, we are also planning for our return to school, although we do not know when that will be. We expect our return to have some restrictions, so school may well have a slightly different rhythm. We are planning for that, though, and will be completely ready for the day we can come back to our wonderful grounds.
Keep in touch and feel free to write to me with any questions or comments.
Stay safe, keep well, send our best wishes and love to those people across the world who need our thoughts at this time, and look after yourself and our community.
Family Well-Being
Being together as a family during this time will no doubt be memorable in many ways. It might be worthwhile considering this as a perfect opportunity to create wonderful memories. So set the family ship to sail on new waters and let the adventure begin.
If you need some helpful tips and advice on fun family activities or ways in which to keep your child calm and manage their worries, we recommend the following:
Nigel Latta (New Zealand Clinical Psychologist and Author)
Nigel Latta was interviewed on TV1 Breakfast on Thursday, 2nd April and this is a very informative interview with many helpful tips. You can view this interview on TVNZ OnDemand or through our eTV channel available on the Parent Dashboard.
Below is a link to some excellent resources that Nigel Latta has made available.
https://www.parentland.app/free-resources-getting-through-covid19-as-a-family
Sparklers
Sparklers is a New Zealand website that has a range of activities for families and some helpful, easy to read articles on dealing with anxiety for parents and children.
School Counsellor
Debbie Stanaway will be working through the holidays if any student is feeling stressed or anxious or you are concerned about a family member. Please feel free to contact her - Debbie.Stanaway@pinehurst.school.nz or 021 973 727.
Helplines for children and young people:
Youthline 0800 376633 or text 234
What's up 0800 9428787
Parent support - Parent Help Line 0800 568856
Helplines and resources for everyone:
Need to talk 1737 or text 1737 for counselling or support
Lifeline 0800 543354 or free text 4357 for counselling and support
Anxiety line 0800 111757 or free text 4202
Kia Ora,
As we finish one of the strangest terms of school that I have known in my career I would like to thank our community for the support that you have shown to the school at this challenging time. Teachers and students have worked hard to make the significant step from traditional school to an online learning environment. I appreciate the additional support that has been required from parents as you have stepped in as teacher aids and ensured that your children have remained focused on their learning.
I would also like to thank parents for the many kind words that we have received in support of what we have been trying to achieve. Teachers have made a big shift. We are all comfortable in the classroom interacting and working with our students, but it has been a challenge to sit in front of a camera talking to students remotely whilst recording what you are doing. No doubt the past week and a half has given many parents a better understanding of the work that takes place in our classrooms every day. I am sure that you have picked up new pieces of information from History, Maths or Science lessons.
Looking forward, we have started to reschedule events as we make plans for the remainder of the year. We are currently discussing the mid-year examinations for senior students and when they will take place, we will have further details for students and parents at the start of Term 2. We have moved the School Ball for Year 11 – Year 13 students from its original date, Saturday 20 June, to Saturday 5 September to allow students more time to plan the event. We have also moved the School Production from July to September 24 – 26. We are in the final stages of confirming dates for the Year 9 Camp, which we are confident will now take place late in Term 4.
We have made significant progress in a short space of time. We will take time to reflect over the break and the college leadership team will meet toward the end of the holiday to refocus and prepare for the next steps in our programme.
I hope that all of our community enjoys the break from lessons over the next two weeks. Thank you to the students for their outstanding engagement and work ethic. They have taken this challenge in their stride and I am proud of how they have responded. I hope that they enjoy a well-earned rest over the next two weeks and indulge in Easter eggs and hot cross buns.
Nga Mihi,
Kieran Verryt
PE Challenge
Students in the college have been working on the 2020 PE Challenge. In place of their PE lessons students have been given 25 challenges to complete and are tasked with sharing what they have been up to. The HPE team are keen to keep everyone active for the good of their social, spiritual, emotional and physical well-being (hauora).
Students (and some amazing staff) have been up to some awesome things already. If you want to join in and share with the community, follow the link to the course page for online workouts, apps and the PE challenge criteria! https://schoolbox.pinehurst.school.nz/homepage/5716
Well done to all of those students who are logging their progress in the PE Challenge. Each week, teachers are updating their classes with top performers and we would like to recognise the top students in each year group as of Wednesday 01/04.
Year 7 – Freya Watson (15 challenges completed)
Year 8 – Chloe Birkenstock (8)
Year 9 – Charlotte Clark (9)
Year 10 – Freya Aitken (12)
Year 11 – Frankie Benison (5)
Bit of a theme with the girls getting off to a flying start. We look forward to seeing what everyone has been busy doing to stay healthy and active.
Shark Finning
Kate Gardner, Year 8 student has done a great research project on Shark Finning. Students were required to explore an issue our oceans face.
You can see her presentation HERE.
Year 9 Global Citizenship
Year 9 Global Citizenship classes are learning about what it means to be ethical. Global citizens are aware of the need to take an unbiased stance initially to ensure all different perspectives are considered, this helps them address issues to find better solutions.
Senior Debating
On Friday, History was made in the Pinehurst Debating community by conducting the first online Senior Open debate with the very relevant if slightly outdated moot of "This house believes that all those who return from overseas should self isolate for two weeks."
The affirmative team was Isobel Donald and Lisa Sun and the negating team was Jessica Forshaw and Jessica Wang.
The debate was adjudicated very efficiently and insightfully by Neeraj Charya.
The affirmative team of Isobel Donald and Lisa Sun were victorious with a focus on 'flattening the curve, importance of stability and benefits for the economy at the end.'
'Graphitti'
Drawings made from graphs in A2 Maths...
Paige and Cenedra complete their Gold Duke of Edinburgh Award
One year ago Cenedra and Paige Waddel embarked on their Gold Duke of Edinburgh adventure. They had planned out from the time they did their Bronze exactly what they would do for sport, service and skill for each of the awards. For their Gold they did a year of service to Surf Lifesaving – coaching and patrolling as well as service to Pinehurst as POD mentors, crew in production and helping the Science technician. For sport they played hockey and football in the 1st X1 as well as sport for Surf Lifesaving which involved canoeing, boarding and swimming. For their skill Paige played the flute and Cenedra the electric guitar.
Last year in the July holidays they did the 10 day development course on the Spirit of Adventure. The Spirit requires you do not know anyone else going so it is an out of your comfort zone situation. Both girls did two different 10 day sessions where they had a fantastic journey meeting lots of new people and enjoyed the challenges; 6am winter swims, sailing the vessel and cooking, to name a few. They also got to see whales, sharks and dolphins. They were able to use the journey as their residential and the qualifying journey. In order for them to do this, their practice journey had to be on the water. So last April they did a 3 day kayak journey around Mahurangi where they had to carry all their food, clothing and tent with them in the hull of the kayak.
The girls both recommend this as a great challenge for people to take part in. Duke of Edinburgh gave them the opportunities of a life time to experience new adventures that they never would have partaken in had they not be doing the award.
Kia Ora,
I am sitting in my lounge on Thursday afternoon enjoying the sunshine and feeling a little shell shocked to be honest as I am sure we all are. Since we went into lockdown last week we have been on the steepest learning curve we could imagine but thankfully things have started to settle as we have reflected on what works and what doesn't in terms of online learning.
Firstly I would like to say thank you to our students, parents and staff for everything you have done this week. Our students have been outstanding and we have loved seeing them each day. As you can imagine having 20 plus little people all trying to talk at once without being able to put their hands up has been quite the management challenge especially when some found out they can mute the teacher...we have a solution for that though never fear! Parents we salute you, especially those of you trying to manage children at different year levels with one computer and often trying to run your own businesses as well. Our staff have been amazing! There isn't a manual for this and we have made changes as we go, to get the best outcomes. Overcoming being on camera, seeing yourself on screen and balancing the right technologies to deliver each subject is a challenge especially at the end of a busy term but we made it work.
The first day, it must be said was the most challenging for all of us as we tried to find ways to do what we usually do in the classroom. The novelty of being online quickly wore off for some children and we had to think of ways to engage as many as we could. Each team of teachers met online each day and solved problems, found solutions and worked to bring some fun into Pinehurst Online. Ideas come at all times of the day and even in the middle of the night! Kahoots is a firm favourite in Year 5 and 6 along with daily riddles. There is a Superhero theme going on today in Year 3 and 4 and Year 1 and 2 are learning phonics onscreen, listening to Mrs Jones Hill read a story each day and bringing their teddies to P.E with Mr Taylor.
Going live for more lessons has been the best strategy for engagement and we are finding that by the end of the week our classes are really filling up, especially in the middle and upper syndicates. It isn't as simple in the Primary as attending online classes as older students do, our students need more support sometimes and lots of breaks to do fun things. They haven't yet mastered the art of online chat and we are using this as an opportunity to teach them those things. By teaching live lessons and recording them we can get the best of both worlds, allowing you some flexibility as a family too.
There have been so many laugh out loud moments this week for all of us, young children are very funny and creative and we just love seeing how they are responding to this new environment. Our teachers can be pretty funny too, I find myself logging on to Facebook to watch Mrs Thompson 'travel to virtual work.' So far this has consisted of skateboarding through her kitchen in a giraffe suit and riding a stationery bike in the garden! On both occasions she has grabbed a takeaway coffee from the kitchen for her 'journey'. Thanks Mrs Thomson for a wonderful start to the day!
So as we take a break for the next two weeks and recharge from what has been the strangest term ever, just know that you are all doing an amazing job. We have come together as a community and made it work, sure it's not always perfect but I know that what we have created is good and something we can all be proud of. Thanks for your support and kind messages, we really appreciate them.
Kia Kaha, we look forward to seeing your beautiful children back online again in two weeks time.
Sian Coxon, Principal of Primary
Story Time with Mrs Jones-Hill and Ms Coxon
Tena Koutou tamarki ma. Have you been listening to your daily story? Each day Ms Coxon and Mrs Jones-Hill are reading a story. Ms Coxon has been reading two chapters of the novel 'Frindle' to Years 4-6 and Mrs Jones-Hill shares one of her favourite picture books to Years 1-3.
These stories are posted each morning onto your class Team page. A big thank you to all the lovely comments and photos you are sending that let them know how much you are enjoying them. Story time is a perfect time to snuggle up on the couch, bean bag or maybe in bed and relax. Sit back, listen, and let you mind travel.
Have you visited our school library yet? We now have eBooks and eAudio ready for you. Access to the two platforms can be found on our Pinehurst website – https://pinehurstschool.nz/. Go to Pinehurst Dashboard at the top – Learning Links & tools - Click on the preferred platform. Or you can go directly there:Primary eBook platform: https://pinehurstpri.eplatform.co/
The Cook and the King Challenge
As part of daily story time Mrs Jones-Hill read a brand new book by Julia Donaldson. She is the well-known author of 'The Gruffalo' story books. At the end of the story she asked the Year 1-3 students if they had managed to do any baking at home. As you can see below there has been some delicious treats being whipped up.
Online Learning in P1
Every morning at 9am Miss Dobbins is lucky enough to be greeted by such happy, smiley faces from the students in P1 – all enthusiastic and ready for online learning! There have been so many photos and videos she has loved seeing and so much amazing work, they are always putting a big smile on her face!
Here you can see Eddy who has been on a sound hunt and drawn a sound graph of all the things he could hear outside. In Science, we have been learning about our senses and last week we were learning about the sense of sound.
Abigail is working hard in the sunshine with one of Mr Taylor's YouTube classes. I think all of P1 have been enjoying keeping fit!
Chelsea is playing a fun game at home to practice her phonic sounds we have learnt over the term. She is listening to the word, reading all the words and then jumping to the correct word. I also watched a great video of Hadleigh working together with his brother and dad to find and read words around the garden which you can see below in the 'I Spy...' section. Such great team work and fun whilst learning! A big thank you from me to the P1 parents for all of your support!
P2 Supertatoes
In P2, we have been continuing with our theme of Superheroes. Over the past two weeks, we have been engrossed in books from the Supertato series, which we have thoroughly enjoyed. We have been using the Supertato context to learn how to write a set of instructions. So far, we have worked out 'How to Trap a Villain' and this week we are writing instructions on 'How to Survive the Valley of Doom'.
We always create pictorial text maps to help us with the structure of our work before the writing process. The students have also enjoyed making the characters from the stories, using playdoh. Well done everyone for such great effort! We are immensely proud of how well you are doing, especially as you have only been at school for 10 weeks!
P5 Writing
P5 have been writing instructions for how to catch a villain, based on the book we read this week called 'Supertato'. In our current climate Katie Rose has done some brilliant authentic learning...see below.
Reading in P6
For Reading this week, students in P6 learnt all about story settings. We read the book 'Where the Wild Things Are' and discussed how this story has two settings - Max's bedroom and then the Wild Thing Forest. The students made their own setting dioramas using anything they could find around their homes.
Setting the scene in P7
P7 have been reading Where the Wild Things Are. They are learning to create a 3D model of a setting.
The students created their own 'Wild Thing' forest. They used Lego, building blocks, toys, paper and any other resources they could find around the house. There were some amazing creations.
Pointillism in P8
In P8 for Science we have been discussing Habitats. We have discussed the Rain forest, the Savannah, Antarctica and this week we did Desert animals. We have been looking at what types of animals live in these habitats and how they each adapt and survive. Here are two different animals that live in the desert and we chose to decorate these by using the technique of pointillism.
Pointillism is the theory or practice in art of applying small strokes or dots of colour to a surface so that from a distance they blend together.
P10's Gratitude Trees
We know that being grateful for what we have can help us persevere (keep going) in challenging moments!
P10 students have been busy making Gratitude Trees at home. They were told they could design their tree using twigs and leaves from their gardens, draw their tree on paper or online. Their leaves represent what they are grateful for.
Year 3 have also been learning about plants for Science this term. Mrs Roberts made a PowerPoint about seed pods she found in her garden. She is also growing plants from fruit and vegetables that she has at home.
Superheroes
Year 3 was set a challenge to create a superhero and then make a movie with a short story. Here are Kyle's and Laura's videos:
P11 Superhero and Lego Challenge
Year 3 students in P11 have been working on a Superhero and Lego Challenge over the last week. They had a daily Lego Challenge activity to do, using thinking skills, creativity, design and Maths. The Superhero Challenge was to plan, design, and create their own superhero, using Lego, recyclable materials or anything else around the house.
In English they have been learning how to record their experiences in a diary and have been writing diary entries about their daily challenge.
But that's not all! These superhero students have learned how to record the process using stop motion apps and iMovie and planned and made an animated or short movie with their superhero and Lego characters as the stars……and all of this via remote learning!
To finish off the Term it's SUPERHERO DAY on Friday – everyone is coming to 'class' as a superhero (being as innovative as possible with what they have at home) ready to share their final creations!
P11's Virtual Assembly - Anything is possible!
P11 held a virtual assembly this week. We thought about what we might usually present in the Arena for assembly and went off to practice then uploaded our items to present to everyone. We had piano playing, an art showcase, Rubix cube demonstrations, dancing and more! Who says you can't present an assembly online! We have discovered on our remote learning journey that almost anything is possible if you really want to do it!
Year 6 Reflections
This week Year 6 students focused on reflections in Maths. One task was to find some items at home to create a reflection. The line of reflection needed to be shown.
Here are some of their creative examples...
Year 6 Maths
Year 6 students have been doing geometry work - plotting coordinates, with an Easter theme!
I Spy... Katy's finger painting in P4!
I Spy...Online itinerant singing lessons!
I Spy...Renee in Year 6 learning to make sushi at home and using her spare time to practice her golf!
I Spy...Brothers, Jeremy and Hadleigh helping each other do their school work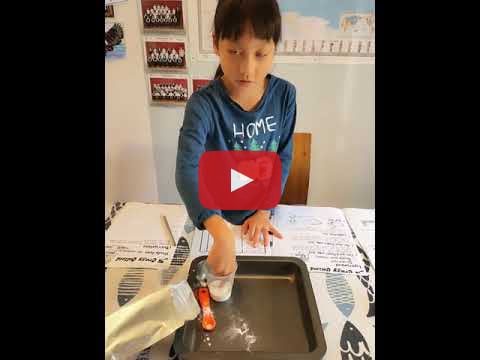 Year 10 Art
Congratulations to Year 10 art students for finishing their paintings of surrealist creatures before we went into lockdown.
Now they're working on a realistic self portrait in the style of Johannes Vermeer. Students have already finished their tonal drawings this week and they're looking superb.
The Addams Family
Being stuck at home is the perfect time to learn something new, or in the case of the Addams Family Cast, its the perfect time to continue learning all their material for the upcoming production. The lockdown isn't stopping the performing arts, we've adapted our rehearsals to work via an online programme. We have videoed dance and singing tutorials, with students learning the script while away.
Due to not being able to physically see our cast we have made the decision to push the performance dates back to the 24, 25 and 26th of September. This is so we have plenty of time to create something amazing for everyone to see!
Drama
The lock-down is providing an excellent opportunity for Drama students to look past acting and delve further into the design aspects of Theater. Understanding theater design is an important part of the IGCSE Drama exam and we are fortunate to be able to expose students to theater design this early.

Year 9 have started looking at designing costume and set for an extract from The Lion, the Witch and the Wardrobe. They have been working with a client brief and have been researching the time period and other set/costume designers. They have been creating Mood Boards to help with the design process. They will soon submit their first design for feedback from their 'client'.
Year 10 have been looking at designing Costume, Set, Sound and Lighting for The Crucible. What they are designing online now can be used within their acting scenes, essentially allowing them to see the whole design process through to completion. They have been following a design process that is followed within the industry - one that involves working with clients. They've read and understood their client brief and have been researching in design groups information about the period The Crucible is set in. They are submitting their first design draft this week for feedback from their 'client'.
In Music this week
Year 10-13 Music Students - Performance at home
Instead of performing at an Informal Music concert setting, our Year 10-13 Music students have been perfecting their performance skills at home and video recording them this week, in preparation for the performance portfolio due to be completed by the end of September and sent off to Cambridge. Our students have been fortunate to have continued guidance from their private/ itinerant teachers who have been remote teaching via Skype or Zoom.
Itinerant Lessons while in Lockdown
Pinehurst's itinerant teacher team of 18 professional musicians have continued to offer itinerant lessons remotely using Skype or Zoom over the last couple of weeks. Our teachers are flexible at arranging lessons during times that suit your child and your family, so if you have not had the chance to touch base with them, please do so, as needed.
Year 8 and 9 head into Practical Music for Term 2
For Term 1 and 2 the Year 8s and 9s have been focusing on developing their research skills as well as their knowledge of Musical History. Both of these components yielded an impressive understanding effort from all students, despite the challenges the isolation has thrown at us.
From next term, students will be experimenting with sequencing music software to arrange music in recognisable forms and then develop their own performance skills. Normally performance is something we approach as a group setting and the isolation should not deter the original intent. So should your whole family like to participate, here is a bit of an inspiration.
Pinehurst eBook and eAudio platform
Our fabulous new eBook platform was launched last week - just before we all went into lockdown. The two eBook sites have proven to be very popular with students. So much so, we have decided to upgrade the original package to allow for more loans per month, as the amount of items being borrowed by our students has vastly surpassed all our expectations. Our ePlatform provider was equally astonished as we watched the amount of loans going out exceed our entire month's allocation!
When this happened, the Primary platform froze for the day and students were unable to borrow books from the site. Apologies if this was your experience on Tuesday. The situation is now sorted, and borrowing is open again on both platforms.
Access to the eBook platforms: can be found on our Pinehurst website – https://pinehurstschool.nz/
Go to Pinehurst Dashboard at the top – Learning Links & tools - Click on the preferred platform.
Or you can go directly there:
Using the ePlatform App on a handheld device, an iPad, tablet or smart phone is by far the easiest way to access the eBook collections - the 'ePlatform by Wheelers' App can be installed from your AppStore. Reading and listening is also far preferable on this type of device. A laptop is not the best experience for reading an entire book.
About the collections:
The college collection – Please be aware that the college collection is curated for a range of ages from Year 7 to adult reading. If students find they cannot download a book from this collection it may be because it has an age restriction on it. Year 7 and 8 students have access to the College and Primary platforms. We encourage Year 7 & 8 students to browse both these collections – there is plenty of appealing and age-appropriate material between them.
The primary platform – The primary collection has very few age restrictions. It is an exciting collection of contemporary and classic fiction. The enthusiasm for borrowing from this site means that, in these strange times, we may exceed our loan limits quite quickly. We will be monitoring this and working with Wheelers to try and keep our voracious reading community happy.
Auckland Libraries - Public library access
The library team would also like to remind everyone that our public libraries can still be accessed online. If you have a library membership card you are already in a position to borrow from the eCollections available at Auckland libraries. Take a look at the library website to view the many options for borrowing eBooks and eAudio. https://www.aucklandlibraries.govt.nz/
You can also join the library without going into a library – and proceed to take out eBooks and eAudio books without library card. Our librarian Sharon Blake explains the procedure:
On the Auckland Libraries home page click the 'Join' button at the top and follow the prompts.
Fill out the application for an eMembership. Once completed, press 'submit' and you will be given a number. This is your membership number, make a note of this and keep it safe.
If you go back to the home page, click on the menu on the right, and select 'eCollections'. This will lead you to information on how to access the eCollections through Overdrive, Borrowbox, Libby and others . These will facilitate your viewing and listening for the eCollection.
If you later decide you wish to take out physical books you will need to go to a library and collect a library card from a librarian.
Les Mills now broadcast daily workout classes
The free-to-air workouts, ranging from high-intensity training to stretching and meditation, are on TV twice a day at 9am and 3pm, and also offers workouts designed specifically for young children and teenagers. The workouts will also be available on TVNZ OnDemand.