Delirious is out TODAY!
Get Kristian and Aileen's sexy story and look for ways to win BIG gift cards and signed books
Hi there,
It's finally September 12! I have been so excited for the release of Delirious, and I know many of you have been looking forward to it, too! Writing Kristian and Aileen's story was an emotional journey for me, and the end result is, I think, one of the best books I've ever written. I so hope you enjoy this story of two survivors who find each other in this crazy world and then struggle to make a go of it as a couple. Any time I get to spend with the Quantum family is always fun and comical and SEXY! I hope you love Delirious as much as I do! Here's what you can expect in this one:
As one of Hollywood's hottest producers, Kristian Bowen is on top of the world. With the Quantum team fresh off a clean sweep of awards season and looking ahead to the premiere of their new film, Insidious, Kristian's life is exactly how he likes it, complete with a stable of willing subs to tend to his every desire. Until he attends the wedding of his friend and business partner Flynn Godfrey and meets Aileen Gifford, the close friend of Flynn's new wife, Natalie. Since meeting Aileen five months ago, Kristian's carefully cultivated life has changed in ways he never could've expected. Now Aileen and her children are moving to Los Angeles, and he's not sure whether to be excited or terrified about his powerful feelings for the single mom…
Aileen is coming off the worst year of her life, spent battling breast cancer while taking care of two young children. When Natalie, Flynn and their other friends encourage Aileen to move to LA and work for Quantum, she jumps at the chance to give her family a fresh start. And with her off-the-charts attraction to Flynn's business partner in the mix, the idea of living in LA becomes that much sweeter. Until everyone shows up to welcome her and the kids to their new home in LA—except Kristian.
He can't avoid her forever, and when these two finally see each other again, sparks fly between the single mom and the producer with a past he's kept hidden from everyone who matters to him. When that past rears its ugly head, will he run away from the woman he loves or turn to her for comfort in the storm? And will she prevail in convincing him that he can be himself, in every possible way, with her?
Kristian and Aileen's long-awaited story is full of heat, heart and humor, as well as appearances from all the Quantum characters readers love!
Ebook - The preorder and release week price of $4.99 will increase to $5.99 next week, so make sure you get yours at the lower price!
Print
Audio
Win Big During Release Week!
FABULOUS release week giveaway with a chance to win:
A $500 gift card grand prize to the book retailer of the winner's choice that will keep one lucky reader in books for a YEAR
Two $100 gift cards for runners up
To enter to win, you'll need to answer 10 questions about the book by Saturday, Sept. 16. So read, answer and hopefully WIN big! Winners will be notified on Sept. 18. Click here to enter!
Also look for chances to win other great prizes and signed books during release week in the Quantum Facebook Group and the Delirious Reader Group (you can dish about spoilers in the book group as well)!
What others are saying about Delirious:
"Wow, of all the couples in the Quantum series Kristian and Aileen pulled out one of the most heart crushing and soul fulfilling relationships ever. Started out as friends, they had amazing chemistry that completely made me swoon but also made my heart yearn." —5 star review from The Romantic Angel Blog
"It is quite simply the most emotional and romantic book I have ever had the pleasure to read."—5 star review from Kathy on Goodreads
"I was so moved by this story. It is a very pertinent depiction of what the individuals suffering from cancer face. It also shows us that we can learn to accept our flaws and misgivings so we can embrace life fully." —5 star review from As You Wish Reviews
When you've finished Delirious, post your review on the retailer of your choice or at Goodreads to help others discover Kristian and Aileen's story.
New to Quantum? Read Book 1, VIRTUOUS, for FREE right now!
Preorder Gansett Island Series Episode 2: Kevin & Chelsea
Return to Gansett Island on Oct. 24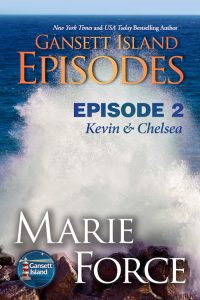 A year after his 31-year marriage imploded, Dr. Kevin McCarthy is enjoying life on Gansett Island. He's opened a small practice, goes fishing with his older brothers any time he wants and has his sons, nieces and nephews close by. Best of all is his all-consuming relationship with sexy bartender, Chelsea Rose. What started as a one-night stand a year ago, has turned into something much more significant for Kevin and for Chelsea. The sixteen-year age difference between them has never mattered, until they realize they may have differing plans for the future. Will they be able to reconcile their divergent paths or will their hearts be broken when they go their separate ways? Find out in Gansett Island Episode 2: Kevin & Chelsea where you'll also hear about Big Mac's latest business venture and have a visit with the Gansett Island characters you've come to love!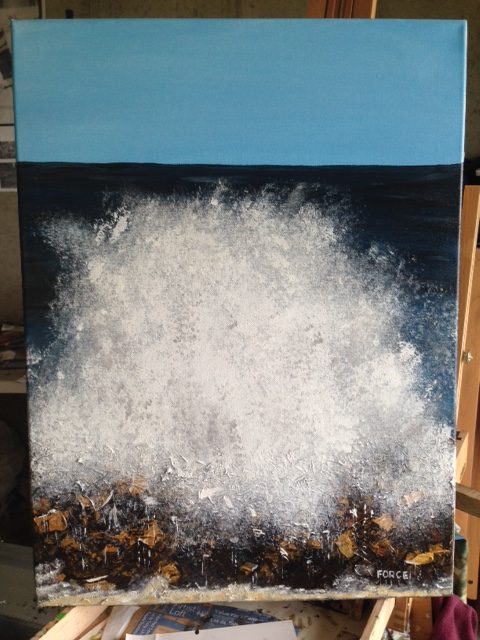 Enter to win this painting of the Episode 2 cover painted by Marie's husband Dan! Click here to enter.
Preorder now and read on Oct. 24!
Order a signed print copy from Marie's Store. More print and audio links coming soon!
Marie Recommends: His Hand-Me-Down Countess Coming Next Week from Jack's House Publishing!
His brother's untimely death leaves him with an Earldom and a fiancée. Too bad he wants neither of them…
Theodora Lawton has no need of a husband. As an independent woman, she wants to own property, make investments and be the master of her destiny. Unfortunately, her father signed her life away in a marriage contract to the future Earl of Stonemere. But then the cad upped and died, leaving her fate in the hands of his brother, one of the renowned Lustful Lords.
Achilles Denton, the Earl of Stonemere, is far more prepared to be a soldier than a peer. Deeply scarred by his last tour of duty, he knows he will never be a proper, upstanding pillar of the empire. Balanced on the edge of madness, he finds respite by keeping a tight rein on his life, both in and out of the bedroom. His brother's death has left him with responsibilities he never wanted and isn't prepared to handle in the respectable manner expected of a peer.
Further complicating his new life is an unwanted fiancée who comes with his equally unwanted title. Saddled with a hand-me-down countess, he soon discovers the woman is a force unto herself. As he grapples with the burden of his new responsibilities, he discovers someone wants him dead. The question is, can he stay alive long enough to figure out who's trying to kill him while he tries to tame his headstrong wife?
Preorder the ebook now and read on Sept. 20
Print