President-elect Biden
The US election last week saw more votes cast than ever before in US history, and a 120 year high voter turnout rate.
The election's outcome has been clear enough for news outlets across the United States to call the election as a Biden victory and for Prime Minister Morrison to congratulate Joe Biden. The Centre and the Lowy Institute had the tremendous pleasure of hosting Vice President Biden in Sydney in 2016.
President Trump is still yet to concede defeat and under any circumstance will remain president until 20 January 2021, with executive authority over the government of the United States. Indeed, since his presumptive election loss, Trump has fired Secretary of Defense Esper and a number of less visible defense and national security officials. The Centre's analysts are carefully tracking these developments and any implications for Australian national interests.
Australian interest in this election mirrored the turnout surge in the United States. Demand for analysis from United States Studies Centre (USSC) commentators smashed all previous records.
The Centre's researchers and fellows provided insights and analysis on all major media networks in Australia. Over the past week, the Centre published op-eds in The Australian, AFR, The Guardian, SMH, The Daily Telegraph and The Conversation.
Election day may be "the big show" for the USSC every four years, but the demand for assessments, insights and policy recommendations around the US-Australia relationship continue to track at record levels, as the United States transitions to a new administration. We now know which half of Blue Book / Red Book will form our handbook for the next four years, but this is just the launch pad. The Centre will provide timely, salient and evidence-based research for Australia through the Biden administration and beyond.
Blue Book: An Australian guide to the Biden administration
In October, the USSC released Red Book/Blue Book: An Australian guide to the next US administration, an in-depth handbook to help Australia traverse the policy terrain post-US election. This is a compilation of analysis from 13 different researchers, covering US power and foreign policy, global issues, economics, US politics and governance and future trends.
"Absent Senate control, Biden's ability to move on climate will be limited to executive orders and regulations, all of which will be subject to legal challenges."
This research was covered by The Australian, ABC Radio, AFR, MSN, Sky News and News.com.au.
Polling
In the week leading up to the election, the USSC released its first State of the United States polling data. Key findings:
Nearly half (49 per cent) of Australians preferred Biden as a presidential candidate, compared to 23 per cent who preferred Trump
Despite nearly a third (31 per cent) of Coalition voters saying they preferred Trump, more (41 per cent) preferred Biden
Just 45 per cent of respondents who were voting for Donald Trump agreed or strongly agreed that Joe Biden should be accepted as president if he wins the election, and only 31 per cent of Biden supporters agreed or strongly agreed that Trump should be accepted if he wins
Most Americans realise the other side does not accept their nominee. Only 16 per cent of Trump voters said Democrats would accept their candidate if he won, and 26 per cent of Biden supporters said Republicans would accept their nominee
This polling was covered by The Australian, AFR, The Daily Telegraph and Sky News.
Student writing competition winners
Congratulations to the winners of the 2020 USSC Student Writing Competition:
Michael Lotsaris, Non-fiction winner for Red and Blue make Purple: Political Extremism and Civil Unrest during the Global Pandemic
Jess Page, Fiction winner for Lessons from the ragged edge
The COVID-19 pandemic has changed the world and we asked students to tell us how. Their insightful takes on the impacts on life in the US and Australia provide a helpful glance at what this means in 2020 and for years to come.
Stay tuned for an update on the 2021 American Studies courses.
China's Belt and Road Initiative: A US-Australian assessment
To carry out China's Belt and Road Initiative (BRI), China promises to spend more than US$1 trillion on new ports, railways, fibre-optic cables, power plants, and other connections across more than one hundred and thirty countries. The United States has cautioned that the BRI, President Xi Jinping's flagship foreign-policy effort, amounts to "debt trap diplomacy", "white elephants", and an unprecedented expansion of Chinese military power. Yet some have said the United States and allies have failed to provide a sufficient "alternative" to BRI. How should the United States and allies like Australia respond? The conventional wisdom is that a more skeptical view of China is bipartisan in the United States but would a Biden administration's response to BRI be substantively different from the Trump administration's?
Please join us for a discussion of the United States, Australia and China's Belt and Road Initiative with Jonathan E. Hillman, author of the recently published The Emperor's New Road: China and the Project of the Century (Yale University Press, 2020), in a conversation with the Australian Financial Review's Lisa Murray.
SYDNEY
Tuesday, 17 November 2020
11:30am - 12:30pm (AEDT)
WASHINGTON DC
Monday, 16 November 2020
7:30pm - 8:30pm (EST)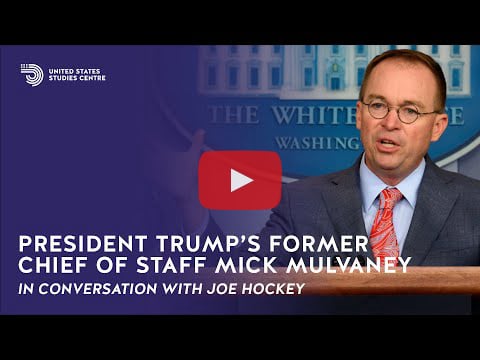 Webinar replays
USSC had the pleasure of welcoming President Trump's former chief of staff to a webinar event in October as well as potential key players in the incoming Biden administration. Catch up on the webinar replays through the USSC Live podcast and on YouTube to know who's who for the outgoing and incoming administrations. Here are some of the greatest hits from recent webinars:
Make sure to SUBSCRIBE to the USSC YouTube channel to get notifications as soon as new videos are uploaded.
ARE YOU GETTING "THE 45TH"?
"The 45th" is our weekly wrap of US politics and 2020 election-related news, analysis and events, delivered to your inbox every Wednesday.
Sign up now