Flowers Gallery:
Prismatic Minds
21 July – 28 August, 2021
The Jennifer Lauren Gallery and actor, writer and Talk Art co-presenter Russell Tovey are thrilled to be curating Prismatic Minds at Flowers Gallery in London.
Makoot 169, Makoto Okawa, n.d. Hand-felted doll, 89 x 32 x 6 cm. Photo by Ellie Walmsley
The exhibition will look at highly stylized visual languages featuring repeated figures and characters. Bringing together six mainly self-taught international artists, each with intensely personal and imaginative styles, Prismatic Minds presents a new discourse on the act of repetition and the desire to surround oneself with others, real or imagined.
Untitled, Susan Te Kahurangi King, c.1965. Graphite and coloured pencil on found paper, 20.6 x 18.7 cm, DO2048. Photo by Sam Hartnett
Original, raw and energetic, the works on view introduce a carnival of contemporary characters through repeated imagery that has recurred in the artists' work over many years. Often theatrical or performative, and created without expectations from others, the paintings, drawings and sculptures of Prismatic Minds demonstrate practices of masterful storytelling and image-making.
Untitled MIS514, Misleidys Castillo Pedroso, c.2018. Gouache on paper, 172 x 111 cm. Courtesy Christian Berst Art Brut Paris
The six artists are: Misleidys Francisca Castillo Pedroso, Makoto Okawa, Keisuke Ishino, Rachel Heller, Susan Te Kahurangi King and Edward Dutkiewicz. We can't wait for you to explore these artists' practices further, and to learn more about them through videos and guided tours.
For more information, go to: www.flowersgallery.com
Les Nouveaux Troubadours:
Des Fleurs dans le Buisson
July 16 – September 18, 2021
Les Nouveaux Troubadours association has announced the opening of a new exhibition, des Fleurs dans le Buisson, opening today.
L'Amant de la Dame de Fantaisie, Anselm Boix-Vives, 1968, 54 x 73 cm
Featured artists include both legend of Art Brut and cobtemporary painters: Paul Amar, Babahoum, Anselme Boix-Vives, Benjamin Bonjour, Didier Boulestier, Charles Boussion, Gérard Cambon, Chaix, Patrick Chapelière, Darédo, Didier Estival . . .
Le Bouquet, Patrick Chapeliere, 2013, 43 x 27 cm
. . . Anaïs Eychenne, Yanieb Fabre, Christine Fayon, Daniel Gonçalves, Martha Grünenwaldt, Stanislas Holas, Jaber, François Jauvion, Salim Karami, Alain Kieffer, Joël Lorand, Cecilia Markova, Mohammad, Mina Mond, Bruno Montpied, Marion Oster, Frantisek Pecka, Luboš Plný, Hisenali Ramezani, Bernadette Touilleux, Germain Van der Steen, Pépé Vignes, Scottie Wilson, Anna Zemánková, and many more,
Bouquet, Pépé Vignes, 1977, 24 x 32 cm
The exhibition includes works from France, Belgium, the United States, Poland and Africa. To learn more, go to: www.lesnouveauxtroubadours.fr
Short Film:
Gregory Blackstock
The new film The Great World of Gregory Blackstock, releassed July 12, is a co-production of Kalakala Animation and Independent Television Service, directed by Drew Christie.
"Outsider artists" are those who live outside the "norm," but Gregory Blackstock's story is as much about an artist who is self-taught as it is about an artist who creates art to please himself.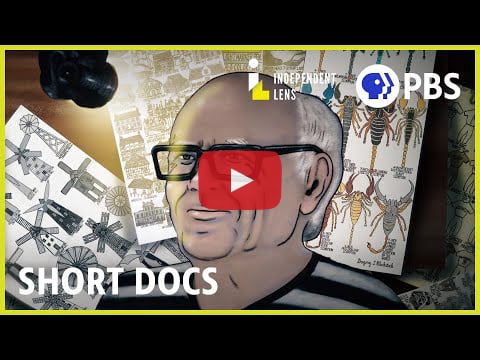 "The Great World of Gregory Blackstock", by PBS Voices, created by Kalakala Animation, 2021
Through rich animation, this film showcases Gregory's inner life and intricately detailed "list" drawings and shows how he uses his artwork to catalog and make sense of the world around him.
The Huts, Gregory Blackstock, 2013. Acrylic and oil on Masonite, 61 x 11 cm
Gregory's cousin Dorothy Frisch ultimately helps bring his drawings to the attention of the art world, while the documentary brings his drawings to life through hand-crafted animation, bringing you deeper into the unique vision of this singular artist.
Learn more about the film at: itvs.org
Now Published:
Creativity and Art
Andreas Steck and Barbara Steck have just published Creativity and Art: Neuroscientific and Psychoanalytic Perspectives.
Their book addresses art and creativity from neuroscientific (Andreas) and psychoanalytic (Barbara) perspectives.
"Creativity and Art combines a scientific basis looking at the neural mechanisms of creativity with a humanistic point of view emphasizing a developmental and psychoanalytic perspective."
As part of this dual approach, they present artists as varied as Vincent Van Gogh, Maurice Ravel, Jean Dubuffet, Adolf Wölfli, Aloïse Corbaz, Ludwig van Beethoven, Gustav Mahler, Romain Gary, Camille Claudel, Rainer Maria Rilke, Salvador Dali, Hergé, the Brothers Grimm, Edvard Munch, Egon Schiele and many others.
The book explores the link between their works, experiences, sometimes exceptional abilities, and their supposed or established pathologies.
Learn more at: www.epflpress.org
OUT NOW
Issue #107 is available to purchase now and is on it's way to subscribers.
Featured articles include:
HUGO ROCHA
A bold, graphic creator emerges from an art programme in LA
In Los Angeles, Hugo Rocha is a 44-year-old, Mexican- American self-taught artist who has developed a manner of drawing that is marked by a bright palette and what graphic designers might refer to as a clean, hard edge.
Despite – or perhaps because of – his particular visual language's regular use of composition-ordering grids and simple geometric shapes to depict everything from faces and their details to lamps, tables, trees, buildings and school buses, Rocha's colourful drawings are remarkably vibrant and expressive.
Since 2007, Rocha has taken part in an art-making programme for people with developmental disabilities sponsored by the Tierra del Sol Foundation.