Week of September 14, 2020
Be featured on Fox Instagram
Fox students, we want to feature YOU on the Fox School Instagram. As we continue our virtual experience, we want to showcase our Fox family digitally as a way to foster community and build connections. Interested in participating? Reach out to Taylor Tropea at taylor.tropea@temple.edu.
Fox Virtual Immersion Fair
Wednesday, Sept. 30
8:00 p.m.
Undergraduate students can explore Egypt and/or Turkey with the Fox School's new virtual global immersions.
Access Barron's for Free
Fox students have access to Barron's digital magazine, real-time content, webinars and Q&A sessions — providing you with perspective, insights, and analysis utilized by the
most successful business professionals. Download the app.
Innovative Idea Competition is Open!
The Innovative Idea Competition encourages the generation of innovative new products, services and technologies. The competition is open to all Temple University students, alumni, faculty and staff. You could win part of the $5000+ cash prize package!
Friday, Sept. 25
12:00 - 1:30 p.m.
Women in Consulting features prominent female consultants discussing their journey and how they have made their mark in the industry.
Get to know accounting professors and learn more about the five accounting SPOs.
CSPD Fall Connection
Student registrations and 1:1 employer appointment scheduling for the Fox Fall Connection and Accounting Connection will open on Wednesday, September 9th. In the meantime, this 5 minute video will answer all your fair questions.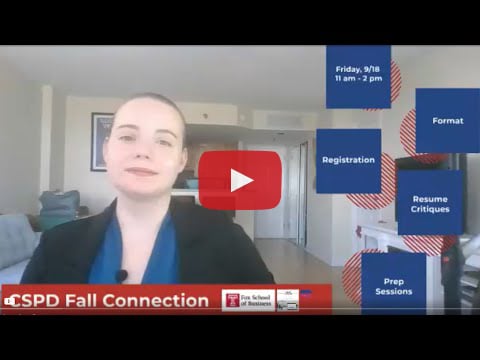 Become a HEART Peer Educators
Peer education gives students an opportunity to promote well-being, cultivate community, and be agents of change on our campus. HEART Peer Educators receive training via a 3-credit course.
Tuesday 9/29 12pm - 12:45pm
Thursday 10/1 5pm - 5:45pm
Monday 10/5 4pm - 4:45pm
Friday 10/9 1pm - 1:45pm
Monday, Sept. 14
2:00 p.m.
Cannabis Chat: There's a lot of information about cannabis out there! This session will focus on providing accurate information about cannabis and its long term effects.
How to find your crowd
Many students were looking forward to an on-campus experience. With classes pivoting online, how can they stay involved? Read more>>