Marilyn Oshman to be Honoured at Orange Show Gala, Houston, TX
November 9, 2019
As part of the Orange Show Gala celebration this fall, Marilyn Oshman will be honoured for her impact on Houston Arts. Oshman has played an active roll on the boards of the CAMH, MFAH, Houston Ballet, Asia Society Texas, Raw Vision, The Menil Collection and The Orange Show Foundation, touching virtually every art institution in Houston. She founded The Orange Show Foundation and has tirelessly run it since its beginnings, and along the way saved The Beer Can House, generated the world's largest art car parade, and helped to inspire Smither Park, helping to make Houston a thriving international arts center.
For tickets to the 38th Gala, "Texas Legends, Tall Tales, and Marvels", click here.
The Orange Show World Headquarters
2401 Munger St, Houston, TX 77023
www.orangeshow.org
Treger/Saint Silvestre Collection at La Casa Encendida, Madrid
until January 5, 2020
La Casa Encendida presents "The Electric Eye", an exhibition featuring works by 41 creators from the Treger/Saint Silvestre Collection, the renowned art brut collection on permanent loan to the Centro de Arte Oliva in São João da Madeira, Portugal. The show explores mystery, esotericism and the occult, and includes work by Janko Domsic, Harald Stoffers, Melvin Way, Beverly Baker, Madge Gill, Anna Zemánková and Guo Fengyi.
La Casa Encendida
Ronda de Valencia, 2, 28012 Madrid
www.lacasaencendida.es
House of Dreams Film Showing in London
Inside Stephen Wright's House of Dreams, East Dulwich
October 30, 2019
There will be a House of Dreams film showing on October 30 at 7pm at Hart Club, London. Two documentaries about Stephen Wright's House of Dreams in East Dulwich will be shown: the recent documentary made by Homemade Films for Canadian TV, along with a new documentary by Lisa Morgenthau and Chris Lee. There will also be a short film from Headway showing Stephen working as a mentor with artist Paul Wright, whose work is currently on show in the gallery.
Hart Club
95 Westminster Bridge Road, SE1 7HR
hartclub.org
www.stephenwrightartist.com
until January 31, 2020
For the first time in Austria, a solo exhibition is dedicated to the extensive oeuvre of Czech artist self-taught artist Anna Zemánková (1908–1986).
Österreichische Gesellschaft vom Goldenen Kreuze
Kärntner Straße 26/ Eingang, Marco-d'Aviano-Gasse 1, 1010 Vienna, Austria
​www.oeggk.at
Hugo Rocha at Tierra del Sol Gallery, Los Angeles
until November 3, 2020
Tierra del Sol Gallery presents Hugo Rocha's first solo show. Rocha is inspired by telenovelas, turning cinematic stills into brightly coloured folkloric compositions. He has been working with the progressive studios of Tierra del Sol in Los Angeles since 2007.
Tierra Del Sol Gallery
945 Chung King Road, Los Angeles, CA 90012
​www.tierradelsol.org
Raw Vision 103 on its way to subscribers and available to order now!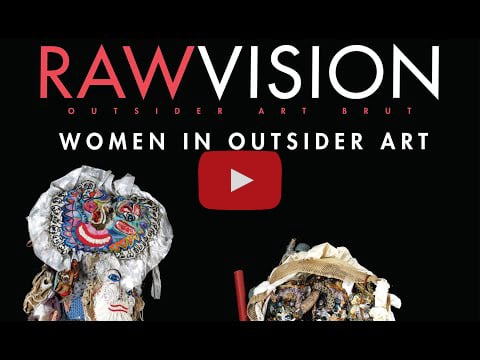 Raw Vision Short Film Competition
Below is Pavel Konečný's entry into the 2019 Raw Vision short film competition.
Outsider carver Bartolomeo Mereu, nicknamed "Banana Man", lives in Sardinia near Dorgali, where he was born. He grew up in a family of farmers with four other siblings. Mereu stopped going to school after the third grade and helped his parents with work in the fields, before leaving to seek his fortune in Belgium and Germany when he was 19. When he returned to Sardinia ten years later, he bought a bar that he transformed into an ice-cream shop which he ran for 39 years. In 2015 he had his first exhibition in Dorgali.