Fatal Threat Out Today!
Sam and Nick are back in Book 11 in the Fatal Series.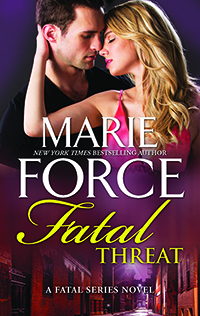 "Force's 11th Fatal romantic thriller continues her trend of writing likable, relatable characters who are entirely capable of handling the inevitably dire situations that occur in their high-risk jobs." —Publisher's Weekly
"I don't think there is a book couple, after 11 books, that I love more than Sam and Nick. The stories get better and better. And this couple...they are constantly growing and evolving." —Cocktails and Books
"A delightful almost-political but-not-quite story of murder, intrigue and yummie romance." —4.5 star review from Mystery Sequels
With a killer on the loose, it's the worst time to be on lockdown…
It's just another day at the office for Washington Metro Police lieutenant Sam Holland when a body surfaces off the shores of the Anacostia River. But before Sam can sink her teeth into the new case, Secret Service agents seize her from the crime scene. A threat has been made against her family, but nobody will tell her anything—including the whereabouts of her husband, Vice President Nick Cappuano. This isn't the first time the couple's lives have been at risk, but when a bombshell from Sam's past returns to haunt her, she can't help but wonder if there's a connection. With a ruthless killer out for vengeance, and Nick struggling to maintain his reputation after secrets from his own past are revealed, Sam struggles to tie the threat to a murder that can't possibly be a coincidence. And she has to get it done before her husband's career is irrevocably damaged…
Ebook
Print
Audio
When you're done reading...
Look for great giveaways in the Fatal Series Facebook Group—no spoilers, please! Even more giveaways will be available in the Fatal Threat Group where spoilers are welcome. Marie will be giving away SIGNED full sets of the Fatal Series to a number of lucky readers this week so watch the Fatal Series Group, the Fatal Threat Group and Marie's various social media channels for chances to win!
Please also consider posting your review at Goodreads and the retailer of your choice to tell others how much you enjoyed Fatal Threat.
Preorder Fatal Chaos
Look for more from the Fatal Series on Feb. 27, 2018!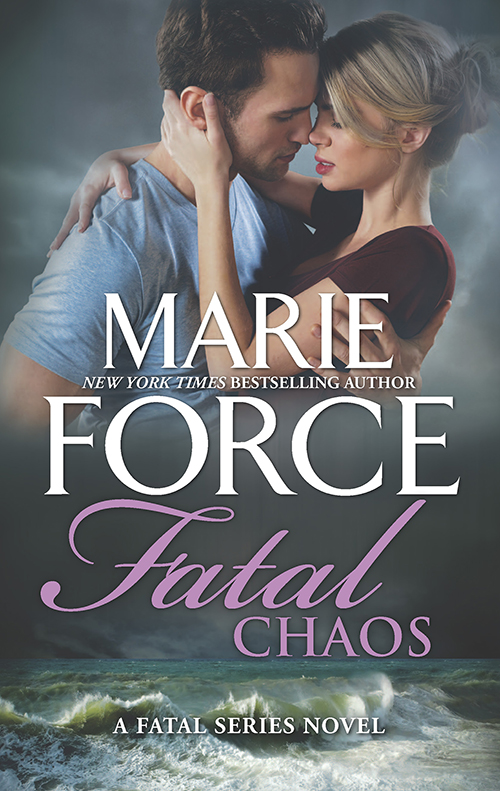 First the calm. Then the storm…
Escaping D.C. during the dog days of summer is one of the smartest moves Washington Metro Police Lieutenant Samantha Holland ever made. Beach walks aren't quite as romantic with the Secret Service in tow, but Sam and her husband, Vice President Nick Cappuano cherish the chance to recharge and reconnect—especially with a scandal swirling around the administration.
No sooner are they back home than a fatal drive-by shooting sets the city on edge. The teenage victim is barely older than Sam and Nick's son, Scotty. As more deaths follow, Sam and her team play beat the clock to stop the ruthless killers. With Nick facing his greatest challenge—one that could drastically change all their lives and even end Sam's career—will the mounting pressure deepen or damage their bond?
Ebook
Print
Audio and more print links coming soon!
Start the Fatal Series for Free!
Get the first three books in the series free for a limited time in the U.S. only. Coming to the UK and AU markets, too! Check your retailer in the next few days.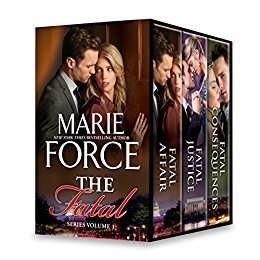 Fatal Affair
Washington, D.C., Metro Police Detective Sergeant Sam Holland needs a big win to salvage her career—and her confidence—after a disastrous investigation. The perfect opportunity arises when Senator John O'Connor is found brutally murdered in his bed, and Sam is assigned to the case. Matters get complicated when Sam has to team up with Nick Cappuano, O'Connor's friend and chief of staff…and the man Sam had a memorable one-night stand with years earlier. Their sexual chemistry still sizzles, and Sam has to fight to stay focused on the case. Sleeping with a material witness is another mistake she can't afford—especially when the bodies keep piling up.
Fatal Justice
Standing over the body of a Supreme Court nominee, Lieutenant Sam Holland is hip-deep in another high-profile murder case. The fact that she was one of the last people to see Julian Sinclair alive just complicates things even more. On the plus side, her relationship with Senator Nick Cappuano is heating up—but it's also attracting a lot of unwanted media attention and blinding flash bulbs.
The pressure is on for Sam to find Sinclair's killer, but a new lead in her father's unsolved shooting puts her in unexpected danger. When long-buried secrets threaten to derail her relationship with Nick, Sam realizes that while justice is blind, mixing romance with politics has the potential to be fatal…
Fatal Consequences
Lieutenant Sam Holland is back on the job. A woman has been found brutally murdered and evidence points to Henry Lightfeather, a senator and close friend of Nick's. While Sam investigates, Nick stands by his friend—complicating his own bid for reelection, and causing tension between the couple.
As Sam's investigation reveals a scandal that rocks the capital, Nick and Sam discover that the biggest threat to their future might be someone from her past….
Get the free ebook today available only in the U.S. Coming to the UK and AU markets. too! Check your retailer in the next few days.