28 OCTOBER
The final seven days
As the election dominates global media, the researchers of the United States Studies Centre (USSC) have been charting the territory beyond the 2020 election. In Red book / Blue book: An Australian guide to the next US administration, 13 USSC analysts and fellows tackle the most pressing issues for Australia in this election. While China-relations will remain a central tenet of either administration, the roll out of a COVID-19 vaccine, approaches to climate change and the tack for Australian policy-shaping on Capitol Hill will be radically different under a Biden administration or a second Trump term.
Though the race for the White House is pre-eminent, as yesterday's confirmation of Amy Coney Barrett to the Supreme Court demonstrated, the make-up of Congress is crucial. The 2018 midterm elections are frequently cited as a "blue wave" yet the Republicans actually picked up two Senate seats. The vote on the newest justice of the Supreme Court was decided by two votes – 52 to 48. Tune in to tomorrow's webinar to get the inside scoop on what hangs in the balance for Australia and make sure to follow the USSC next week as we provide our analysis and commentary as the election results start to unfold.
VIDEO
President Trump's former
Chief of Staff Mick Mulvaney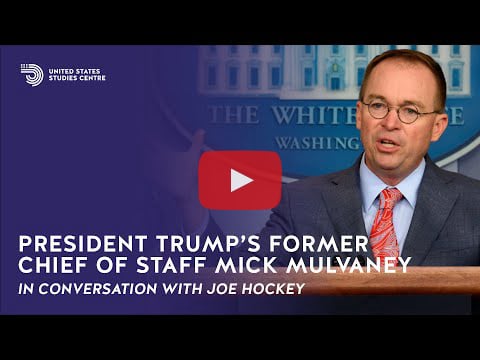 NEWS WRAP
Republicans put a lock on a conservative Supreme Court
Joe, I ran because of you. I ran because of Barack Obama. Because you did a poor job. If I thought you did a good job, I would have never run.

President Donald Trump
Presidential Debate
22 October 2020
I represent all of you, whether you voted for me or against me. And I'm going to make sure you're represented.

Joe Biden
Presidential Debate
22 October 2020
ANALYSIS
COVID-19: What to expect after the election
Red book/Blue book: An Australian guide to the next US administration
Associate Professor Adam Kamradt-Scott
Non-Resident Fellow
Irrespective of the election outcome, the SARS-CoV-2 virus that is responsible for the COVID-19 pandemic will continue to infect and kill people. Tragically, the United States remains one of the worst-affected countries, with more than eight million cases and 225,000 deaths recorded to date. Although there are promising signs an effective vaccine or series of vaccines may soon be approved for widespread use, any vaccines will be in short supply for at least the first 12 months of its existence while global manufacturing capacity is scaled up to meet demand. Further, in September 2020, the United States also confirmed that it would not join the COVID-19 Global Access (COVAX) initiative — a multilateral agreement designed to make two billion doses of vaccines globally available by the end of 2021. This means that the United States has locked itself out of one pathway to accessing vaccines as soon as they become available.
Vaccine supply is just one of the United States' challenges ahead though. A significant proportion of the US population has indicated they would refuse to be vaccinated even when a vaccine becomes available. In June 2020, polls suggested that as many as 50 per cent of Americans would refuse a COVID-19 vaccine. While a Gallup Poll conducted in August suggested approximately 35 per cent of Americans would decline vaccination, the results still suggest that vaccine hesitancy will remain a pervasive problem. This has implications for the reopening of the US economy as well as the willingness of other countries to permit not only their citizens to travel to the United States, but also for Americans to travel internationally.
BY THE NUMBERS
US climate change sentiment
Climate change is a "top priority": 2008 30% | 2020 52%
Sentiment toward climate change has seen one of the greatest shifts in polarisation from 2008 to 2020. Unsurprisingly, the priority level of dealing with climate change has risen dramatically for Democrats – jumping 20 points from 65 per cent in 2009 to 85 per cent in 2020. However, the contrast with Republicans could not be starker. Overall sentiment regarding climate change as an urgent issue rose from 30 per cent in 2008 to 52 per cent in 2020, but only gained one per cent of Republicans during that time period, meaning the gap between Republicans and Democrats nearly doubled from 27 per cent in 2009 to a 46 per cent difference in 2020.

Read more about climate change differences in Red Book/Blue Book.
VIRTUAL EVENT
Red Book/Blue Book: An Australian guide to the next US administration​
Every US general election carries implications for Australia. But as they say: this time, it's different. To most casual observers, the trajectories of the United States under a second Trump administration or a Biden administration seem quite different, as do the implications for Australia.
But what is really at stake for Australia? What policy arenas — or elements of politics, the economy, or culture and society of the United States — are likely to be impacted by either election outcome? Among these points of change or continuity, which are of relevance to Australians and Australia's national interests? And how might Australia best respond?
To discuss these issues, please join us for a webinar event to launch the United States Studies Centre's seminal report for the 2020 presidential election: Red Book/Blue Book: An Australian guide to the next US administration. This event will feature Centre experts Dr Charles Edel, Senior Fellow; Dr Gorana Grgic, Lecturer in US Politics and Foreign Policy; Dr Stephen Kirchner, Director of Trade and Investment; and Ashley Townshend, Director of Foreign Policy and Defence in a conversation with CEO Professor Simon Jackman.
WHEN:
Thursday, 29 October, 10am AEDT (Sydney) 7am AWST (Perth)
Wednesday, 28 October, 7pm EDT (Washington, DC)

COST:
Free, but registration is essential