Today, I want to express my appreciation to all the health care workers who are working hard to keep us safe and healthy. While many of us stay at home, you go to work to care for others.
Whether you are a doctor, a nurse, a technician or other position in health care, you are on the front lines in the fight against COVID-19. And with you on the front lines, I know that we will win this war.
I am grateful to each and every one of you for your commitment to care for others. May you stay safe and healthy.
Visit My Coronavirus (COVID-19) Resource Webpage
For all resources previously shared in these newsletters please visit kathleenpassidomo.com. You will find news, resources and updates on COVID-19 and our state's efforts to support you and your families during this pandemic. I will continue to share the most recent updates with you in these newsletters.
Positive Cases of COVID-19 in Florida Over 22,000 & 2 Million Worldwide
As of Thursday morning, there are 22,519 positive cases of coronavirus (COVID-19) reported in the state of Florida, including 396 in Collier County, 677 in Lee County and 26 in Hendry County. There are now over 639,733 cases across the United States and more than 2 million worldwide.
Here are additional resources from the state and federal level:
To find the most up-to-date information and guidance, you can visit the Florida Department of Health's (DOH) COVID-19 webpage.
For information and advisories from the Centers for Disease Control (CDC), please visit the CDC COVID-19 website.
For more information about current travel advisories issued by the U.S. Department of State, please visit the travel advisory website.
If you are experiencing symptoms, or have traveled internationally or to a heavily-infected area recently, please contact your local County Health Department.
Click the button below to view Florida Health's Data and Surveillance Dashboard for Florida-specific data including County-by-County cases. The department has added new features to its dashboard tool, including the ability to see the number of cases in each individual zip code in Florida.
Text FLCOVID19 to 888-777 to Receive Updates
The Governor also announced a new text line where Floridians can text "FLCOVID19" to 888-777 to receive the latest updates on Florida's fight against COVID-19.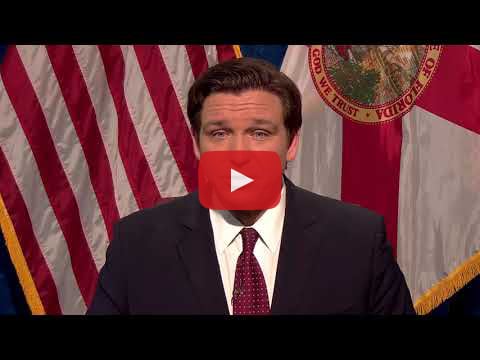 Governor DeSantis Releases COVID-19 Video Message
Governor DeSantis on Tuesday released a video highlighting the state's efforts to keep seniors safe during COVID-19. In addition, he provides an update on testing statewide. With more than 200,000 tests conducted in Florida, the Sunshine State is ranked third in the nation for testing since the pandemic began.
Florida Continues Statewide PPE Distribution
On Tuesday, the Florida Division of Emergency Management received 800,000 N-95 face masks from the federal government and will receive an additional 200,000 to distribute to hospitals and health care workers statewide.
To date, DEM has supplied the following items statewide:
8 million masks, including N-95, procedure and surgical masks
5 million gloves;
564,000 shoe covers;
615,000 face shields;
300,000 gowns;
More than 100,000 containers of hand sanitizer;
47,000 goggles; and
22,000 coveralls.
Apple and Google Partner for Unprecedented Joint COVID-19 Solution
On Friday, Apple and Google announced an unprecedented joint effort for tracing the spread of COVID-19. The partnership will allow users to share data through Bluetooth with the goal of aiding health agencies, NGOs and governments worldwide to reduce the spread of the virus.
Both companies are emphasizing privacy, security, and consent in the platform, which carries hefty implications as surveillance systems are on the rise globally as a result of the pandemic.
Apple Maps is also working on a new feature that will show the nearest COVID-19 testing locations.
Ford Expands To Make Critical Medical Equipment & Supplies
Ford has expanded its plan to make critical medical equipment and supplies, including a new effort to make reusable gowns from airbag materials, as well as a partnership with scientific instrument provider Thermo Fisher Scientific to ramp up production of COVID-19 collection kits to test for the virus. This highlights the latest effort to help ease a shortage of equipment and supplies such as face shields, face masks, protective gowns and ventilators.
Vacation Rental Executive Order Extended Through April 30
On Friday, April 10, Governor Ron DeSantis issued Executive Order 20-103, which extends Executive Order 20-87, related to vacation rentals, until April 30, 2020. You can read Executive Order 20-87 here.
To assist with compliance of this order, the Department of Business and Professional Regulation (DBPR) has updated its dedicated compliance complaint form to include an option for reporting vacation rental compliance concerns. The Department's Division of Hotels and Restaurants continues to monitor, review, and assign complaints received through this form for follow-up by division inspectors.
Guidance on Essential Services for Executive Order 20-91
Following the Governor's Executive Order 20-91, the Florida Department of Emergency Management (DEM) issued a list of essential services to help guide Floridians on the statewide directive. Click the links below for more information.
Florida Highway Safety and Motor Vehicles Issues New Emergency Order
On Monday, April 13, the Florida Highway Safety and Motor Vehicles (FLHSMV) authorized a new emergency order pursuant to the Governor's Executive Order 20-52. This updated order includes waivers for the trucking hours for emergency relief efforts and is more expansive in relation to multiple parts of Federal Motor Carrier Safety (FMCS) Regulations.
City of Bonita Springs to Host Virtual Town Hall Meeting Thursday
The City Of Bonita Springs will host a virtual Town Hall Meeting on Thursday, April 16th, at 3:00 p.m. Mayor Peter Simmons so graciously invited me to participate, and I want to thank him and the City of Bonita Springs for coordinating this event.
The public can tune in through the city website at the link here.
The public can also view on these cable channels in Bonita Springs:
Comcast, Channel 98,
Summit Broadband Cable, Channel 96
Hotwire, Channel 398
Century Link/Prism TV, Channel 87
Please follow these instructions for website navigation to view the virtual town hall meeting:
Then look to the top of the homepage and click on the How Do I tab.
Then click on Watch a Meeting Live from the drop-down menu. That will take them to the page the video will stream on.
Note: If you can not tune in on Thursday, the meeting will be rebroadcast on Bonita T.V. and available on the city website for rebroadcast within 24 hours after the workshop airs.
Local COVID-19 Testing Locations
NCH Healthcare System, Lee Health, and Florida Community Health Centers, Inc. (FCHC) are currently offering COVID-19 testing by appointment only. For the latest updates on testing locations and how to schedule an appointment visit the links below.
Unemployment Forms Available At Seven Collier County Public Library Locations
Collier County Public Library is assisting The Florida Department of Economic Opportunity (DEO) with the distribution of unemployment application forms and mailing envelopes to Florida residents. The applications will be available in English, Spanish and Creole.
Residents can pick up an application along with a mailing envelope at an unstaffed table outside the following seven library entrances from 8:00 a.m. – 5:00 p.m. Monday – Friday until further notice.
Everglades City Branch Library, 102 Copeland Avenue N., Everglades City, Phone: (239) 695-2511
Golden Gate Branch Library, 2432 Lucerne Road, Naples, Phone: (239) 252-4542
Headquarters Library, 2385 Orange Blossom Drive, Naples, Phone: (239) 252-7350
Immokalee Branch Library, 417 N. First Street, Immokalee, Phone: (239) 252-7073
Marco Island Branch Library, 201 S. Heathwood Drive, Marco Island, Phone: (239) 252-7064
Naples Regional Library, 650 Central Avenue, Naples, Phone: (239) 252-5135
South Regional Library, 8065 Lely Cultural Parkway, Naples, Phone: (239) 252-7542
Completed applications should be mailed to:
Florida Department of Economic Opportunity
P.O. Box 5350
Tallahassee, FL 32314-5350
Applicants may drop off the sealed envelope at one of the following FedEx stores offering free mailing:
2367 Vanderbilt Beach Road, Naples, Phone: (239) 566-7108
890 Neapolitan Way, Naples, Phone: (239) 643-4477
5420 Juliet Boulevard, Naples, Phone: (239) 451-3180
9885 Collier Boulevard, Naples, Phone: (239) 351-5457
Lee County School District Announces Partnership with Hanley Foundation for Virtual Parenting Class
In partnership with the Lee County School District, the Hanley Foundation is offering a free parenting class for parents with children ages 5-12.
The program is six sessions and will be held on Wednesdays beginning on 4/15/2020 and ending on 5/20/2020. The classes will be held via Zoom from 4:00 p.m. - 5:30 p.m.
All materials needed for the course will be provided virtually and upon completion of the program, parents will receive a workbook with all topics discussed and a certificate of completion.
Chamber Highlights SWFL Neighbors Helping Neighbors
The Greater Naples Chamber of Commerce recently highlighted acts of kindness in their member newsletter. In similar fashion to post-hurricane efforts, our community has stepped up and helped those in need. Many local businesses and organizations that are lending helping hands during this unprecedented time.
The Naples Players costume shop employees are using scraps leftover from previous productions to produce cloth face masks. Read more here.
Naples Print Source is printing and donating adult coloring books to several senior communities in Naples. "We're trying to keep the seniors smiling during this challenging time."
Naples Area Board of Realtors (NABOR) is providing a credit toward a take-out meal for first responders and health professionals to enjoy at one of five local restaurants. Read more here.
After learning about some local children in need through her current Associate Leadership Collier class, Madison McNally, of STARability Foundation, coordinated with Waterside Shops and California Pizza Kitchen to donate 30 pizzas to Youth Haven this week.
Publix Announces Special Shopping Hours for First Responders and Hospital Staff
Publix is designating Thursday evenings, 8 – 9 p.m., and Friday mornings, 7 – 8 a.m., as special shopping hours for first responders and hospital staff. This change in hours will begin on April 16 and continue until further notice. Publix Pharmacy will also be open during these times.
Publix recently put in place special shopping hours reserved for customers age 65 and over. These hours are Tuesday and Wednesday mornings, 7 – 8 a.m.
CDC Posts New Recommendations for Pet Owners
The CDC recently announced a series of recommendations for citizens with pets regarding COVID-19.
See below for a summary of the new pet recommendations:
Do not let pets interact with people or other animals outside the household.
Keep cats indoors when possible to prevent them from interacting with other animals or people.
Walk dogs on a leash, maintaining at least 6 feet (2 meters) from other people and animals.
Avoid dog parks or public places where a large number of people and dogs gather.
Talk to your veterinarian if your pet gets sick or if you have any concerns about your pet's health.
If you are sick with COVID-19 (either suspected or confirmed by a test), you should restrict contact with your pets and other animals, just like you would around other people.
Some veterinarians may offer telemedicine consultations or other alternate plans for seeing sick pets.
Your veterinarian can evaluate your pet and determine the next steps for your pet's treatment and care.
Update on Financial Assistance for Floridians
On April 14, Governor DeSantis announced that there have been 52,021 Paycheck Protection Program Loans approved for small businesses throughout the state of Florida totaling over $12.5 billion.
Stimulus checks from the Federal Government are also beginning to arrive for those who have a direct deposit set up.
My colleagues and I are continuing to work with the Florida Department of Economic Opportunity (DEO) to improve the state's ability to process applications for the Reemployment Assistance Program. DEO and the Department of Management Services (DMS) have installed 72 new servers to increase capacity and have called up over 2,500 state employees who are working remotely in other facets of the state government to help process claims.
Governor DeSantis has also stated publicly that his office is reviewing steps needed to retroactively apply benefits to the time of job loss as opposed to the date a person applies for or is approved for assistance, which ensures a full coverage period for those who were unable to access the online platform.
DEO is continually working to make its mobile site more consumer-friendly and increase its capacity.
Small Business Emergency Bridge Loan Program Closed To New Applications
Florida's Small Business Emergency Bridge Loan Program is currently closed to new applications, but those applications postmarked April 13 will continue to be reviewed. Click below to check the status of your application.
Florida Housing Resources
Florida Housing created a COVID-19 webpage with a list of resources for various stakeholders, from renters fearing eviction to Realtors and homeowners. This information can be accessed from our homepage by clicking on the COVID-19 link at www.floridahousing.org.
Eligible families may find resources through their local State Housing Initiative Partnership (SHIP), including rental assistance, mortgage assistance or other program options to help low income households during this time.
Attorney General Ashley Moody Issues Consumer Alert regarding Upcoming Federal Stimulus Payments
With stimulus payment deposits starting to flow in, Attorney General Ashley Moody has issued a Consumer Alert to warn Floridians that scammers will try to take advantage of the unprecedented injection of cash into the U.S. economy.
Millions of Americans with banking information on file with the Internal Revenue Service are beginning to receive direct deposits.
Floridians should take steps now to avoid falling prey to scams designed to steal payments, banking account numbers or other sensitive personal information.
Floridians who already provided banking information to the IRS by virtue of filing their taxes have now begun to receive direct deposits and DO NOT NEED to take action.
The IRS will follow up by mailing confirmation notices to beneficiaries within a few weeks after payments are made. Anyone who receives a notice, but does not receive a payment, should contact the IRS immediately.
The IRS will not initiate contact with anyone by email, phone call, text messages or social media to request personal or financial information. The IRS emphasizes on its website that there is no sign-up required to receive a payment
Business Organizations & Associations Join Forces for Florida Economic Recovery in New Task Force
The Associated Industries of Florida (AIF), Florida Retail Federation (FRF), National Federation of Independent Business (NFIB) and Florida Restaurant & Lodging Association (FRLA) today partnered with associations from all across Florida to announce the joint creation of a task force to Restore Economic Strength through Employment & Tourism (RESET).
This Task Force will focus on policy recommendations and initiatives that will seek to help Florida's economy rebound from the effects of COVID-19.
The task force will provide recommendations and suggestions for resiliency for the impacted industries in the event of another pandemic or event that shutters the economy, similar to COVID-19.
Initial members of the task force include representatives from all areas of impacted business interests and industries, as well as, the health care associations who have served on the frontline of the pandemic. Their participation will offer a unique and firsthand account of the current situation and future needs.
DCF Approves the Use of SNAP Benefits for Purchase of Groceries Online
Florida Department of Children and Families (DCF) announced the approval of a Florida pilot program for Supplemental Nutrition Assistance Program (SNAP) recipients to purchase groceries online with the use of an EBT card.
This partnership with federal, state and local partners will ensure Floridians can access nutritious food while also practicing social distancing and self-quarantining to reduce the spread of COVID-19. The pilot program in Florida will begin with an initial launch on April 16, 2020.
Walmart will initially launch a pilot at all five Tallahassee locations on April 16. On April 21, both Walmart and Amazon online purchasing will be available statewide.
DCF will continue to coordinate with the USDA and the Florida Retail Federation to expand the network of retailers participating in the pilot program.
Walmart already accepts SNAP benefits at its brick and mortar locations in the United States. Customers will be able to use their EBT cards and opt for curbside pick-up. The utilization of food assistance benefits remains limited to the purchasing of eligible grocery items and cannot be used to pay for delivery services.
Enterprise Florida, Inc. (EFI) recently announced that it will suspend initial fees for its Microfinance Guarantee Program to support Florida's small business community impacted by COVID-19.
EFI manages the Microfinance Guarantee Program designed to stimulate access to credit for entrepreneurs and small businesses in this state by providing targeted loan guarantees to lenders made to such entrepreneurs and small businesses. This program provides guarantees up to 50% on loans of $250,000 or less.
The Microfinance Guarantee Program has the following requirements:
Entrepreneur or small business located in Florida;
Employs 25 or fewer people; and
Generates average annual gross revenues of $1.5 million or less per year for the last 2 years.
Interested businesses must apply through a local lender. For further information please contact your lender or visit Enterprise Florida's website.
See additional resources compiled by Enterprise Florida for businesses impacted by COVID-19 here.
Florida Prepaid Announces Deferred Payment Due Dates
The Florida Prepaid College Board announced it is deferring payment due dates for current and new Prepaid Plan customers to provide financial relief for families impacted by COVID-19. New customers will not have to make their first payment until July 20, 2020. Current customers will have their next payment due date moved to July 20, 2020.
The $50 application fee can also be waived using the code: EDU1920
The Florida Department of Health remains the best and most up-to-date resource for information and guidance regarding COVID-19 in our state.
Florida Department of Health (DOH)
Local County Health Department Offices
Collier County
Immokalee Office: 239-252-7300
Naples Main Office: 239-252-8200
Hendry County
Clewiston: 863-983-1408
LaBelle: 863-674-4041
Lee County
Main Office - Michigan Clinic: 239-332-9501
Pondella Clinic: 239-461-6100 (for appointment)
WIC - Bonita Springs: 239-344-2000 (for appointment)
WIC - Lehigh Acres: 239-344-2000 (for appointment)
Emergency
Dial 911
Emergency Hotline: 311 or 239-252-8444
City of Naples Emergency Services: 239-213-4844
American Red Cross: 239-596-6868
Centers for Disease Control and Prevention (CDC)
White House National Updates
World Health Organization (WHO)
I hope you find this newsletter as a key source for news updates and state resources on COVID-19. Please continue to remain "safer-at-home" and adhere to social distancing guidance to keep you healthy. I will keep my constituents updated as we continue to learn more.
Please do not hesitate to contact me if I can ever be of assistance

Sincerely,
Kathleen C. Passidomo
Senate Majority Leader
State Senator, District 28
Not paid for at taxpayer expense.

Paid political advertisement paid for by Working Together for Florida P.C., 133 South Harbor Drive, Venice, FL 34285.