The Spongleheim Gallery is a new not-for-profit virtual gallery that specialises in exhibitions of outsider art, art brut, folk art, naive art and art by self-taught artists.
Exhibitions run every quarter (September, December, March and June). Each exhibition lasts 21 days and features 21 exhibits chosen from an open call for submissions.
The Spongleheim is looking for artists for their forthcoming exhibition "THEM." The timeline for this exhibition is as follows:
April 12: Call for submissions opens
May 13: Call for submissions closes
May 27: Artists notified
June 1: Exhibition opens
June 21: Exhibition closes
If you would like your art to be considered for inclusion in this exhibition, submit your work here.
SHORT FILM:
William Thomas Thompson
This short documentary tells the story of William Thomas Thompson, an outsider artist who was inspired to paint the end of the world after seeing a vision of the coming of the Lord in 1996.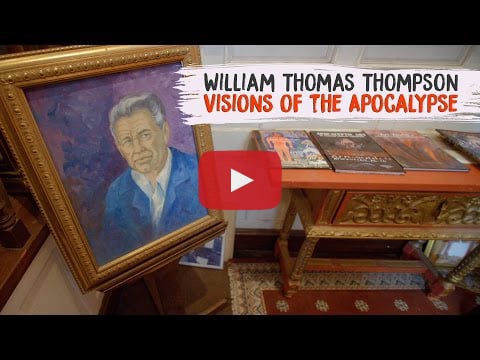 Thompson, who lives in Greenville, South Carolina, began his career in 1961 as a wholesaler of artificial flowers, built up a million-dollar business in the United States, and then expanded his enterprise to Hong Kong. However, through a series of financial downturns, his business collapsed in the 1980s. As a result, he believes his psychological well-being suffered and led to his developing Guillan-Barré syndrome, a rare autoimmune disorder.
Don't be a turkey, Thompson (n.d.). 24 x 18 cm
Raw Vision #33, featuring Thompson
While attending a Sunday church service in Hawaii, 1989, he recalled, "I saw a vision of the coming of the Lord and the world on fire on July 6, 1989." Thompson regards his epiphany, he said, "as an unmistakable command to paint what I saw".
Thompson was featured in Raw Vision #33 & Raw Vision #104.
ART IN QUARANTINE:
Jim Sanders
Jim Sanders is a Brighton-based outsider artist. His work has a great affinity with Primitive, Outsider, or non Western Art, sharing their common concern with universal experiences of birth, love, sex, reproduction and death.
New 'New Originals', Jim Sanders (2021). Ink, collage on paper and card on metal hooks in wooden frame, 53 x 38 x 7 cm
"To be honest, my experience of Lockdown and the COVID pandemic has given me one of the most enjoyable years of my life. I have never spent so much time outdoors. The South Downs area around Brighton is particularly magical and inspirational due to its ancient history, with hill forts 2000 years older than Stonehenge. A number of 'hikeadelics' undertaken in local ancient woodlands have been a huge influence on my work."
Hanging masks, Jim Sanders (2020). Painted canvas, cut into strips with string and nails on found wooden masks. Each approx. 130 x 27 x 15 cm
Kuchi coat, Jim Sanders (2018). Metal, leather, string, cloth, bones, feathers, teeth, shells, amulets, and found objects, 240 x 156 cm
Shaman coat in front of Ingress Veil, Jim Sanders (2020). Photo: iloobia
"In recent years I created a series of three Shaman coats made with found objects hung from leather and fabrics cut into thin strips. Making these led me to then create a group of Hanging Mask entities, using a similar technique which I worked on at the very start of lockdown. These then led to me creating the 'Ingress Veils' which kept me occupied for the duration of the rest of Lockdown until they were recently exhibited in an immersive installation, entitled Raising the Spirits."
See more of Sanders' work on Instagram: @sansjimsanders/
OBITUARY:
Anado McLauchlin (1947–2021)
With the passing of Anado McLauchlin, Rebecca Hoffberger (founder and Director of The American Visionary Art Museum) shares her memory of him:
"What a sweet wizard, whose works thankfully grace our American Visionary Art Museum's permanent collection, has now passed from this world."
"Anado McLauchlin - Kismet Street", by Translove Airwaves (2019)
"Prolific Visionary Artist, Anado McLauchlin, created a major tourist destination and art lover's fantastical hand-wrought mosaic home, electrified with color and nestled in his adopted home located in the Mexican village of La Cieneguita, a suburb of San Miguel de Allende."
Anado McLauchlin, via his official website: www.madebyanado.com
"Our hearts go out to his adored husband, Richard Schultz, his many friends and admirers, and to all who missed the chance to personally meet this unforgettable character."
Explore Anado's spectacular work by visiting www.madebyanado.com. Take a virtual tour of The Chapel of Jimmy Ray Gallery by clicking here.
Raw Vision Subscription
Subscribe to save on future issues of Raw Vision magazine.
Go to rawvision.com/subscribe to choose from subscriptions of:
4 issues
8 issues
20 issues
Digital issues