Thank You for a Great Release Week!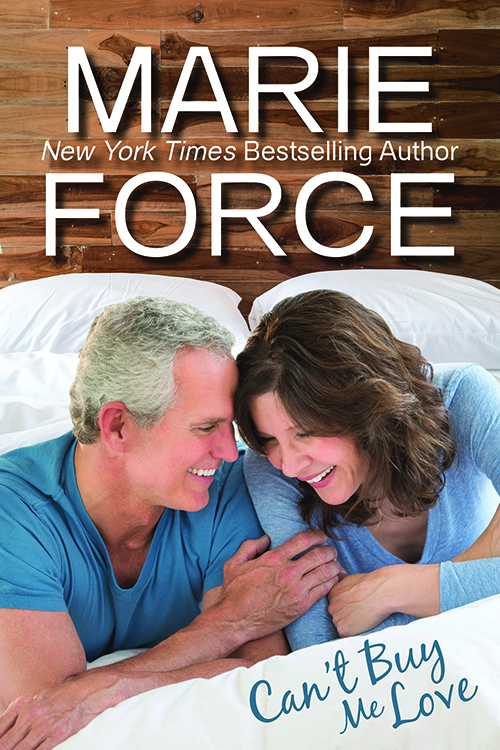 I'm so happy to hear from so many readers that you've loved Patrick and Mary's story in Can't Buy Me Love! Your reviews, emails and comments have made me smile a lot in the last week. Here's a sampling of some of my favorite comments:
Marlene said: "Marie did it again! Every time I read one of her books, it is better than the last one. This book was fantastic. I loved it. I know the characters in the book. They are my friends."
Connie said: "Marie has done it again!! How she continues to come up with awesome story lines I have no idea!! I love how she makes a secondary character a headliner!! You find yourself always wanting more at the end of her books!! Very well done Marie!!!"
Another reader wrote: "Marie Force has done it again and drawn me so far into her world that I forgot about anything other than sweet, sweet Mary and Patrick Murphy! I might have even burnt dinner while I devoured this book while standing next to the stove. I thoroughly enjoyed this addition to the wonderful world of Butler and can't wait to read more!"
And thank you, lovely readers, for making Can't Buy Me Love a USA Today bestseller!
Have you read Can't Buy Me Love yet? If you're in the suddenly sunny Northeast, grab your copy and take it to the beach or pool today!
Ebook
Find print and audio links here!
UP NEXT: Fatal Threat, Out on July 25!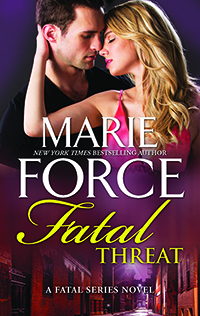 Sam and Nick's long-awaited return is just over a month away, and we're looking forward to getting this new book in the Fatal Series out to readers! I have advance reader copies to give away to members of the Fatal Series Reader Group. The first giveaway is open in the group RIGHT NOW, asking readers for their favorite SAM moment of all time! Comment ONLY on the daily posts pinned to the top of the group page to enter the drawings. If you aren't on Facebook (and even if you are), you can ALSO enter by clicking here. Many chances to win an advance copy!
Here's what you can expect in this latest book in the Fatal Series:
With a killer on the loose, it's the worst time to be on lockdown…
It's just another day at the office for Washington Metro Police lieutenant Sam Holland when a body surfaces off the shores of the Anacostia River. But before Sam can sink her teeth into the new case, Secret Service agents seize her from the crime scene. A threat has been made against her family, but nobody will tell her anything—including the whereabouts of her husband, Vice President Nick Cappuano.
This isn't the first time the couple's lives have been at risk, but when a bombshell from Sam's past returns to haunt her, she can't help but wonder if there's a connection. With a ruthless killer out for vengeance, and Nick struggling to maintain his reputation after secrets from his own past are revealed, Sam struggles to tie the threat to a murder that can't possibly be a coincidence. And she has to get it done before her husband's career is irrevocably damaged…
Read Chapter 1 of Fatal Threat.
Preorder the ebook:
Print
More print and audio links coming soon!
Summer Reading!
Looking for a series to BINGE read this summer? Check out the FREE offering of VIRTUOUS, Quantum Book 1. Some of you have expressed reservations about checking out Quantum. Here's what my reader, Michelle, had to say about that: "Marie Force I will admit to you that I avoided the Quantum Series. It just wasn't a topic that I had any interest in and you have me hooked already in Gansett, Butler, TWater, and Fatal, so I didn't think you could top those. I owe you an apology! While waiting for Patrick and Mary's story, I decided since it was free, I'd go ahead and read the first book even though you stated it was a cliffhanger, I figured I could decide when I was done if I wanted to continue. Well a week later, and I've finished the entire series. You amaze me! You took a topic that I felt was a little "too much" for me and you made it an emotional, funny, heartwarming story that captivated me throughout each book. I love Flynn and Natalie and didn't think I'd ever fall for Hayden, but you fooled me again, and I fell for him even harder than I did for Flynn. Then you wrapped me into Jasper and Ellie and I'm hooked. I look forward to Kris's story, and Emmett's story, and Mo's story, and Sebastian's story…." Take it from Michelle, if you're not already hooked on Quantum, you will be!
Get Virtuous for free:
Thanks again for your support of my books! If you haven't read them all, you can find the full listing at marieforce.com/books to fill in the gaps until the next release in your favorite series. I've just turned Fatal Chaos (March, 2018) over to my editors at Harlequin, and I'm hard at work on Delirious, Quantum Book 6, and the long-awaited and as-yet named fifth Treading Water Series book, featuring Maggie Harrington.
Coming July 11 from Jack's House: WICKED INTENTIONS by J.T. Geissinger
From Marie: Fans of Wicked Beautiful and Wicked Sexy will be THRILLED to hear that J.T.'s new book WICKED INTENTIONS is out on July 11. I have read this book—and let me tell you, it's AMAZING! I couldn't put it down, and you will love Ryan and Marianna's story as much as I did.
If you haven't read J.T. yet, check out Wicked Beautiful and Wicked Sexy now so you'll be ready for book 3 when it arrives on July 11!
You can also read Chapter 1 of Wicked Intentions and enter to win an advance reader copy.
This is a fantastic, sexy, breathtaking series that you won't want to miss!
Happy reading!
xoxo
Marie