THE INSURER | SEPTEMBER 2018
It is estimated that one in five vehicle number plates in Gauteng are cloned, according to a report by investigative TV show Carte Blanche. These false registration plates are used by motorists to avoid paying traffic fines and e-tolls, and are relatively easy to obtain. All it takes to get a number plate from an SABS-permitted store is to walk in and ask for one – no ID or car licence disc is required. The legitimate holder of the registration number is then faced with fines and tolls accumulated by the fraudster, which could have serious legal consequences. What should you do if you believe that your number plate has been cloned?
As the world's population lives longer, so we are increasingly developing diseases of the elderly. There are currently 50-million people living with dementia, which affects twice as many women as it does men. The World Health Organisation expects that by 2030, this number will have grown to 76-million. World Alzheimer's Day on 21 September aims to heighten dementia awareness. Dementia and Alzheimer's are not the same. Dementia is an overall term used to describe symptoms that impact memory, the performance of daily activities, and communication abilities. Alzheimer's disease is the most common type of dementia, worsening over time and affecting memory, language, and thought. While younger people can develop dementia or Alzheimer's disease, the risks increase with age.
Matthew Legemaate is a brave young man, born with a congenital heart defect, who had his first open heart surgery at 36 hours of age. Whilst in hospital last year, recovering from a heart and bi-lateral lung transplant, his biokinetist Justin Bircher suggested that they attempt the 35 km Amashova Cycle Race this October. Matthew agreed immediately - he has always loved sport and regrets the many missed opportunities to participate. Once home, Matthew was unable to walk properly due to nerve damage but his dream of tackling the Amashova never faded, and he started seeing a physiotherapist and biokinetist five days a week and was in the gym at 7am daily. For him it's not about winning - he intends taking it slowly and using the race to honour his donor and raise awareness about organ and tissue donation through his Hero777 campaign (hero = helping everyone receive organs). Over 100 people are riding with him and 30 volunteers are helping him. Safire is with Matthew all the way.
Spring-clean your chimney
If you use your fireplace often, be aware that soot and ash can collect on the inside of the chimney over time in the form of creosote, which can catch alight, resulting in permanent damage to the chimney and even setting fire to the building. Clogged up chimneys are also less effective at releasing the noxious gases given off by a burning log fire, allowing for possible carbon monoxide build-up inside the room. Another problem is when birds make nests in chimneys – the dry twigs and feathers are a potential fire risk. Now that the colder months are supposedly behind us, it's a good time to consider a chimney spring-clean.
Safire Baynesfield Classic MTB & Trail
This year's Safire Baynesfield Classic MTB & Trail event was held on Sunday 16 September, with riders of all ages and proficiencies taking to the scenic trails of Baynesfield Estate near Pietermaritzburg. This fun day was enjoyed by everyone, and with an estimated 10% increase in entries this year, is becoming one of the most popular events on the MTB calendar, appealing to both professional riders as well as those who see it as an ideal way to introduce younger members of the family and novices to a professional level ride. There were also 5km and 10km trail runs for those who preferred to stay on their own two feet. The 65km race winners were (male riders): 1st: Stuart Marais 2:25:36; 2nd: Tyronne White 02:28:39; 3rd: Henry Liebenberg 02:28:40. Seen here are the 65km ladies winners, 1st: Christie-Leigh Hearder (centre) 02:56:40; 2nd: Andrea de Boer (right) 03:02:49; 3rd: Hayley Smith (left) 03:07:24. The 10km trail winners were (men's) Nomore Mandivengerei (35:08) and (ladies') Tarryn Botha (43:55). See below for television flighting times.
The kitchen is an area where accidents can happen, and it takes just a few seconds for matters to go horribly wrong. NEVER leave anything cooking on the stove to answer the telephone, attend to children or go to the front door. Minimise kitchen fire risks by following these tips:
· Always stay in the kitchen while you are frying, grilling, boiling, or broiling food

· Keep appliances clean and in good condition. Clean out toaster crumbs, wipe inside the microwave, and clean the oven to prevent the build up of flammable materials.

· Immediately unplug any appliances that start acting up and have them repaired or replace them.

· Always roll up sleeves and tie back hair when cooking, and keep towels, oven gloves, and kitchen paper away from cooking areas.

· Keep fire extinguishers at hand and serviced regularly.

· Don't use metal in the microwave: the sparks can turn into fire or damage your microwave.

· Use a lid to smother small grease fires by sliding the lid over the pan and turning off the stove. Leave until the pan is completely cooled.

· For an oven fire, turn off the heat and keep the door closed.
In the event of a fire in your kitchen that is beyond control, get out and close the door behind you to help contain the fire. Use the Safire Assist app to call for emergency assistance, after ensuring that family members and pets are safely outside.
Social media detox in September
Thousands took part in the first major social media detox during 'Scroll Free September', initiated by the British Royal Society For Public Health (RSPH). People from 56 nations tried to quit the most popular social media apps for the month: Facebook, Instagram, Snapchat, Twitter and YouTube were totally off limits. The charity wants to highlight the negative impacts of social media, with research showing that anxiety and depression, negative body image, cyber-bullying, poor sleep and FOMO (fear of missing out) are affecting young people who spend excessive amounts of time online. Too much social media exposure also depletes short-term memory and reduces our capacity to process information because of 'overloading' the memory. Social media addiction affects around 5% of young people, and those who spend more than two hours a day on the various platforms are more likely to report poor mental health. A recent study calculated the average time spent per day on YouTube (40 minutes), Facebook (35), Snapchat (25), Instagram (15) and Twitter (one) and projected those figures for a lifetime, arriving at a total of 5 years, 4 months. Social media came second to watching television (7 years, 8 months), well ahead of eating and drinking, grooming, socialising - and doing laundry!
Dams in the Cape might at last be filling up at a steady rate, but South Africans cannot ever be complacent about water. In Australia, another dry country, many states require that new homes have water storage systems to provide water for washing-machines and flushing the toilets. It makes sense: for every square metre of roof, one litre of rain is collected with every millimetre of rainfall.
A drone has been developed to assist ageing Japanese farmers with back-breaking manual labour. Designed to hover above paddy fields while applying pesticides and fertiliser, it can reduce an essential task from an hour of carrying heavy tanks around water-logged fields to 15 minutes of piloting the drone from the sidelines. The developers are negotiating with authorities to allow operators to bypass the need for a licence.
Safire is co-sponsoring this year's Voet van Afrika marathon in Bredasdorp near Swellendam on 13 October – the 40th such event. This is the southernmost marathon in Africa and takes place on a scenic route through fynbos. Safire's marketing manager, Jacqui Cochran will be tackling the half marathon in our Safire colours – good luck Jacqui! Visit www.dievoetvanafrika.co.za for more information.
Share the Baynesfield action!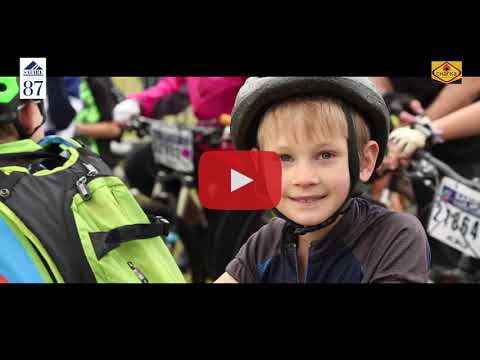 If you didn't come along to the Safire Baynesfield Classic MTB & Trail event a few weeks ago, you can still experience the action and the thrills here!
R18-million - amount invested in the Zimbabwean coffee sector by Nespresso since last year, with plans to sell limited-edition Zimbabwe capsules in 15 countries including the US and the UK.
120 - number of stores that hard-hit Famous Brands (owner of Wimpy, Steers, Debonairs, Mugg & Bean) has closed in the Middle East, South Africa and the rest of Africa in the past year.
800% - amount that Free State dairy farmer Mick Quin has grown his business, at a time when many inland producers are struggling to survive; dairy farms in the Free State have dropped from 929 in 2009 to 183.
$141.9-billion - what the CEO of Amazon, Jeff Bezos, is worth, more than the fortunes of Warren Buffet and Bill Gates combined. He is the world's wealthiest person.
£44.5-million - cost of rural crime in the UK during 2017 according to the latest data, with criminals becoming increasingly "brazen".
385 - number of heists recorded by the SA Banking Risk Information Centre, a significant discrepancy from the 238 reported in the annual crime statistics.
The Insurer newsletter and the content of any article published herein, should not be construed as forming part of any insurance contract or policy nor as constituting any form of advice. It is aimed at providing an informal and informative read to the readers thereof. Whilst every effort is taken to attempt to ensure the accuracy and correctness of the information contained herein, Safire Insurance Company Limited does not give any assurance regarding such accuracy or correctness and accordingly does not accept any liability whatsoever for any loss or damage, whether direct, indirect or consequential, arising from any reliance placed in the information contained herein.