Happy Holidays!
It's almost time to close the office for another year! We wrapped up the STEM Conference on Friday, which was our final event for the year. However we have been busy finalising details for Term 1 Professional Learning...check out all the details below.
Annual Conference
Call for Workshops
15 - 16 April 2019
Share your good ideas and submit a workshop for the Conference! The Conference will address a range of the content and pedagogies of the Australian Curriculum: Science, and it will also incorporate the theme Thinking Science
Visit the website for more information and to submit your presentation by Friday 1 February!
Office Closure
The SASTA office will be closed from midday Friday 21 December and will reopen on Wednesday 9 January.
SASTA staff and board wish you all a safe and happy festive season. May your well-deserved holidays be restful!
SASTA Membership
It's that time of year again already and 2019 SASTA membership is now open for renewal! To renew visit: https://www.sasta.asn.au/renew/form.
You can find a list of member benefits here. And we've already started planning for 2019, check out the professional learning calendar here!
Don't forget, if you renew your membership before 31 December 2018, you can go into the draw to win a double pass to see Professor Brian Cox's Universal World Tour!
Kirrilie Smout from Developing Minds will be addressing Adolescent Mental Health and Wellbeing in the Digital Age in her keynote presentation. A number of concurrent sessions will run throughout the afternoon as well as a session covering SACE Examination and Moderation Review. For the full program and to register online click here.
Teachers New to Stage 1 & 2 Science
More details about a Scientific Studies workshop coming soon!
Term 1 Professional Learning
Don't forget to check out the Events & News in the Science Community below!
Resources
Order your copies for 2019!
Stage 1 and 2 Workbooks
These workbooks are written for Biology, Chemistry and Physics to reflect the current SACE curriculum. They contain original questions, worked solutions and review tests. Second Edition Stage 1 Workbooks are now available!To view sample pages or to order online click here.
Study Guides
Advance bulk orders for the 2019 Study Guides can now be placed with Rebecca via office@sasta.asn.au. Pre-orders will be available for individuals via the SASTA website from January 2019 for delivery in Term 2, 2019.
Year 8 & 9 Practical Investigations Workbooks
These student workbooks are written to align directly with content and structure of the Australian Curriculum: Science. The Year 9 workbook reflects the current emphasis on STEM skills through the inclusion of 3 engineering design challenges. Click here to order your copies and view sample pages.
New Stage 1 Biology Textbook!
This book was written by Dr Kathy Adams to complement the current Stage 1 Biology SACE Board of South Australia subject content for South Australian students. Teachers will find it an invaluable resource for planning and developing student knowledge as it has comprehensive coverage of the science understandings of the Stage 1 course. Students will have a resource to complement their lessons and with its additional features, such as the "Did you know?" and "SHE Alert" boxes, to develop a broader knowledge of Biology. Click here to PRE-ORDER your copy and view sample pages.
Biology: Levels of Life
The Biology: Levels of Life Australian Curriculum Edition textbook is from the authors of the popular Biology: Levels of Life materials, used by teachers and students since 2000. It provides detailed coverage of all the content (Science Understanding) of the Biology subject outline to be taught at Stage 2 from 2018. The new content is relevant and up-to-date. Purchase your copies here.
Events and News in the Science Community
RACI December Chemistry Teachers' Workshop
Friday 7 December | Flinders University
The workshop will focus on some aspects of the SACE Stage 2 Chemistry course. The sessions include a presentation by Associate Professor Ronald Smernik from the University of Adelaide on soil chemistry, hands-on laboratory activities that will provide ideas for practical investigations and a forum on the science as a human endeavour strand of the SACE subject outline.
See the full program and register here.
Food & Fibre Education SA - Building Smart Irrigation Systems
Tuesday 11 December | University of Adelaide, Waite Campus
In this hands-on workshop, you will be introduced to
the fundamentals of coding – design and modify algorithms to gather input and effect outputs
computational and design thinking – the creative problem solving strategies used to implement digital solutions
using physical computing systems – making simple digital systems with micro controllers, sensors, and outputs through designing, building and programming a simple remote sensing automatic watering system.
We will explore how digital systems can be used to take measurements from the environment, and that data used in Science investigations in hands-on, engaging ways, linked to soil and agricultural science.
See the full program and register here.
Circular Economy Workshop: Students as partners
Wednesday 12 December
The University of Adelaide and Loop are delivering a free learning workshop on the circular economy. The circular economy seeks to create systems where assets and products are designed to last longer, be shared, repaired, repurposed and remanufactured, and only after several 'lives' be recycled to recuperate materials.
We are seeking students as partners, to test and adapt Loop's teaching resources for this subject and engage high schools in this important concept. We are looking for five schools to participate in the workshop, with one teacher accompanying 2-4 motivated students in years 10 or 11. The course content is open-ended and involves topics that cut across STEAM, economics, geography and sustainability.
If you would like to attend the workshop, or know more about the project, please contact Michael Leonard:
michael.leonard@adelaide.edu.au.
Learn how we keep sand on Adelaide's beaches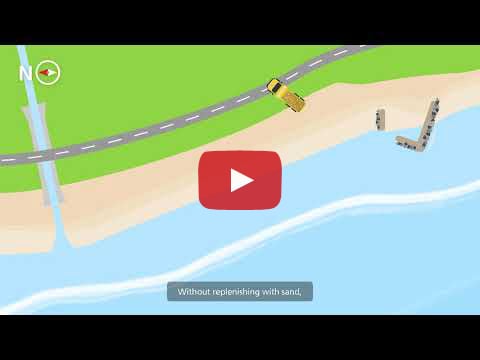 Find out more about how we're bringing new life to our coastal environment here.