Andrew Edlin Gallery at Art Basel Miami Beach
December 5–8, 2019
Visit Andrew Edlin Gallery at Booth H1 at this year's Art Basel Miami Beach. Featured artists include Joe Coleman, Henry Darger, Karla Knight, Dan Miller, Duke Rilet, Janet Sobel, Melvin Way and Domenico Zindato.
Miami Beach Convention Center
1901 Convention Center Drive, Miami Beach, FL 33139
www.artbasel.com
Joe Coleman Show Extended at Andrew Edlin, NY
At Andrew Edlin Gallery in New York, "Joe Coleman and the Shadow Self" has been extended through December 21.
Andrew Edlin Gallery
212 Bowery, New York, NY 10012
www.edlingallery.com
Brain Injury Survivors Turned Artists have "Open Studio" Event in London
December 5, 2019
More than 40 brain injury survivors turned artists will be throwing open the doors to their Hackney home next month for their second festive "Open Studio" event. On Thursday December 5 from 6-9pm, Submit to Love Studios based at brain injury charity Headway East London, will welcome members of the public to view and purchase work, and learn more about its unique creative practice.
Submit to Love @ Headway East London
238-240 Kingsland Road, London, E2 8AX
headwayeastlondon.org
Musée Visionnaire, Zurich
until February 16, 2020
"DREAMS – UTOPIAS – VISIONS" showcases the work of seven "Romantic Idealists", including Ben Wilson, Julius Bockelt and Ilmai Salminen.
Musée Visionnaire
Predigerplatz 10, 8001 Zurich, Switzerland
www.museevisionnaire.ch
Art Brut et Compagnie, Villefranche sur Saône
until December 8, 2019
Art Brut en Compagnie Association exhibits 13 artists from the Belgian workshop Campagn'Art in seven venues in the town of Villefranche sur Saône.
Hangar 717
717 Rue de Thizy - 69400 Villefranche sur Saône, France
Grayson Perry Awards Prize at Outside In Exhibition, London
A major exhibition of over 80 works by 80 artists from across the UK, exploring the theme of "Environments", is now open at Piano Nobile, London, featuring work by artists who face barriers to the art world. A judging panel of internationally renowned artists - including Grayson Perry and Cathie Pilkington, chose winners from all the work on show. The winning work, made in felt tip pen is by Alan Payler, and is called The Garden (above). Payler attends the Community Art Project in Darlington - a project for adults with learning disabilities. He will have an exhibition at Phoenix Gallery, Brighton in 2021 as a prize.
"Environments" continues at Piano Nobile until January 1, 2020.
until December 20, 2019
Japanese chef-turned-artist Hiroyuki Doi's artwork is on view at Ozu Washi.
Ozu Washi
3-6-2 Nihonbashi Honcho, Chuo-Ku, Tokyo, Japan
ozuwashi.net
Dedicated to women in outsider art, this special bumper issue features: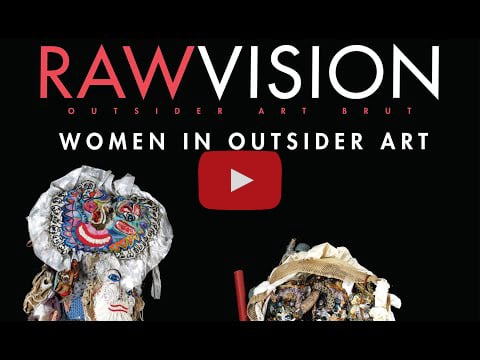 Raw Vision Short Film Competition
Below is Ahmet Arslan's entry into the 2019 Raw Vision short film competition.
Tiffiny Boyd's paintings are characterised by their expressive colour, bold marks, and dramatic sense of movement. Working primarily with acrylic paints, Boyd paints with an energetic, determined hand using a variety of brushes and unconventional tools that enhance the swirls, drips and gestures that give her work its distinct look. Boyd is a professional artist living with a developmental disability who has worked from the ECF Art Centers' San Pedro studio for over 25 years. She is represented by DAC Gallery, where she regularly exhibits. ECF Art Centers is an adult programme of Exceptional Children's Foundation, a Los Angeles-based nonprofit organisation that provides services to adults and children with developmental disabilities