The Mentor Resource Hub (MRH)
Tap into our Mentor Resource Hub (MRH) where you will find our program's extensive collection of Mentor resources, including:
COVID-19 Resources for Scholars; Mentor Program Calendar; Mentor Staff and Lead Contact Info; and Scholar Internship, Job, & Scholarship Opportunities
Use the password: mentors4OP to login.
Happy Black History Month!
February is National Black History Month, a time to acknowledge and honor the rich legacy and achievements of Black people in the United States. At Oakland Promise, we are constantly inspired by our city's rich history and the pivotal role of Oakland natives, especially the Black Panther Party, in the fight for Black liberation nationally and internationally. This year, we were reminded of the resilience and magic of Black youth in our fight for human rights in this country. As MENTOR put it, "It is imperative to us, as an organization, to help build and sustain a mentoring movement that has the will to reckon with its history of white saviorism and cultivate quality relationships, where Black mentees and mentors feel heard and supported."
This month, and every month, we recognize, celebrate and uplift our Black Oakland Community, Black Mentors, Black Scholars and Black Staff Members. Below, you can read MENTOR's full statement on Black History Month as well as find ways to celebrate Black History Month in Oakland.
The March 2nd priority deadline for FAFSA and DREAM Act is fast approaching! All students must apply for FAFSA or DREAM Act in order to receive financial aid for the 2021-2022 academic year. Check out our financial aid resources below and share them with your Scholar!
OP Financial Aid Support Sessions
Our OP Advising Team is hosting VIRTUAL Financial Aid Support Sessions in February and March! It is important for our Scholars to file their financial aid application BEFORE the priority deadline on March 2nd! If your student needs help submitting their FAFSA or DREAM Act application, they can and should reach out to our OP Advising Team ASAP. Scholars can also sign up for one of the following Financial Aid Support sessions using the button below:
Wednesday, 2/10: 4 PM - 8 PM

Saturday, 2/20: 10 AM - 2 PM

Tuesday, 3/2: 4 PM - 8 PM
National Mentoring Month Recap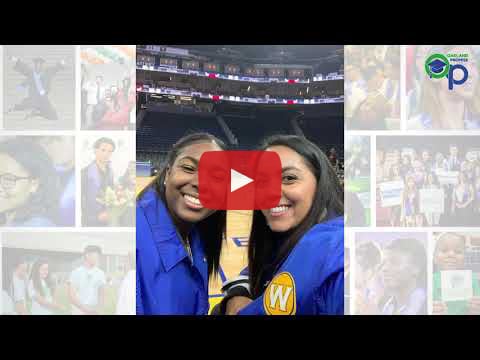 What a joy it was to celebrate our incredible OP Mentors for National Mentoring Month last month! Throughout the month, we shared OP Scholars' sentimental quotes and tributes to their OP Mentors on our Mentor Facebook Group and Oakland Promise LinkedIn page. The month-long celebration culminated in a special Thank-You video (linked above) we put together to honor each of you and your contributions to our community!
Our work would not be possible without your generosity and support for our resilient Oakland Promise Scholars. Thank you for your dedication to our students and our program, and for volunteering your time, talents, resources and hearts to the inspiring students of Oakland.
Want to help our Scholars reach their career aspirations? Oakland Promise is putting on a series of three Career Panels aimed at our 8-12th grade students. They will be held on the fourth Thursday of each month, beginning this month. If you have professional experience in the Arts, Law/Public Service, Health & Medicine (or related fields), then YOU are a potential panelist! If you are interested in sharing your experience and advice, or would like to learn more, click the button below.
Calling all UC Mentors!
Below you will find the 2021 CREWS Winter Quarter & Spring Semester Meeting Schedule. The schedule for these optional meetings has already been shared with our UC Scholars.
Semester Schools: February 1st through May 31st
UC Berkeley (all 3 CREWS: Adrian, Sunnie, Gabriela) - 2nd Saturday, with the exception of February, 12th (2nd Friday)

UC Merced (Briana) - 2nd Wednesday
Quarter Schools: February 1st through March 31st*
UC Davis (Alondra) - 1st Tuesday, with the exception of February 9th (2nd Tuesday)

UC Davis (Connie) - 1st Saturday, with the exception of February 13th (2nd Saturday)

UC Davis (Julissa) - 2nd Friday of the month

UC Santa Cruz (Iris) - Last Saturday of the month, with the exception of February 21st (3rd Saturday)
*Meeting schedule for Spring Quarter coming soon
Please encourage your Scholar to attend the CREWS meetings for their campus!
Your friendly reminder that current Oakland Promise Mentors will receive a reward each time they are named as a referral on a Mentor Program application. Props to Marite Espinoza, Ramona Itule, Tess Kavanagh and Alison Tucher, all of whom can expect your rewards soon! Don't forget that the Mentor Team proportionally responsible for the most new Mentors will receive an even larger reward. We are happy to report that Mentors from a majority of our Mentor Teams have referred prospective Mentors. May the best team win!
See below links to both our interest form and a guide for promoting the Mentor Program among your personal and professional networks.
On January 20th, we held our First Mentor Huddle! At this inaugural OP Mentor meeting, we had the opportunity to connect with our attendees about "Reconnecting and Resetting" in Mentoring practices. We were able to identify some personal and mentoring goals for the next 6 months and talk through tips on reconnecting with your Scholar after the Winter Break. For those of you who missed the session, do not fret! We will be having our next Mentor Huddle on February 24th at 12PM - Save the date!
Monthly Mentor Survey Open until 2/9!
This is a reminder to fill out our February Monthly Mentor Survey. This survey is a great opportunity to let us know what is working in your Mentor-Scholar relationship, and what additional supports OP can provide you with.
Be sure to check your inbox for our Monthly Mentor-Scholar Interaction Survey open now through February 9th!
Moving forward, Mentors of 2020 Scholars can also request support via their Activity follow-up surveys.
Reminders for your Scholars
Wind River Program Summer Internships
Alameda-based Software Company Wind River is hiring! The company aims to fill its 16 US-based summer internship spots entirely with Oakland Promise Scholars! If your Scholar is interested in gaining experience in computer science, sales, marketing, human resources or customer service, be on the lookout for further information about these opportunities. The company is specifically looking for students at 4-year schools who are set to graduate in 2022 or 2023. Additionally, Oakland Promise and Wind River will organize a virtual informational session to provide more information about the opportunities and the application process. More information coming soon.
Hidden Genius x Uber Career Prep Program
The Uber Career Prep Program will give students the opportunity to take their STEM skills to the next level and learn from experts in the field. This year-long program will consist of 5 virtual workshops. Varying topics for each session include technical interview skills, insights into how top engineers succeed, communication and self-marketing skills, engineering competencies, and more. Students must apply by 2/11/21. Learn more about the program below!
Alameda Health System: HealthPath Summer Internship
The HealthPATH Program, a career development program of the Alameda Health System, is hosting a paid college summer internship program for college students interested in gaining more experience in the healthcare field. More info below!
OP Black Excellence Grant
In partnership with Harlem Children Zone, the Oakland Promise is launching our Black Excellence Grant, to support Oakland Black/African-American Scholars in achieving their post-secondary goals. Oakland Promise believes in an Oakland community without barriers to equity, and we hope this grant can provide additional financial support to our Black youth. Applications are reviewed on a rolling basis -- encourage your Scholar to apply today!
This week, we are launching the Oakland Promise Youth Organizer Grant. This grant is open to Oakland youth of any age seeking to start or continue efforts of community service and leadership within Black or other underserved communities of color. Any youth in Oakland engaged in activism in service of the Black and/or underserved communities of color, or to youth-led nonprofit organizations or initiatives are encouraged to apply. If you know any Oakland youth who fit this criteria, encourage them to apply today!
Stay Connected with the Community
Our Oakland Promise Google Group is the perfect platform to receive and share job, internship, scholarship, and other academic opportunities for our Scholars. From the "My Groups" page, you can control when and if to receive email updates from the Group as well as how to opt out of the Group.
Join today!
We want to hear from YOU!
What moments stand out for you? How are you growing as a Mentor?
Each Mentor-Scholar relationship is unique, and sharing it can help others - including New Mentors - learn about what to expect, how to manage their expectations, how to celebrate successes, and more.
We are seeking 1-2 Mentor Leads and/or Co-Leads to support the following teams: BCC & Other Community Colleges, HBCU, NorCal, SoCal, CSUEB, UCSC and Laney/College of Alameda. Mentor Leads are helpful, committed and experienced folks who want to support their Mentor teammates.
Apply today below!
This Month, We're Listening to..
"For college freshmen, pandemic results in a first-year experience unlike any other"
Joe Heim, Nick Anderson, Danielle Douglas-Gabriel and Susan Svrluga, December 17th, 2020, The Washington Post