14 OCTOBER
Judgement days
Consistent with Senate Majority Leader Mitch McConnell's promise that President Trump's nominee for the Supreme Court vacancy, "will receive a vote on the floor of the United States Senate," day two of confirmation hearings for Judge Amy Coney Barrett has concluded. Key takeaways from her hearings so far include:
Deciding a disputed election – when pressed on whether Barrett would recuse herself if cases related to the election outcome go to the Supreme Court, she said she would, "apply the factors that other justices have," in determining whether she would recuse herself or not.

Abortion – Barrett declined to provide any indication of her views on abortion saying only that she will, "decide cases as they come," but this is a key issue and both Republicans and Democrats want to see where she stands.

Obamacare – in 2017, Barrett critiqued Justice Roberts in upholding the Affordable Care Act, but said she has made no commitments to dismantle it should the opportunity arise.
While Trump has returned to campaigning as normal, claiming he's "immune" to COVID-19, his opposition is pushing back on this. The second presidential debate was scheduled for this week, but was cancelled because the Trump campaign did not agree to a virtual debate.
Through the tumultuous final weeks of the 2020 election, the United States Studies Centre (USSC) will continue to bring you salient, timely analysis of the latest developments. Three unmissable upcoming webinars include conversations with Co-founder and CEO of Center for a New American Security Michèle Flournoy, Foreign Editor for The Australian Greg Sheridan and former White House Chief of Staff Mick Mulvaney. Visit our Election Watch hub for all the latest events and analysis on the race to the White House.
VIRTUAL EVENT
President Trump's former Chief of Staff Mick Mulvaney in conversation with Joe Hockey
With the US election less than three weeks away, a lot of commentaries are focused on the "horse race": who is ahead, who is behind? But regardless of the outcome in November, will Americans unite behind the next administration? What will be the policy priorities of either a Biden administration or a Trump administration's second term? Will there be room for foreign policy and an Indo-Pacific strategy as America grapples with the health and economic costs of the COVID-19 pandemic? Australia has managed its US relationship exceedingly well under President Trump but what risks and opportunities lie ahead for Australia and its national interests under either election outcome?
Please join the United States Studies Centre for a conversation between President Trump's former Chief of Staff Mick Mulvaney and former Australian Ambassador to the United States The Hon Joe Hockey.
WHEN:
Wednesday, 21 October, 10am AEDT (Sydney) 7am AWST (Perth)
Tuesday, 20 October, 7pm EDT (Washington, DC)

COST:
Free, but registration is essential
VIRTUAL EVENT
The future of US defence strategy in the Indo-Pacific
America's strategic position in the Indo-Pacific is under unprecedented strain. Whoever wins the US presidential election will have to address this reality in the context of growing geopolitical and economic disruption wrought by COVID-19.

How might a Biden administration address these challenges? Where will US defence priorities and trade-offs evolve and what could this mean for the US-Australia alliance and for other American allies in the region?
We are honoured to host Michèle Flournoy, former Obama Administration Under Secretary of Defense for Policy, to discuss these issues with Ashley Townshend, Director of Foreign Policy and Defence at the United States Studies Centre.
WHEN:
Friday, 16 October, 10am AEDT (Sydney) 7am AWST (Perth)
Thursday, 15 October, 7pm EDT (Washington, DC)

COST:
Free, but registration is essential
VIDEO
Empowering American allies and partners in the Indo-Pacific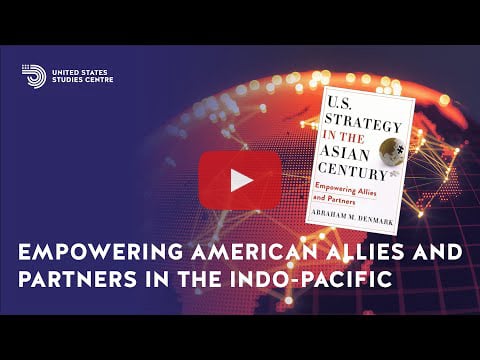 NEWS WRAP
Rallying cry in battleground states
I have no mission and no agenda. Judges don't have campaign promises.

Judge Amy Coney Barrett
Senate Judiciary Committee
12 October 2020
ANALYSIS
Right-wing terrorists will not stand back — and Australia should not stand by​
Elliott Brennan
Research Associate
The foiled plot by right-wing domestic terrorists to kidnap one of the United States' most prominent governors should sound an alert for Australia. After months of crises, the tearing apart of America's social fabric is heaving the nation to a dangerous moment. With the arrests of plotters in Michigan, we caught a glimpse of just how emboldened some of these extremists have become. They would gleefully lead the US into civil war.
A pre-eminent expert in the field, Australia's David Kilcullen, points out that the US has met many of the thresholds for an "incipient insurgency". That is a term usually reserved for discussions about countries outside the world's leading economies.
And Australia is not immune. As its domestic intelligence agency, ASIO, recently reported, far-right domestic terrorism threats comprise as much as 40 per cent of its case load.
But first to Michigan and the Wolverine Watchmen, a militia group linked to the kidnapping plot. It contains members pining for a much larger insurgency. Some within the fold believe Michigan and the United States have strayed so far from the sacred path charted by the American constitution that they must exercise their Second Amendment rights to bear arms and organise and maintain militias - and inspire others to follow them.
This was the alleged plan: kidnap Democratic Governor Gretchen Whitmer from her holiday home, set off bombs across the county to confuse the response of authorities, imply a breakdown in government and the Michigan legislature, and watch as groups in other states followed suit and sent the country into a civil war.
Why Whitmer? Because she had become the poster child for what they saw as overly harsh lockdowns amid the coronavirus pandemic.
BY THE NUMBERS
New COVID-19 weekly cases in Ohio​
Second wave 9,585 | Third wave 10,327 ​ ​
Ohio is one of the largest swing states in this election, with 18 Electoral College delegates at play. In 2016, Trump won the state by more than eight points. However, it is part of the midwestern states experiencing a "third wave" of COVID-19 cases.

The total from the last seven days is 10,327 – much higher than the 9,585 cases from the highest weekly total during the second wave in July based on the reporting from the COVID Tracking Project. Whether this changes the minds of voters is something to watch on election day.