Bill Traylor at David Zwirner, New York
until February 15, 2020
David Zwirner presents works by Bill Traylor (c. 1853–1949) from The William Louis-Dreyfus Foundation and Family Collections. Organised in collaboration with the Foundation, the exhibition offers a comprehensive look at the artist's distinctive imagery, which mixes subjects and iconography from the American South with a strong formalistic treatment of colour, shape, and surface. As part of the Foundation's broader philanthropic mission, proceeds from the sales of its artworks will benefit the Harlem Children's Zone, as well as the Foundation itself.
David Zwirner
34 East 69th Street, New York, NY 10021
www.davidzwirner.com
Outsider Art at Orleans House Gallery, London
November 1, 2019 – February 16, 2020
Richmond-based dealer and collector Henry Boxer returns to Orleans House Gallery with new and familiar self-taught artists and works – each offering a unique vision, from the occult to the mediumistic. Featured artists include Louis Wain, Madge Gill, Donald Pass, George Widener and Stephen Wiltshire.
Orleans House Gallery
Riverside, Twickenham TW1 3DJ
www.orleanshousegallery.org
"No Spectators: The Art of Burning Man" at Oakland Museum of California
Michael Garlington and Natalia Bertotti's Paper Arch
until February 16, 2020
Organised by the Smithsonian American Art Museum's Renwick Gallery, "No Spectators" makes its west coast debut and final stop at OMCA, featuring iconic sculptures, immersive installations, and interactive artwork from Burning Man, which draws over 70,000 people to Nevada's Black Rock Desert each year. An adaptation of the original exhibition, "No Spectators" takes over OMCA's Great Hall and beyond, with outdoor sculpture throughout the Museum's public spaces, including an OMCA-commissioned 40-foot-tall outdoor temple by David Best. A companion exhibition within the gallery traces Burning Man's origins from its countercultural roots in the San Francisco Bay Area to the world-famous city in the desert it is today.
Oakland Museum of California
1000 Oak St, Oakland, CA 94607
https://museumca.org
Salvemos la Casa de Dios's Art Environment in Danger
Julio Basanta, who died last summer at the age of 85, was a self-taught artist who created one of the world's most important art environments. Without any formal training in art, architecture, or engineering, he worked for over 40 years, constructing dozens of polychrome sculptures to illustrate his fervent belief that "Thou Shalt Not Kill," a mission inspired by the untimely deaths of his brother and son. Although the site is located on the outskirts of a village in central Spain, thousands of international visitors have made the trek to view his work, and it has been featured in several international art journals, books, and television programs.

In the year since Basanta's death, the work has begun to seriously degrade. Heavy winter rains have caused cracking of the cement surfaces of the sculptures, and the paint has begun to lose much of its color. Two sculptures have already collapsed, and it is possible that the work will be irreparable after another difficult winter season or two. Consequently, it is imperative that we take action today to convince the local and regional governments to intervene to save and preserve Basanta's art.
Sign this petition to the municipal government of the village of Épila and the government of Aragón to allocate funding so that SPACES may begin to conserve this site and preserve it for future generations to enjoy.

For more information, see:
http://spacesarchives.org/explore/collection/environment/casa-de-dios-house-of-god/
Dapper Bruce Lafitte in New York
until December 1, 2019
"45 DON'T HAVE LOVE FOR ME" is a solo show of works by self-taught artist Dapper Bruce Lafitte. The show is comprised of over 40 small-scale drawings addressing the historical and contemporary racial violence inherent in American, and particularly Southern, culture.
Fierman
127 Henry Street, New York, NY 10002
www.fierman.nyc
Dedicated to women in outsider art, this special bumper issue features: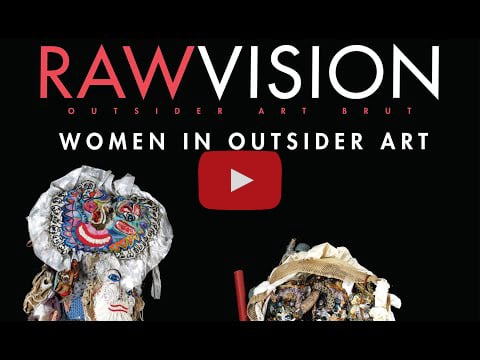 Raw Vision Short Film Competition
Below is Cristiano Ferrarese and Kun Der Kun's entry into the 2019 Raw Vision short film competition. "The Black Wings" tells the life of Franca Settembrini, a troubled Italian woman (1947–2003) who found her liberation through painting.