Mary T. Smith at SHRINE, NY
until July 28, 2019
In "I WE OUR", SHRINE presents works by Mary T. Smith (1904–1995).
Smith took an intuitive approach to making art and passionately painted self-portraits, as well as people and scenes from her daily life in rural Mississippi. Smith also portrayed biblical stories and characters. She began "making pictures" on found wood and corrugated-metal sheets in the late 1970s and during the last years of her life she created several hundred paintings.
SHRINE, 179 East Broadway, New York, NY 10002
shrine.nyc
Galerie Polysémie, Marseille
June 14–16, 2019
"Dialogue Between Women" presents works by four women outsider artists: Evelyne Postic, Aditi Lago, Samaneh Atef and Raak.
Galerie Polysémie
12 Rue de la Cathédrale, 13002 Marseille, France
polysemie.com
Outside In, North England
until November 16, 2019
Works by Outside In artists are shown in "Hard Wired", in partnership with Chrysalis Arts, which presents technology-inspired pieces by ten artists touring four venues across Yorkshire, East Riding and Lancashire until November 16.
Locations:
North Bridlington Library - until July 13, 2019
Catterick Library - July 20 to August 31, 2019
Whitby Library - September 7 to October 5, 2019
Chorley Library - October 12 to November 16, 2019
outsidein.org.uk
Biz'Art-Biz'Art, Le Vaudioux
until September 30, 2019
Biz'Art-Biz'Art's latest group exhibition includes works by Françoise Sablons, Marie-Françoise Valois, Patrick Evereus and others.
Biz'Art-Biz'Art
2 Chemin de Prayat, 39300, Le Vaudioux, France
www.bizart-bizart.com
until June 29, 2019
"LR Vandy: Hidden" features new works, including more from her signature "Hull" series, where the artist transforms model boat hulls into "masks".
October Gallery
24 Old Gloucester Street, London WC1N 3AL, UK
www.octobergallery.co.uk
The Hungerford Bridge Gallery, London
Raw Vision Short Film Competition
Below is Flynn Greenwood's entry into the 2019 Raw Vision short film competition – a brief documentary about outsider artist Phil Baird, who lives in London.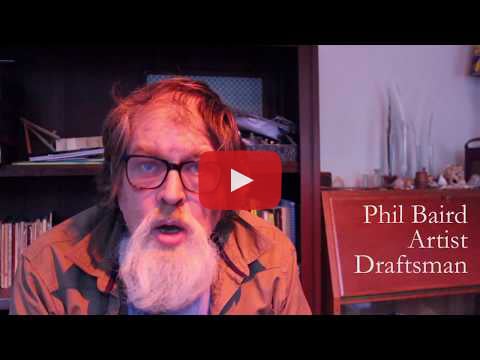 Check out the rest of the short film competition entries here.