7 OCTOBER
Hopes for a healthier debate
The first Biden vs Trump debate was only a week ago, but given the developments of the past seven days, it feels more distant than that. On Friday, President Trump announced he was diagnosed with COVID-19. The next day he was admitted to Walter Reed Hospital. After a three-night stay, including a motorcade outing, he left the hospital. All of this has happened before the next major campaign event – tomorrow's vice-presidential debate. As Mike Pence and Kamala Harris face off expectations are for a drastically different debate both in terms of tone and style and in terms of COVID safety measures. Join the Centre for a VP debate debrief on Friday as our experts analyse what worked and what didn't, as well as what it will mean for the rest of the campaign. You can also tune in on Tuesday 13 October for a USSC webinar with Greg Sheridan, Foreign Editor at the Australian and Zoe Daniel, former ABC Washington Bureau Chief to discuss the implications of Trump's COVID diagnosis.
While much of the news still centres on the US election, the impact of the pandemic continues to make waves around the world. The delayed Australian Budget is one of the strongest measures of how the COVID-19 pandemic has impacted Australia and how the government is responding. In June, the Centre's Bolstering Resilience report recommended acceleration and augmentation of military collaboration (especially maritime) in the Indo-Pacific. The budget that was handed down yesterday includes funding for new maritime defence projects in the southwest Pacific. In August, Senior Fellow Jared Mondschein released a report on the role of US innovation in securing Australia's economic future calling for the maintenance and stabilisation of the R&D Tax Incentives (RDTI). This recommendation was echoed in Budget 2020-21 with a $2 billion boost to RDTI. Further analysis of both pandemic impacts and the US election will feature in upcoming Centre reports.
VIDEO
Election Watch​ | US politics web series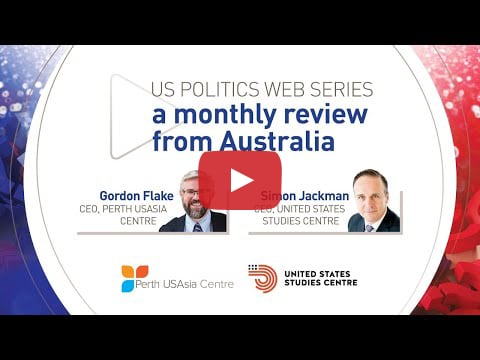 Did you miss the latest episode of Election Watch, the United States Studies Centre and Perth USAsia Centre's US politics web series? This month's instalment featured our October special guests - former Republican Senator Jeff Flake and US foreign policy expert Dr Gorana Grgic - alongside hosts Professor Simon Jackman and Professor Gordon Flake. Watch the full discussion HERE.
Catch this and other recent webinars on the USSC YouTube channel!
NEWS WRAP
Per-plexi-ng debate
The potential for what COVID can do is very, very much
different from influenza
Dr Anthony Fauci
NBC News interview
6 October 2020
ANALYSIS
Why the US vice presidential debate matters more now than ever before
Jared Mondschein
Senior Fellow
In many ways, a vice president's most important constitutional duty is simply to stay alive. Beyond breaking ties in the US Senate, the vice president essentially has no real constitutional duties beyond replacing a deceased or incapacitated president.
Such matters of life or death could not weigh heavier in the upcoming presidential election, which features the oldest candidates of all time — President Donald Trump is 74 and his opponent, Joe Biden, is 77.
And Trump, as we all know, was hospitalised in recent days after contracting COVID-19 — and, according to his doctor, is still not "out of the woods" when it comes to making a full recovery.
With the health of Trump (and Biden, who has so far tested negative for COVID) at the forefront, it's even more vital for Americans and the world to learn more about Vice President Mike Pence and his fellow vice presidential candidate, Senator Kamala Harris, as they meet in their only debate this week (Thursday AEDT).
VIRTUAL EVENT
Vice-presidential debate debrief​
The 2020 campaign continues to break norms and defy expectations. With the bickering and banter from the first debate still resounding, how will Vice President Pence and Senator Harris handle their encounter? Will policy and ideology feature more prominently in the Vice-Presidential debate? Will this presumably less personal, more substantive debate yield insights about the likely policy priorities of either a second Trump administration or a Biden administration? And if so, what are the implications for Australia?
To discuss these issues, please join us for a webinar event with USSC Lecturer in US Politics and Foreign Policy Dr Gorana Grgic, Non-Resident Fellow Jennifer Hunt, and Non-Resident Fellow Kim Hoggard in conversation with Associate Professor in American Politics Brendon O'Connor.
WHEN:
Friday, 9 October, 1pm AEDT (Sydney) 11am AWST (Perth)
Thursday, 8 October, 10.00-11.00pm EDT (Washington, DC)

COST:
Free, but registration is essential
BY THE NUMBERS
Flu vs COVID-19 mortality rates​
US 0.1% : 2.8% | Australia 0.5% : 3.3% ​
According to the Centers for Disease Control and Prevention, the mortality rate for influenza in the United States from the last year is about 0.1 per cent, a fraction of Australia's 0.5 per cent.

While the data for COVID-19 mortality is currently combined with statistics for influenza and pneumonia, John Hopkins reports the United State's mortality rate as 2.8 per cent, and while the overall number of cases are still much higher than Australia, the overall mortality rate has now dropped below Australia's 3.3 per cent.