Books & Merchandise Now On Sale!
If the doldrums of winter are getting you down or you need an escape from every day life, I've got just the thing with the following books ON SALE for a limited time! If you've been putting off starting the Quantum or Fatal Series, now would be the perfect time to find out why so many readers love these New York Times bestselling series! Quantum is full of movie stars and Hollywood intrigue while Fatal will take you on the ride of your life with a gusty Washington, DC police detective and the man she loves. Longing for Love is one of the most beloved installments in my bestselling Gansett Island series, featuring Tiffany Sturgill and Blaine Taylor's hot, sexy love story. Snap out of the winter blues and let these books, now on sale, take you away from it all!
Virtuous, Book 1 in the Quantum Series—FREE
He's a sexual dominant. She's sworn off sex. There's no way they can make a relationship work—or can they?
Natalie Bryant has worked for years to reinvent herself into the woman she is today—a happy teacher fresh out of college and enjoying her first winter in New York City with her faithful dog, Fluff. Natalie isn't expecting her life to change completely during a routine stroll through Greenwich Village on a blustery January day. But when Fluff breaks loose and charges into a park, Natalie gives chase and crashes into her destiny. Only after Fluff bites and draws blood from the man who accidentally knocked Natalie down does she realize Fluff has bitten the biggest movie star in the world.
He has no business being enthralled by the gorgeous, young, innocent teacher…
Natalie captivates Flynn Godfrey the moment their eyes meet. And the only thing he knows for certain is if he lets Natalie get away, he'll regret it for the rest of his life. But can he turn his back on the lifestyle that has defined him? And most of all, can he keep his truth hidden from her long enough to have forever with her? From Hollywood to Las Vegas, Flynn and Natalie's whirlwind love affair has it all— romance, passion, steamy hot sex, relentless paparazzi and a murder that could be their undoing. Flynn is a dirty-talking hero who puts it all on the line for the women he loves, who leaves no desire unfulfilled, who will do anything it takes to protect what's his…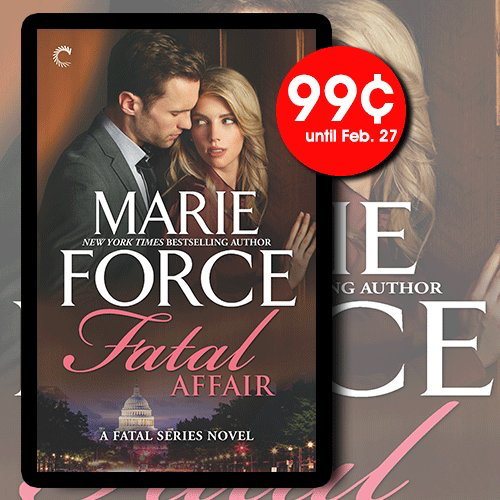 Fatal Affair, Book 1 in the Fatal Series—99 cents
Washington, D.C., Metro Police Detective Sergeant Sam Holland needs a big win to salvage her career——and her confidence——after a disastrous investigation. The perfect opportunity arises when Senator John O'Connor is found brutally murdered in his bed, and Sam is assigned to the case. Matters get complicated when Sam has to team up with Nick Cappuano, O'Connor's friend and chief of staff…and the man Sam had a memorable one-night stand with years earlier. Their sexual chemistry still sizzles, and Sam has to fight to stay focused on the case. Sleeping with a material witness is another mistake she can't afford——especially when the bodies keep piling up.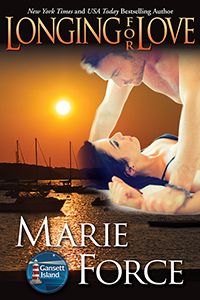 Longing for Love from the Gansett Island Series—99 cents
Series favorite Tiffany Sturgil steals the spotlight in Longing for Love as her new boutique Naughty & Nice opens in downtown Gansett, right in time for the annual spring Race Week festivities. Finally divorced and ready for a new beginning, Tiffany wonders if sexy Police Chief Blaine Taylor thinks of her as often as she thinks of him since their explosive encounter last fall. Back then he directed her to call him the second she was officially divorced, but the opening of her store and her unconventional advertising "campaign" have put the island's lingerie queen at odds with the town's top cop. Despite their clashes, when these two finally get together after months of steamy build up, readers will need to keep a fire extinguisher close at hand!
Blaine has been burned in the past by love affairs gone wrong, and he's wary about risking too much too soon. But he quickly discovers that Tiffany's sarcastic rejoinders and bitter outer shell hide a badly wounded heart of gold. He also discovers she's a "sex-toy fraud" and convinces her she can't possibly sell the merchandise without trying it out first… While he finds himself thinking of her all the time, the mayor is after him to curb her sexy advertising and his mother worries that Blaine has taken on another "project" who will break his heart.
As Blaine and Tiffany fight for their happily ever after, readers' favorite characters from past books are back for more island adventures. Joe and Janey return to Gansett for the summer and discover the big secret his mother has been keeping. Evan learns that Grace hasn't told her parents about him. Stephanie's restaurant is ready to open in the renovated Sand & Surf. Dan keeps showing up to "visit" Kara at work, Mac is worried about Maddie's upcoming meeting with her deadbeat dad and a Race Week catastrophe reminds everyone what's really important.
The McCarthys of Gansett Island takes a decidedly erotic turn in this seventh book! If hot, sexy men in uniform cavorting with hot, sexy women who sell sex toys for a living aren't your thing, this book might not be for you!
ALWAYS FREE Series Starters!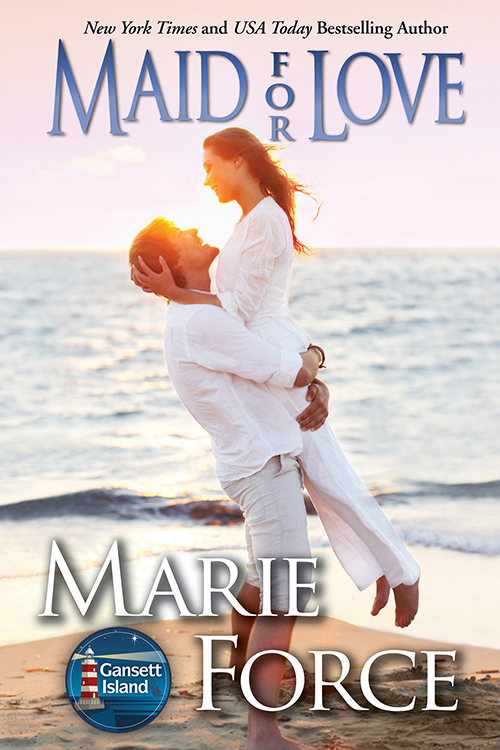 Maid for Love, Book 1 the Gansett Island Series
Maddie Chester is determined to leave her hometown of Gansett Island, a place that has brought her only bad memories and ugly rumors. Then she's knocked off her bike on the way to her housekeeping job at McCarthy's Resort Hotel by Gansett's "favorite son," Mac McCarthy. He's back in town to help his father with preparations to sell the family resort and has no intention of staying long. When Mac accidentally sends Maddie flying over the handlebars, badly injuring her, he moves in to nurse her back to health and help care for her young son. He soon realizes his plans for a hit-and-run visit to the island are in serious jeopardy, and he just may be "maid" for love.
One Night With You, Fatal Series Prequel Novella
Since the debut of Fatal Affair in 2010, Fatal Series readers have been wondering about that "memorable" one-night stand between Sam Holland and Nick Cappuano that took place six years before Fatal Affair opens. Well, wonder no more! One Night With You tells the story of Sam and Nick's fateful first meeting in which all the chemistry and heat we have come to expect from them is on full display from the first moments they meet. Get all the details of Sam and Nick's unforgettable night together in this 14,000-word novella! You might want to keep a fan and some ice water handy, because this story is H-O-T!
Take 15 Percent Off in My Store!
From now until Feb. 21, enjoy 15 percent off all signed books and merchandise in my online store. Looking for signed books, a Butler, Vermont sweatshirt, a Marie Force Fangirls mug, Fatal Series pajamas or a set of charm bracelets? Get them here or tell your Valentine where to shop!
Use the discount code Valentine17 when you check out to receive 15 percent off your order.