Ricco/Maresca Gallery, New York
For more than 30 years, Thomas Lyon Mills has been granted rare access to paint in the Italian catacombs and European pagan sites. From there, beginning with his onsite work and the influence of his dreams, he returns to his studio to work on pieces – often for years. Ricco/Maresca Gallery presents "Thomas Lyon Mills: Liminal Space" through September 7.
Ricco/Maresca Gallery
529 W. 20th St, New York, NY 10011
www.riccomaresca.com
Strobl Drawings at Drawing Lab Paris
until September 20, 2019
Group exhibition "The Projective Drawing" at Drawing Lab Paris, curated by Brett Littman, includes eight artworks by Gugging artist Leopold Strobl, who is featured in the upcoming issue of Raw Vision magazine.
Drawing Lab Paris
17 Rue de Richelieu, 75001 Paris, France
www.drawinglabparis.com
A New Discovery in Morocco
Self-taught artist Aziz lives alone in a garage in Salé, Morocco. Every day for the last four years, he has been embellishing his colossal work in painted concrete, spontaneously creating animal sculptures from cement leaves and flowers.
For more information, contact Francois Beaurain fcbeaurain@gmail.com.
Kunsthaus Kannen, Münster
until September 1, 2019
"Ludgerus school Hiltrup" features colourful watercolors, elaborate line drawings, prints and spring pictures, all painted by 16 pupils of the Ludgerus School in Münster-Hiltrup, on display on the large wall in Kunsthaus Kannen. The project has been organised with outsider artists Hans-Günther Harst and Helmut Schrameier and is supported by artist Anastasiya Nesterova.
Kunsthaus Kannen
Alexianerweg 9, 48163 Münster, Germany
www.kunsthaus-kannen.de
Danielle Le Bricquir in

Guerlesquin, France
until August 31, 2019
Works by Danielle le Bricquir are exhibited at Halles de Guerlesquin, near the centre of Brittany. The small retrospective presents 150 works, paintings and sculptures, including both recent works and older sewn paintings.
Halle de Guerlesquin
2 rue du docteur Quéré, 29650 Guerlesquin, France
www.lebricquir.com
In our special summer sale, we are offering a huge 50% off back issues and books!
For orders of 10+ issues please email

info@rawvision.com

for reduced postage.
Raw Vision Short Film Competition
Below is the College of Psychic Studies' entry into the 2019 Raw Vision short film competition.
In 2017 the College of Psychic Studies received a donation of over 200 artworks by a Croatian, self-taught mediumistic artist called Ljerka Cairn. This is a short film made in December 2018 about her fascinating art and life...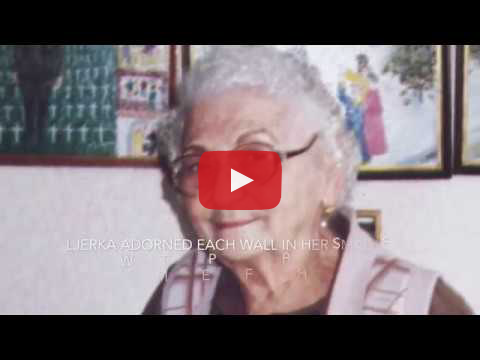 Check out the rest of the short film entries here.