Happy holidays to you and your family!
Just touching base one more time before we all punch out for the holidays to say a HUGE THANK YOU for putting Light After Dark on the New York Times bestseller list at NUMBER TWO! Holy cow! I so appeciate your support of my books, and you know what this means? No end in sight for Gansett! I can't thank you enough for the amazing reviews and all the excitement for Mallory's story.
I did an end-of-the-year Facebook live event and have posted the video to my website. Have a look and get the scoop on what's to come as I look ahead to 2017. You won't want to miss the news about the Gansett Island Series, new Butler, Vermont Series and much more!
A big THANK YOU for all the holiday cards jamming the PO box this month! I read every one of them and have discovered that my readers are big fans of glitter! :-) Thank you for all the kind messages about my books. Happy holidays, everyone!
Thank you again for an awesome 2016! I can't wait to share more of my books with you in 2017.
xoxo
Marie
Every Little Thing Available for Preorder
Grayson and Emma's story, Book 1 in the new Butler, Vermont Series, is out on February 14!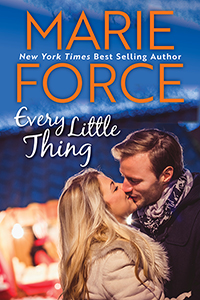 Grayson Coleman has just moved home to Butler, Vermont after spending years working for a high-powered law firm in Boston. He's looking for a simpler, less stressful existence in the sleepy little mountain town where he grew up with his siblings and Abbott cousins. Once the holidays are over, he plans to hang out a shingle and open a new general law practice. After helping to raise his seven younger siblings, the last thing on Grayson's mind is a family of his own.
Emma Mulvaney is enjoying a break from her reality as a busy single mother in New York City while she and her adorable daughter, Simone, spend the holidays in Vermont with Emma's sister, Lucy, and Lucy's future in-laws, the Abbotts. After meeting Abbott cousin Grayson Coleman and talking to him for hours, Emma is nervous and excited to have dinner alone with him after sharing her deepest, most personal secrets with him.
Will that first night be the start of something new for the jaded lawyer and the selfless single mom or will a holiday week flirtation turn into something much bigger than either of them ever expected?
Come back to Butler, Vermont for more of the charming Abbott family, their matchmaking father and grandfather and of course, Fred the Moose.
The indie-published Butler, Vermont Series is a continuation of Marie's Green Mountain Series with all the things you loved best about that series—Fred the Moose, the boisterous Abbott family, the beautiful Vermont mountain landscape and the sexy romances that set your heart to racing. Catch up with the series by checking out the Green Mountain Series and then come along on the next phase of the story with the all new Butler, Vermont Series!
Preorder Every Little Thing: