August Walla, PANNEK.?, 1999, pencil, coloured pencils, 62,5 x 88 cm, courtesy galerie gugging
November 21, 2019 – February 28, 2020
Opening on Wednesday, November 20, 2019 at 7 pm
For each of the past 25 years from 1994 to 2019, galerie gugging will show a work by one of the artists they represent. These artworks will be presented along a timeline and will form a composition of rare pieces and current works by gugging artists and their international colleagues.
galerie gugging nina katschnig
Am Campus 2, 3400 Klosterneuburg, Austria
www.galeriegugging.com
Mary Lou Dimsdale at Tierra del Sol Gallery, Los Angeles
until December 20, 2019
Mary Lou Dimsdale engages the world through brightly coloured, layered imagery creating a unique visual language that she codifies with text. Tierra Del Sol Gallery presents works by the mature artist, who discovered her talent for painting in her sixties, in her first solo exhibition.
Tierra Del Sol Gallery
945 Chung King Road, Los Angeles, Ca 90012
www.tierradelsol.org
Centro de Arte Oliva, Portugal
Marilena Pelosi, courtesy André Rocha
until March 15, 2020
Curated by António Saint Silvestre of Treger Saint Silvestre Collection, "Lusofolia: Insane Beauty" features work by Manuel Bonifácio, Jaime Fernandes, Daniel Gonçalves, Marilena Pelosi and other well-known and lesser-known outsiders, plus drawings by unknown Angolan artists.
Centro de Arte Oliva
Rua da Fundição, 240, São João da Madeira, Portugal 3700-119
tsscollection.org
Art & Mind Available on DVD Amélie Ravalec's documentary Art & Mind, which explores art, madness and the unconscious, is now available on DVD and Blu-Ray.
Order now via bit.ly/artminddvd
until December 14, 2019
A retrospective exhibition of the work of Pakito Bolino is taking place at the Arsenicgalerie.
Arsenicgalerie
14, rue Guénégaud, 75006 Paris, France
www.arsenicgalerie.com
Dedicated to women in outsider art, this special bumper issue features: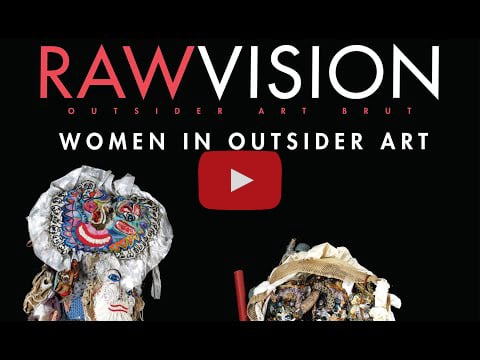 Raw Vision Short Film Competition
Below is Sarah Ballard and Lewis Wickwar's entry into the 2019 Raw Vision short film competition.
Filmed at Barrington Farm, Norfolk in November 2018, the film is a micro study of Barrington Farm artist Michael Smith's creative process.