A new coronavirus which has now killed at least 17 people and sickened more than 540 in China seems to trace its origin to snakes. Virologists Haitao Guo and Shou-Jiang Gao of the University of Pittsburgh, and Guangxiang "George" Luo of the University of Alabama at Birmingham, describe a study done by researchers in China that suggests the new virus may have jumped from bats to snakes to people. The findings could help guide researchers in developing prevention protocols and treatments.
Also today:
Top story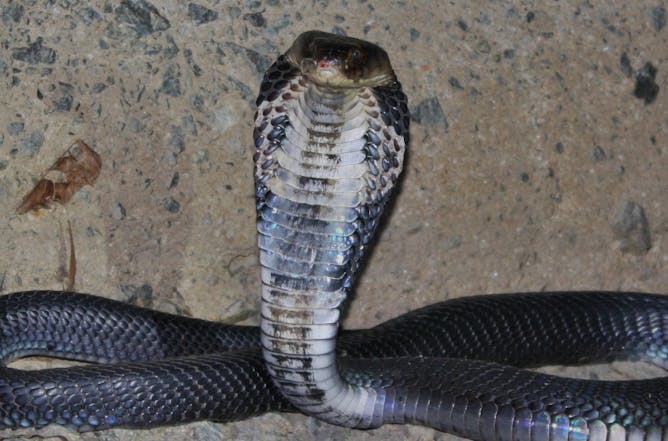 A new coronavirus related to SARS and MERS has now traveled from China to the United States. A genetic analysis reveals that this deadly pathogen may have originated in snakes.
Arts + Culture
A scholar disproves the long-held assumption that black names are a recent phenomenon.
Health + Medicine
Ozzy Osbourne, famous for biting heads off bats, heavy metal music and a reality TV show, announced he has Parkinson's disease. A Parkinson's specialist explains the disease and recent advances.
Environment + Energy
Starting Feb. 6, 2020, California farmers will be barred from using chlorpyrifos on their crops. The Trump administration says more study is needed, but other states are also moving ahead.

Both opinions the three-judge panel handed down warned of a potential climate catastrophe. Only one judge said the courts have an active role to play in making the government change course.

Acclimatization societies believed that animals could fill the gaps of a deficient environment.
Ethics + Religion
Dopamine fasting has fast become a fad in the Silicon Valley, as a way to reset the brain's feel-good chemical. Many religions have advocated fasting for some of the same reasons.
Education
Since caffeine is in so many different foods and drinks, it's easy for kids – or grownups – to get more than they should without realizing it.

African American students are taking on significantly more debt than white students to earn advanced degrees. Is it worth it?
Economy + Business
As capitalism's image crumbles, many of the world's biggest companies are trying to give it new life by showing it can mean more than just making money.
Politics + Society
The US is demanding the 'immediate' release of a Cuban activist jailed since Oct. 1. But allegations of violence and fraud suggest the charges against José Daniel Ferrer are criminal, not political.
Most read on site
Why isn't there an endless variety of planets in the universe? An astrophysicist explains why planets only come in two flavors.

Are you a worry wart? Not to worry. Turns out you were born that way, to some degree. Humans have a default mode in their brains that lead them to worry, but there are many ways to switch gears.

New research finds that the different ways boys and girls use digital technology might explain the discrepancy.
Elizabeth Schmidt

University of Massachusetts Amherst