Editor's note
There are millions of reasons why the federal government should go all out to help Puerto Rico recover from the devastation of Hurricane Maria – 3.5 million reasons in fact, since Puerto Ricans, who are American citizens, are suffering terribly. But with the Trump administration seemingly unmoved by the desperation, self interest may be a better motivator. Bentley University's Lilian Bobea reminds us that Puerto Rico is much more than a beach destination – it's a key piece of America's economic and security apparatus, and abandoning it now would be a risky move.
Catesby Holmes

Global Affairs Editor
Top story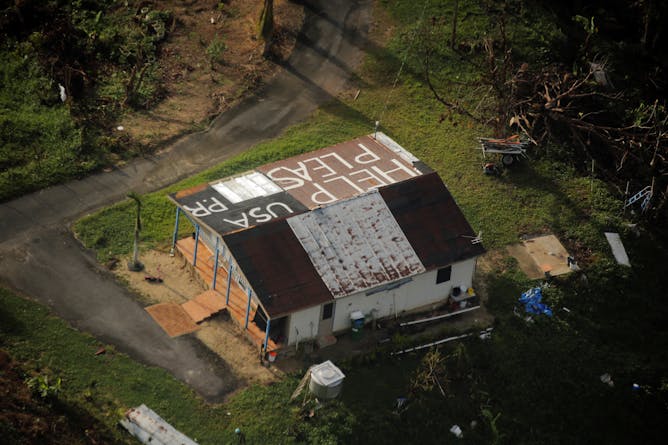 If humanitarian need can't move the Trump administration to save Puerto Rico, then perhaps American self-interest will: The island is a crucial part of the country's economic and military machinery.
Arts + Culture
| | | |
| --- | --- | --- |
| In a system that's far better at identifying the best payers than finding the best players, the pipeline of talent gets choked out by costly tournament and team fees. | | In the country's wealthiest cities, gentrification is a dirty word. But it's all relative – just ask Hartford and Columbus. |
Education
| | | |
| --- | --- | --- |
| Racial bias is associated with dehumanizing social groups different from your own. Psychologists trained kids to differentiate individuals of another race – with lasting effects on their biases. | | Think you've had the sex talk so now you're done? Think again. |
Environment + Energy
| | | |
| --- | --- | --- |
| Rural development experts say the best way to help coal communities by is investing in people, infrastructure and a clean environment. Instead, President Trump's budget cuts programs in these areas. | | The Trump administration is committed to deregulating industry, as it's done with the EPA Clean Power Plan. But a historian shows how regulations have actually benefited both industry and consumers. |
Economy + Business
| | | |
| --- | --- | --- |
| Government initiatives to prod people to make better decisions got a lot of attention after Richard Thaler won a Nobel in economics for his working on nudging. | | If President Trump really wants to restore America's manufacturing might he should invest heavily in AI, the internet of things and other emerging technologies that are changing the world. |
| One reason why the steel magnate spent so much of his fortune building libraries across the nation and abroad is that he saw handing large fortunes to the next generation as a waste of money. | | While advocates of gun control may feel powerless in the wake of mass shootings like the one in Las Vegas, the history of government support for the industry shows Americans have more sway than they think. |
Ethics + Religion
| | | |
| --- | --- | --- |
| On World Mental Health Day, a philosopher explains how to learn from the stoicism of Roman philosophers. | | A prayer rally recently organized in Washington, DC is part of a growing movement, that scholars call 'Independent Network Christianity.' |
Politics + Society
Ten months of data reveal some alarming trends.

Seventy-five percent of all abortions in Latin America are illicit. In Honduras, Nicaragua and El Salvador, where abortion is totally illegal, the bans correlate with a generalized failure of the rule of law.

Puerto Rico has focused significant efforts on branding – but at what cost?
Health + Medicine
| | | |
| --- | --- | --- |
| In most markets, diversity and choice foster robust competition. In health insurance they could lead to fragmentation and market failure. | | Poor people who have cancer are one of the most financially vulnerable groups in the US. Obamacare aimed to improve their access to care. A recent study shows how it did. |
Science + Technology
During World War I, Marie Curie left her lab behind, inventing a mobile X-ray unit that could travel to the battlefront and training 150 women to operate these 'Little Curies.'

Consumers can't read, understand or use information in companies' privacy policies. So they end up less informed and less protected than they'd like to be. New research shows a better way.

Scanning physical items constructed with nefarious intent can introduce malware into a smartphone or computer.