A number of African countries and regions are battling rising levels of violent extremism. The state response has tended to be a single-minded focus on force; governments are reluctant to be seen to be negotiating with terrorist groups. Akinola Ojo argues that it's time to rethink this approach and explore dialogue as a crucial part of any official response to extremism.
Mozambique's elections are set for next month, and as part of the preparations a peace deal was negotiated between the government and the Renamo opposition party. It's a step in the right direction – but will it hold? Justin Pearce outlines three issues that may scupper the deal.
Also today: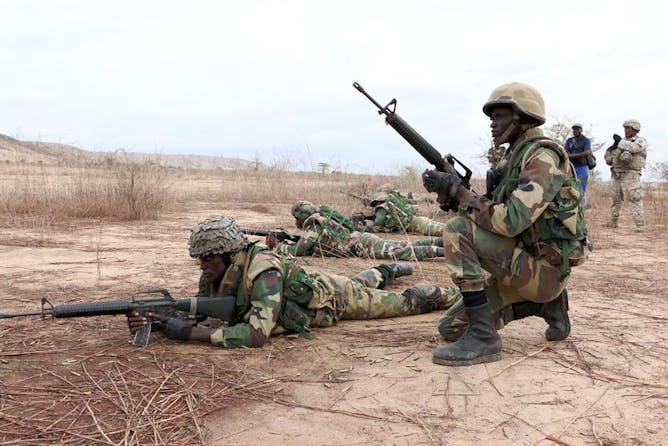 It is time to reconsider the predominant strategy in play on the continent for dealing with terrorism.
Politics + Society
| | | |
| --- | --- | --- |
| The splintering in Renamo has its origins in the unexpected death last May of Afonso Dhlakama, its leader of 39 years. | | Learning from what actually worked during the United Nations' infamously ineffective 1994 peacekeeping mission in Rwanda may save lives in the future. |
Health + Medicine
| | | |
| --- | --- | --- |
| Local communities are wary of the sudden arrival of outsiders and of their interest in regions where there's been violence for years | | Sanders was not afraid to challenge and speak out about sensitive and difficult issues, to people in senior positions of power - and when he did, they sat up and listened. |
En español
| | | |
| --- | --- | --- |
| ¿En qué lugar del panteón de los líderes nacionalistas africanos que llevaron a sus países a la independencia debemos colocar a Mugabe? | | El reciente informe del Panel Intergubernamental de Expertos sobre el Cambio Climático pretende concienciarnos de las consecuencias que pueden tener para el futuro del planeta las pautas y hábitos de vida que hemos instaurado en nuestra sociedad. |
From our international editions
| | | |
| --- | --- | --- |
| As protests continue in Mexico about violence against women, some have blamed macho culture. But that may do more harm. | | It's not all about the economics – people's sense of well-being may help explain anti-immigration attitudes. |
| Scientists are left with two conclusions. Either Nessie is an eel, or she never existed at all. | | How is NASA preparing astronauts for high-stress living on the Moon? Turns out the answer is by living in undersea bases just off the coast of Florida in a lab known as Aquarius Reef Base. |