DINE & DISCOVER LAUNCHES, SYDNEY RESTRICTIONS RELAXED
The commencement of the NSW Government's $500 million Dine & Discover stimulus program is a step closer, with testing now underway in The Rocks and Broken Hill.
Treasurer Dominic Perrottet said the program would help turbocharge local economies.
"We've heard loud and clear just how challenging it has been for businesses during the pandemic and this investment is exactly what the economy needs with things quietening down after a busy summer period.
"Whether it's a café, restaurant, museum or wildlife park, small businesses are the lifeblood of NSW, and we encourage people to embrace Dine & Discover and help support their communities and boost jobs.
"The testing phase will give businesses and customers an opportunity to test the technology and provide feedback, before the vouchers are rolled out across the state," Mr Perrottet said.
Eligible businesses are encouraged to register to be involved in Dine & Discover. Registered businesses will have access to a new app in order to read, validate and accept vouchers, and will be able to check transaction history and payments pending through their MyServiceNSW Business Profile.
Phase Two is expected to start later this month with pilots in the Northern Beaches, Sydney CBD and Bega Valley Shire Council. The state-wide rollout is expected to take place in March.
Following the state-wide rollout, every NSW resident aged 18 and over will be eligible for four $25 vouchers to spend in participating businesses. Customers will need the Service NSW app to claim their vouchers.
The Sydney Business Chamber said the Government's long-awaited Dine & Discover voucher program has the chance to prove its value in revitalising the city's economy.
"In recent years The Rocks has become more known as a tourist precinct rather than a place for locals, but now with a hand up from the government to spend on food and cultural attractions, this is a great opportunity to rediscover the wonderful history, architecture and laneways that this iconic precinct offers - during the day and after dark," Sydney Business Chamber Executive Director Katherine O'Regan said.
For further information and to register for the program visit: www.nsw.gov.au/covid-19/dine-and-discover-nsw.
The NSW Government has also eased COVID-19 restrictions in Greater Sydney (including Wollongong, Central Coast and Blue Mountains) from today, allowing for:
1 person per 2 square meters at all venues except gyms (weddings and funerals are capped at 300 attendees)
Masks are only mandatory on public transport, but are strongly encouraged to be worn in other indoor venues where social distancing is not possible.
Premier Gladys Berejiklian said this change will give the community and businesses the confidence to move forward, but reminded citizens to practice COVID-safe behaviour including social distancing.
"As we ease restrictions it is important we don't let our guard down – the community needs to continue to play their role in being COVID-safe and coming forward for testing with even the mildest of symptoms," Ms Berejiklian said.
For the latest information and COVID-19 testing sites go to www.nsw.gov.au/COVID-19.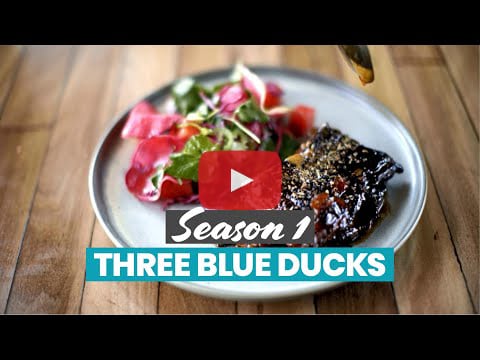 BEST OF NSW SHOWCASED THROUGH NEW FOOD AND LIFESTYLE PROGRAM THREE BLUE DUCKS
NSW's outstanding produce and world-class culinary experiences will be in the spotlight in a new six-episode food series starring the trio of chefs behind NSW-born restaurants, Three Blue Ducks.
The program, which takes its name from the highly acclaimed restaurants, will air on Network Ten from tomorrow. It features chefs Andy Allen (MasterChef Australia), Darren Robertson and Mark LaBrooy road tripping across NSW and Australia in the name of menu research.
Supported by Destination NSW, the series features 'must visit' NSW food destinations from Shoal Bay to the Sapphire Coast, Tullamore to Trundle.
Minister for Jobs, Investment, Tourism and Western Sydney Stuart Ayres said NSW's reputation for the freshest produce and world-class food and drink experiences was the envy of other Australian states and territories.
"Visitors have always enjoyed exploring the rich food culture of our state, from Byron Bay to the Barrington Coast, from the Snowy Mountains to Sydney.
"So it's no surprise that the Three Blue Ducks team has not only established their flagship restaurants here in NSW, but also that the state features in most of the culinary adventures in their inaugural TV series," Minister Ayres said.
Co-head chef Andy Allen said he was thrilled to hit the road with two of his best mates and proud to show them around his hometown on the NSW Mid North Coast.
"I grew up in the Port Stephens region of NSW, and am passionate about the quality, depth and diversity of produce on offer. Daz, Mark and I all have different connections to parts of NSW so being able to jump in the car and meet so many amazing local producers from all corners of the state, has been an incredible experience," Andy said.
Three Blue Ducks premieres on Network Ten at 7pm, Saturday 13 February, and NSW will feature in five episodes through to Saturday 20 March.
NIGHT-TIME EXPERT TO LEAD NSW'S 24-HOUR ECONOMY STRATEGY
Chair of the Night-Time Industries Association, Michael Rodrigues, will spearhead Sydney's 24-Hour Economy Strategy, which aims to unlock the city's cultural and economic potential.
Minister for Jobs, Investment, Tourism and Western Sydney Stuart Ayres said Mr Rodrigues would bring the 24-Hour Economy strategy to life to make Sydney the best place to live, work and play that it can possibly be.
"Our tourism, hospitality and arts sectors have been hit hard by the pandemic, but now we have the opportunity to bring Sydney back better than ever.
"The Strategy includes a 24-hour Economy Acceleration Program, through which the Government will work with councils and industry to identify and activate unique and thriving economic hubs across Sydney.
"It will result in a network of activated 24-hour economy hubs across Sydney – each offering a distinct experience, and well connected by efficient transport options," Minister Ayres said.
Mr Rodrigues said he was looking forward to getting down to business.
"I'm excited about the upcoming opportunities and to champion the 24-Hour Economy strategy as we deliver a nightlife that'll sit alongside New York, London and Tokyo.
"As our city rebuilds from the COVID-19 pandemic, the 24-hour economy strategy is central to NSW's economic and social recovery. So many industries have had a really tough 12 months, but we are seeing the green shoots of recovery across Sydney and NSW," he said.
This week the NSW Government also announced that the lockout laws in the Kings Cross entertainment precinct will be lifted. The following changes will take effect from 8 March 2021:

The 1.30am 'lock out' will be removed, so patrons can continue to enter venues like pubs, bars and nightclubs beyond that time

The standard 3am 'last drinks' time will increase to 3.30am

Blanket restrictions on certain drinks, shots, discounted cocktails and use of glass after midnight will be lifted

Requirements for RSA marshals and CCTV will no longer apply.
The NSW Government will closely monitor the changes and any impacts and conduct a review in 12 months.
Committee for Sydney CEO Gabriel Metcalf said the announcements were a declaration from Sydney to the world that it is open.
"We commend the Premier and her team for their willingness to take bold and appropriate actions to reset Sydney's nightlife and support the rebuild and recovery of these key sectors, and in doing so to help Sydney live up to its promise.
"By enhancing Sydney after dark, we can help make the city an attractive place for people to live and work, and support the competitiveness and productivity of the broader city and state," Mr Metcalf said.
For more information on the 24-Hour Economy Strategy, visit https://global.nsw.gov.au/24-hour-economy-strategy.
COASTAL WORKS TO COMMENCE ACROSS THE ILLAWARRA
Wollongong and Shellharbour City Councils will reap the benefits of important coastal works valued at more than $11.6 million.
The investment, made by the NSW Government, will see the commencement of important projects such as the construction of a new seawall at North Wollongong Beach, dune stabilisation works at Port Kembla Beach, the renewal of the Warilla Beach seawall and a littoral rainforest regeneration program at Bass Point.
Minister for Local Government Shelley Hancock congratulated the two councils for securing such a substantial pool of funding.
"These two councils have made significant headway to plan and implement a series of projects to manage and protect the region's coastal environment.
"Whether it's countering beach erosion, improving access to local beaches, removing invasive weeds in wetland areas or implementing environmental monitoring programs, we know these two councils can't do it alone.
"Importantly, this latest round of funding demonstrates the importance of having a completed Coastal Management Program, with Wollongong and Shellharbour City Councils now receiving 2:1 funding for works at Lake Illawarra," Ms Hancock said.
The grants are part of the NSW Government's Coastal and Estuary Grants Program, which provides technical and financial support to local government to assist in managing the state's coastal zone.
More information on the program can be found on the NSW Government website.
GUY SEBASTIAN TAKES THE LONG ROAD TO REBOOT NSW'S VISITOR ECONOMY
Multi-platinum selling singer-songwriter, Guy Sebastian, joins a swag of top Australian music talent using their star power to help reboot the recovery of the NSW visitor economy. The new digital video in The Long Road web series explores the majestic Grand Pacific Drive on the state's South Coast.
The epic road trip stretches 140 kilometres from Sydney's Royal National Park to Kiama and the Shoalhaven, with Sebastian encountering everything from meerkats, cuddly koalas and boujee golf games, to awe-inspiring helicopter rides.
Created as part of a multi-episode series for YouTube to provide NSW road trip inspiration to the nation, The Long Road series is a collaboration between Destination NSW, Havas Sports & Entertainment (in partnership with Havas Media Group), and production company Emotive.
Guy Sebastian said the South Coast region of NSW had become "a little haven" for his family.
"Over the years we have discovered so many incredible places, people and culture, and as our love grows, we are always discovering new gems along the way," Guy said.
Minister for Jobs, Investment, Tourism and Western Sydney Stuart Ayres said the series has been performing extremely well.
"The Long Road has exceeded more than 750,000 views since launching in November – NSW is full of incredible destinations, experiences and locals and it's great to see that audiences really do have an appetite to explore these through the eyes of Aussie artists including Guy Sebastian, and hopefully follow in their footsteps with their own NSW escape," Mr Ayres said.
The Long Road with Guy Sebastian is now live – see the video on VisitNSW YouTube and IGTV channels.
MAJOR EVENT NEWS AND INFRASTRUCTURE UPGRADES SET FOR NEWCASTLE
The world's top surfers will take to the waves in Newcastle between 1 and 11 April this year, with the NSW Government securing the opening round of the prestigious World Surf League's 2021 Championship Tour in Australia.
Minister for Jobs, Investment, Tourism and Western Sydney Stuart Ayres said the event would profile Newcastle to new audiences and potential visitors by showcasing the strengths of the region.
"This is a huge opportunity to promote Newcastle, its world-class waves and the region's natural assets and visitor attractions to tens of millions of avid surfers and potential holidaymakers around the globe.
"The NSW Government has a bold vision for NSW to be the premier event destination of the Asia Pacific by 2030, and we are proud to secure significant international events of this calibre to help us achieve that goal," Minister Ayres said.
The WSL Championship Tour Newcastle is supported by the NSW Government through Destination NSW and City of Newcastle. For more information, visit www.worldsurfleague.com.
The NSW Government has also announced a raft of new projects to be delivered under the Newcastle Port Community Contribution (NPCC) Fund including an inclusive play space with waterplay at Foreshore Park, installation of solar lighting on Throsby Creek and restoration works at Norm Bassan Lions Park Memorial and Customs House Hotel.
Deputy Premier John Barilaro said the projects will share $1.1 million from round six of the NPCC Fund, with 75 per cent of funding allocated to community organisations and not for profit organisations.
"This funding will also support stage two of the Fortress Newcastle Exhibition which showcases the critical role the region played in WWII as Australia's largest integrated steel-making facility.
"These 11 projects will continue to showcase Newcastle Port as a vibrant and historically significant area," Mr Barilaro said.
The NPCC provides grants of up to $500,000 for projects that benefit the environment, public domain, infrastructure, heritage restoration, activation, smart technology or community. For further information about the NPCC, go to www.nsw.gov.au/npcc.
VIVID SYDNEY EOI CLOSING SOON AND NEW ACTS ANNOUNCED FOR SUNSET PIAZZA
Expressions of interest for Vivid Ideas and Vivid Music close soon – and artists, producers, thought leaders and venues are encouraged to submit their event concepts now to be part of Australia's largest event, Vivid Sydney.
Vivid Sydney will return for its 12th year in 2021 from 6 to 28 August.
In past years Vivid Ideas has attracted headline Game Changer speakers including psychotherapist Esther Perel, Hollywood trailblazer Spike Lee and multi-Emmy winning writer Matthew Weiner. In 2019, the program featured 142 Vivid Ideas events with 250 speakers and attracted more than 33,000 attendees.
Vivid Ideas curator Tory Loudon said Vivid Ideas is all about daring people to think differently.
"In 2021 we want to celebrate the mavericks and misfits of this world – the people who don't conform, challenge the status quo and are driving change," Ms Loudon said.
More than 110,000 people attended a Vivid Music performance in 2019 across 240-plus events in 32 venues, and artists previously involved include The Cure, Ruel, Boy George, Sampa the Great and Florence and the Machine.
Vivid Music curator Stephen Ferris said the program shines a global spotlight on Sydney's nightlife, providing locals and visitors with a diverse array of experiences.
"It gives venues and artists a platform to be heard, seen and experienced by new audiences," Mr Ferris said.
Submissions for Vivid Ideas close at 10am on Monday 15 February, while registrations for Vivid Music close at 10am Friday 26 February. For information and to submit an EOI, visit www.vividsydney.com.
Meanwhile, a second tranche of artists have been announced for Sunset Piazza – the pop-up concert series taking place in Cathedral Square, Sydney, until 21 March through support from the NSW Government and City of Sydney.
Tickets are now on sale for performances from Ben Folds, Kate Miller-Heidke, Eddie Perfect, Winston Surfshirt and more. Tickets to all events are $25 – for more information and to book, go to www.sunsetpiazza.com.au.
Photo: Demas Rusli
DESTINATION NSW WISHES EVERYONE A HAPPY LUNAR NEW YEAR
As today marks Lunar New Year for 2021, Destination NSW acknowledges the ongoing support and engagement of our partners across Asia and South East Asia. Beginning the Year of the Ox – the zodiac symbol representing hard work, positivity and honesty – Lunar New Year is an important milestone for everyone engaged in the NSW visitor economy to stop, reflect and make wishes for the 12 months ahead. Destination NSW continues to work with partners in these markets to keep the dreaming and inspiration alive, and to help potential visitors to plan their NSW escape when travel restrictions are eased and NSW is welcoming international travellers once again. Destination NSW also acknowledges domestic friends and visitors celebrating Lunar New Year – for information about what is happening in Sydney to mark the Year of the Ox, visit the City of Sydney event guide.
NEW CAMPAIGN TO BOOST BUSINESS EVENTS ACROSS AUSTRALIA
Tourism Australia has launched the latest iteration of its domestic focussed business events campaign, Event Here This Year, to provide critical support to our multi-billion dollar business events industry by encouraging event planners and decision makers to host an event in Australia this year. First launched in the wake of the 2019/20 summer bushfires, the dedicated recovery campaign seeks to drive increased demand across the sector by promoting the value of face-to-face events and showcasing the breadth and quality of Australia's business events offering. The campaign is set to roll out over six months across traditional media, out of home advertising, digital and social media channels and is supported by ongoing content and PR activity. For information and to access the industry toolkit, visit Tourism Australia online.
MEET THE MAKERS TRAIL
Local artisans on the Central Coast are opening their doors and giving visitors the opportunity to meet the makers behind some of the region's local gems, from the coast to the hinterland. Starting in the north, food connoisseurs can book a 30-minute taste-testing experience at Little Creek Cheese or try their hand at a 2.5-hour cheesemaking workshop. For those who crave a real-life Charlie and the Chocolate Factory experience, visitors to The Chocolate Factory at West Gosford can try locally handcrafted nougat and chocolate on a factory tour or book the kids into a Junior Chocolatier Workshop. For the adults, Fires Creek Winery offers visitors the opportunity to sample wines at the cellar door or book a rewarding bushtucker and wine experience with a Darkinjung elder. A third-generation pearl farmer is also offering a cruise on the Hawkesbury River to experience NSW's only pearl farm, Pearls of Australia. Read more about the Meet the Makers trail and book an experience at Love Central Coast.
TAFE NSW PARTNERS WITH BASAIR AVIATION COLLEGE
TAFE NSW and Basair Aviation College will partner to deliver world-class training to students from 2021 at Basair's Bankstown Airport base, helping to launch the careers of thousands of aspiring commercial pilots. Basair Aviation College CEO David Trevelyan said the partnership marked a new era in aviation training for NSW. "As the largest flying college in Australia, Basair is proud to be partnering with Australia's largest training provider, TAFE NSW, to ensure a pipeline of world-class pilots to support the industry and the economy," Mr Trevelyan said. "This partnership with TAFE NSW will allow us to build further on that record and ensure Australia's pilots of the future aim high and take the industry to new heights." Registrations for the Diploma of Aviation program commencing in May are now open via www.tafensw.edu.au.
VALE LILLIANE BRADY
Deputy Premier John Barilaro announced the former Mayor of Cobar and champion of Western NSW, the late Lilliane Brady OAM, will be commemorated with a State Funeral on Friday 19 February. "Lilliane Brady OAM was the longest serving female Mayor in NSW and will be formally acknowledged by the NSW Government for her decades-long commitment to regional NSW by way of a State Funeral," Mr Barilaro said. "For 40 years Lilliane was a vocal advocate for her community and the broader western NSW region and fiercely fought for what she believed in. While small in stature, Lilliane was a giant of local government for the last four decades and her unrivalled passion for the people of Cobar was critical in seeing the advancement of the community through local projects and funding. After serving 20 years as Mayor of Cobar Shire Council, Lilliane leaves behind an enduring legacy, the likes of which we will never see again."
DISCO SPECTACULAR SET TO DAZZLE DUBBO
Dubbo is set for a disco showcase spectacular unlike any before, with the internationally acclaimed 'Abba Re-Bjorn' and 'The Ultimate Bee Gees' shows joining forces for a once-in-a-lifetime performance on Saturday 27 February. Collating five decades of super hits from ABBA and the Bee Gees, attendees will be treated to memorable hits, including Dancing Queen, Stayin' Alive, Knowing Me, Knowing You, and Massachusetts. Featuring Damian Wynne as Barry Gibb, Dana Acker as Robin Gibb and Nick Rolfe as Maurice Gibb, disco aficionados will be treated to an evening of comedy and colour. To find out more about the show, visit the Dubbo event guide.
LUXURY ECO-CABIN OPENS IN SNOWY MOUNTAINS
The Snowy Mountains has welcomed its newest accommodation offering – Crafters at Crackenback. Following 18 months of development, the first cabin for Crafters has been completed, with bookings now open. Crafters' cabin is 100 per cent off grid and is carefully curated with modern comforts to ensure every guest's stay is one to remember. The cabin has expansive sliding doors which offer breathtaking views of the surrounding alpine bushland and is fitted with a full equipped kitchen, luxurious bathroom and gas fireplace. Crafters cabin is located just five minutes from Jindabyne, making it the perfect base to enjoy the summer and winter activities that the Snowy Mountains region has to offer, including hiking, mountain biking, skiing, fishing and boating. Learn more about Crafters and book your stay at crafters.net.au.
BUILDING BETTER REGIONS FUND – ROUND FIVE CLOSING SOON
Applications for Round Five of the Commonwealth Government's Building Better Regions Fund close on 5 March 2021. Round Five of the program will provide $100 million for tourism-related infrastructure projects under the Infrastructure Projects Stream, and a further $100 million for other projects under the Infrastructure Projects Stream and the Community Investment Stream combined. Over seven years more than $1 billion has been committed to projects outside capital cities through the Building Better Regions Fund. For more information and to apply visit business.gov.au.
DINOSAUR VALLEY AT SCENIC WORLD EXTENDED
Visitors can still experience a Jurassic rainforest with prehistoric dinosaurs, with Scenic World extending Dinosaur Valley until 28 February due to popular demand. Let your imagination run wild as rangers share fun facts about prehistoric creatures, meet dinosaurs up close in their natural habitat, and wrap up the adventure with a ride on the world's steepest railway. Kids' trail guides and junior ranger packs are available to continue the fun at home. Dinosaur Valley is COVID-safe and capacity is limited to protect the safety and wellbeing of guests and staff. Passes are available online only with timed-ticket entry for all guests. To buy your ticket, visit the Scenic World website.