Editor's note
Health care coverage is one of the most important topics facing Americans, but it's way more complicated than many of us can understand. It doesn't help that each of the candidates in tonight's Democratic debate has a different plan to solve the nation's health care woes. Simon Haeder, health policy scholar at Penn State University, explains the positions of each of tonight's candidates in language you can understand.
Also today:
Lynne Anderson

Senior Health + Medicine Editor
Top story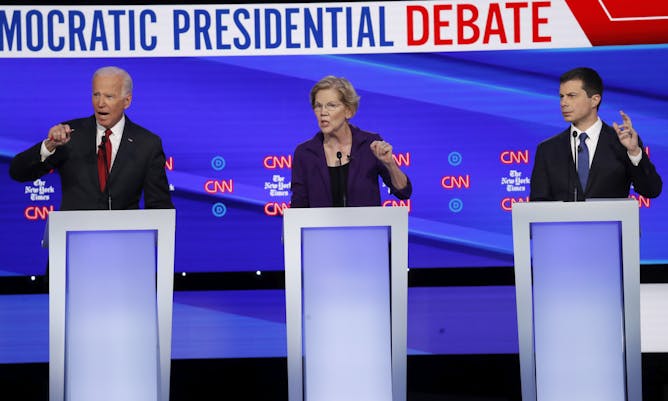 Among the issues candidates will debate Tuesday night is health care – an important, yet confusing, topic for viewers. An expert simplifies, explaining where and what the candidates stand for.
Environment + Energy
Politics + Society
The very first scientific horse race poll, which took place 85 years ago, was shrouded in secrecy and may have changed history – even though it was faulty.

When a person or agency backed by the power and resources of the government tells a lie, it sometimes causes harm that only the government can inflict.

An Iranian general's killing sparked fears of war and a draft in the US. Those are old fears, says a scholar who contends it's a myth that during the two world wars, men signed up in droves to fight.
Economy + Business
Forty percent of US babies are born to unmarried parents. But the new paid leave policy for most federal workers disadvantages single parents.

The era of Prohibition, which began in 1920 and ended in 1933, left many legacies – more modest drinking was not among them.
Arts + Culture
Surrounded by skyscrapers and high-end boutiques, 47th Street continues to operate like an Old World bazaar, with million-dollar deals sealed by handshakes and insured by a family's reputation.
Ethics + Religion
Science + Technology
A quirk of psychology that affects the way people learn from others may have helped unlock the complicated technologies and rituals that human culture hinges on.

The solids from wastewater plants are usually dumped into landfills because they are contaminated with heavy metals. Now there is a way to remove the metals so the waste can be used as fertilizer.
From our International Editions
A big year ahead for some of the meteor showers this year. Here's your 2020 guide on when and where to look to catch nature's fireworks.

In Eswatini, Botswana, South Africa and Lesotho more than 1 in 5 children are HIV-exposed but uninfected. A coordinated strategy is needed to ensure all children reach their developmental potential.

A new deal has been signed that seeks to encourage Sinn Fein and the DUP to work together.