For decades, the United States has spent billions on aid for countries in need. Under the Trump administration, though, questions have been raised about the necessity of continuing with programs aimed at helping strangers in other countries.
Tufts University's Heather D. Curtis explains how, back in the late 19th century, a widely read Christian newspaper, the Christian Herald, influenced American charity abroad. By using first-hand accounts and "photographs of calamities" from missionaries across the globe, the newspaper moved Americans into donating millions toward international aid efforts.
And as the United Nations observes the International Day of Charity this week to raise awareness on giving, Curtis argues the newspaper's case for "extending compassion beyond national borders" is worth remembering.
Also today:
Top story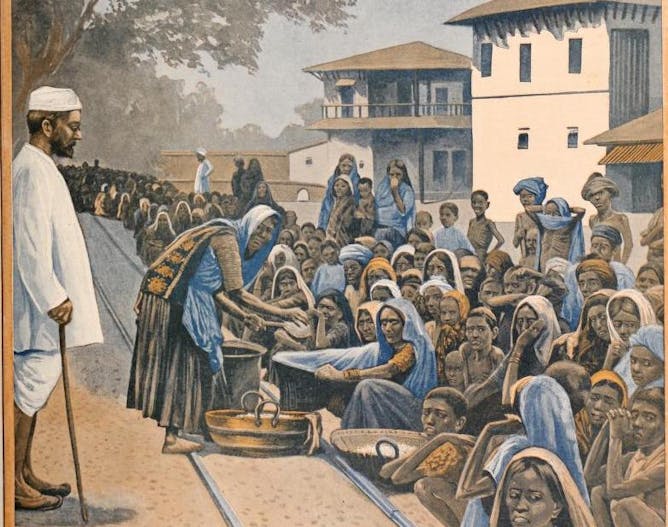 For International Day of Charity on Sept. 5, a history of how the Christian Herald mobilized Americans in the late 19th century to give millions for the relief of global suffering.
Science + Technology
A new study of nearly 500,000 individuals finds that many genes affect same-sex behavior, including newly identified candidates that may regulate smell and sex hormones.

If you go by editorial cartoons and T-shirts, you might have the impression that evolution proceeds as an orderly march toward a preordained finish line. But that's not right at all.
Environment + Energy
Newark is the latest US city to struggle with high lead levels in drinking water. Ending this public health crisis will require more money and enforcement, plus stricter water testing standards.
Arts + Culture
The word 'OK' has only been around for 180 years, but it's become the most spoken word on the planet.
Education
Looking to earn good grades? Good notes could help, an expert says.
Politics + Society
Dozens of countries and hundreds of firms and nonprofits are fed up with digital violence and are working toward greater cybersecurity for all.
Health + Medicine
Low-dose CT scans can detect lung cancer in smokers and former smokers at an early and sometimes treatable stage. Why are so few smokers and former smokers getting them?
From our international editions
Looking for a short-term fix from the very thing that is causing you long-term problems is a symptom of addiction.

The boreal forest is being reshaped by wildfire. As climate change intensifies wildfire activity, the boreal forest will likely become a carbon source.

It's official. The outlook for the Great Barrier Reef has been downgraded to "very poor", and the window to act is closing.