College affordability is getting considerable attention in the 2020 presidential election, as top Democratic candidates have put forth proposals to offer tuition-free college. In a national survey, Elizabeth Bell, a scholar of political science, took a closer look at how the American public views plans to offer college for free. She found that Americans broadly support the concept in general, but people's views vary when it comes to academic requirements and whether free college should be made available to everyone or just people who are poor or middle class.
And today, The Conversation's collaboration with WBUR and NPR's live national talk show "On Point" continues, with philosophy professor Adrian Bardon speaking on denialism and why people are hardwired to dismiss facts that don't fit their worldview.
Also today:
Top story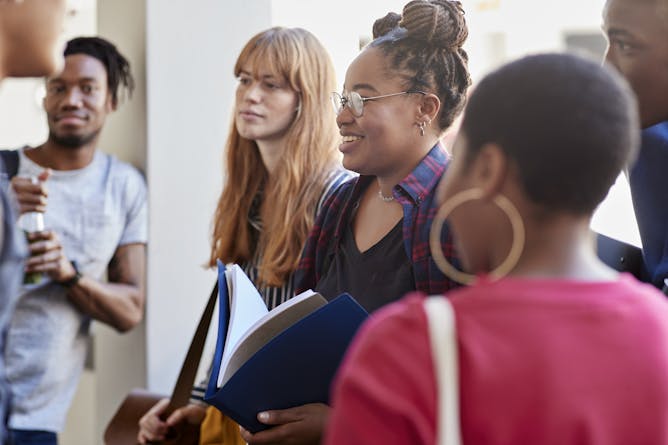 As tuition-free college plans gain momentum, a researcher examines public views about whether free college should be extended to everyone or just those who have earned it.
Ethics + Religion
A shared commitment to democracy was always key to the India-US relationship – until Trump. A foreign policy expert explains what's on the agenda for Trump's trip to India and what's missing.
Education
Before a helicopter crash brought about their tragic deaths, Kobe Bryant's daughter Gianna aspired to carry on his legacy as a pro basketball champion.
Politics + Society
Polls have become an essential component of the news coverage of presidential campaigns. That may affect who voters decide to back on an election day.

Collecting census data online creates new risks to the accuracy and integrity of the information. Here's what to be aware of.

The more candidates that there are, the likelier it is that voters cannot come to a consensus on the best candidate.
Arts + Culture
Largely self-taught, Adams learned to harness the communicative power of photography during his years as a marketing photographer.
Economy + Business
How do you feel when your barista asks you for a tip before she makes your cappuccino?
Science + Technology
The InSights mission is producing the first evidence-based picture of Mars's interior.
Environment + Energy
Climate change, globalization and concerns about rat poison soon could drive rat infestations to levels not seen in centuries. One way to curb them is getting humans to stop wasting food.
From our International Editions
But there are also risks to open science.

Olive oil, grapes and fish. There's a lot to love about the Mediterranean diet but focusing on it might be a way to exclude other healthy and global diets.

Pediatric epigenetic clocks have the potential to accurately assess biological age. However, possible applications in law enforcement and immigration raise ethical issues.
Rebecca Senf

University of Arizona