Perhaps no holiday has undergone more revisions than Columbus Day. University of North Carolina at Chapel Hill historian Malinda Maynor Lowery tells the story of the holiday's evolution – first, as a nod to Manifest Destiny; later, as a way to recognize the country's growing population of Italian American immigrants; and finally, its diminished status, with more and more municipalities celebrating Indigenous Peoples Day as an alternative to or replacement of the original holiday.
In a way, the changes to the holiday reflect Americans' evolving understanding of their country and its history, Lowery argues.
Also today:
Top story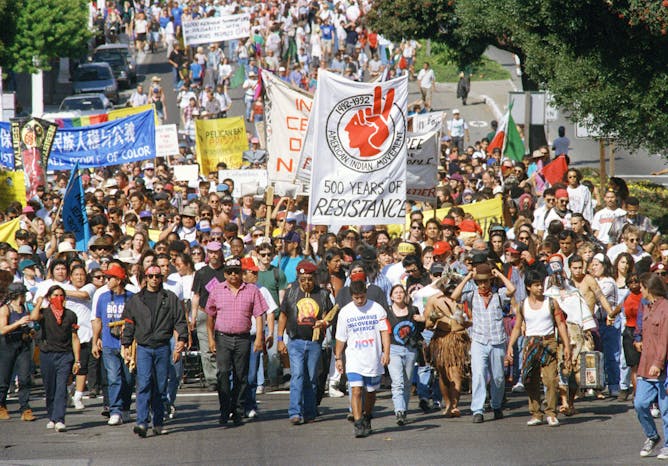 The official celebration of Native Americans represents the fruits of a decades-long effort.
Politics + Society
Members of Congress factor what the public thinks into their decisions. But it's difficult to measure what the public is really thinking.

Kurdish women have fought on the front lines of military battles since the 19th century. A scholar explains the origins of Kurdistan's relative gender equality in a mostly conservative Muslim region.
Science + Technology
In baseball, a pitcher can throw a ball that seems to curve away just as it crosses the plate. How do they do it? It's all about aerodynamics.
Most read on site
Blue light has been getting blamed for sleep interruption and eye strain. But the facts are that any bright light interferes with sleep, and computers themselves cause eye strain, an eye doctor says.

A common myth cited as a reason for not getting the flu shot is that the shot will give you the flu. That is scientifically impossible. Here's why.

People have always known science would advance faster with various incentives and rewards. As modern experimental science took off, these took the form of gifts and favors to and from wealthy elites.

Ask them to sign up at https://theconversation.com/us/newsletter