Today and every day, The Conversation's unique collaboration between academics and journalists brings you articles you can't find anywhere else – from experts you can trust. Take today's article on using humor in the climate crisis. And where else would you find an article on teaching kids science through rowing?
We're grateful to have you as a reader and have a favor to ask. As a nonprofit, we rely on the generosity of our supporters to help us keep the lights on and fund our work to keep the public informed. We can't do this important work without your help. Would you consider supporting us? Even a donation of $5 or $10 – or $50 if you can afford it – helps.
Also today:
Top story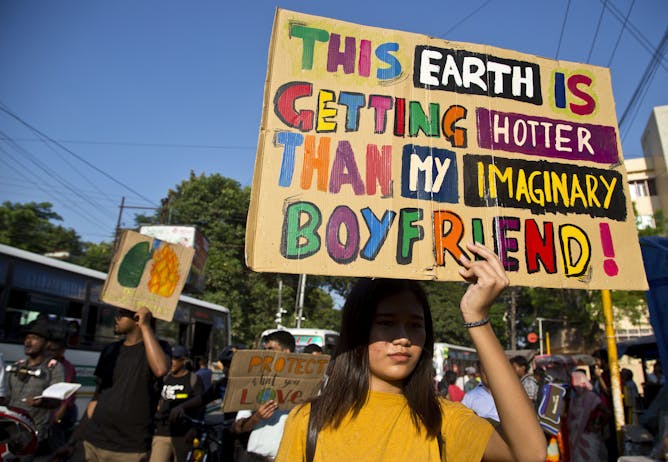 'Two polar bears walk into a bar ...' is an unlikely opener for a joke, but memes and parodies are surprisingly effective ways to get people talking about climate change.
Health + Medicine
Rural hospital closings have accelerated in recent years, leaving not only sick people but ghost towns in their wake. Does the failure to fix it speak to the ills of the larger health care system?

Politics + Society
A former congressional staffer says withholding damning evidence from Congress and using civilians to carry out presidential or intelligence agency agendas links the Ukraine crisis to other scandals.

In many instances, whistleblowers find the abusive power they have revealed turned against them, both ending their careers and harming their personal lives.
Economy + Business
Because large organizations have bigger budgets, they can more easily afford to excel at online fundraising through social media.
Education
Students who get admitted to Connecticut's career and technical education high schools are more likely to graduate and earn significantly more than peers who barely missed the cut.
Environment + Energy
Small-scale fisheries buffer poverty and hunger in coastal countries.
Science + Technology
A new project for Detroit middle and high schoolers combines athletics and mathematical concepts.

Drunk without drinking? Liver damage without drinking? Gut bacteria might be the cause.

The first Martian might just be a human being.
Most read on site
This Speed Read makes the case why you should be nice to spiders you encounter in your home and consider a live-and-let-live policy.

The Founders saw as a regular part of ensuring presidential accountability. A constitutional scholar offers a possible process for a rapid and smooth impeachment inquiry.

The conflict between Congress and President Trump over his dealings with Ukraine's president is just the latest version of a long-running struggle for power between the two branches of government.
Video of the day