Hashim Hall, CPT, CSCS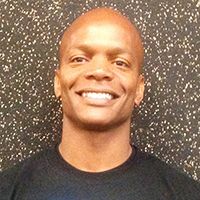 Our newest F.I.T.T. athlete team member is Hashim Hall, CPT (Certified Personal Trainer), CSCS (Certified Strength & Conditioning Specialist). Oregon born and raised, Hashim played football at Oregon State University before transferring to Portland State University to pursue both football and track while studying Communications. Hashim has been actively working as a personal trainer for the past decade, with involvement at the Poliquin Strength Institute and NCSF (National Council on Strength and Fitness). He is very involved in the world of athletics, coaching high school football and track & field, and co-owner of a year round track club called Step UR Game UP (SGU Training). He is passionate about working with people to achieve fitness, and especially loves working with athletes to achieve success in their sports. In his free time, he enjoys working out and playing sports for both exercise and to keep the competitive juices flowing. Hashim enjoys passing the time with his loving and beautiful wife on camping, traveling, and culinary adventures. We are very excited to welcome Hashim to our team, to help our clients meet their goals, from improving their general health and fitness to excelling in athletics.

---
Ryan Baugus, ATC, SPT, KIEP
Ryan Baugus, a northwest native, has been working for TAI Lake Oswego for over 3 years as a certified athletic trainer and head of the athletic training program. Ryan completed his undergraduate education at Oregon State University where he worked with the football and baseball teams. In 2009-2010 he completed two athletic training internships with the San Francisco Giants baseball organization. After completing the Athletes Performance Level I mentorship program, Ryan began to develop the FITT Athlete training program that is in place today and constantly evolving. Ryan is currently in his third year of education at George Fox University pursuing his Doctorate of Physical Therapy. In 2014, Baugus was selected to present at the Oregon Physical Therapy Association covering topics related to motor learning, neuromechanics, and agility. Ryan is passionate about brining innovation and energy to the FITT Athlete team and prides himself in his evidence based approach to human performance. Ryan is currently engaged, and most excited about his approaching August wedding. He also enjoys the outdoors - he is an avid snowboarder and loves summer adventures including jetskiing, boating, and wakeboarding. We are very excited to welcome Ryan back to our team for the summer months, where he will enhance the training, goal attainment, and pursuit of excellence of our clientele.

---
Bianca "B" Martin, NFHS Certified Coach
Bianca Martin's life has revolved around running for the past 9 years. She is currently chasing the dream of professional running after competing all four years of both high school and college (UNM, PSU) and coaching at Westview in Beaverton since 2010. Bianca is passionate about helping others pursue their running dreams. As a self-claimed "injury-prone body", B understands the importance of a high quality, running relevant strength and conditioning program to improve injury prevention and optimize performance. Over the years she has developed close personal relationships with members of both Nike OTC and Nike Oregon Project. Her experience with national champions and Olympians alike has further proven the importance of strength training for enhanced running ability and elite level performance. She believes that a solid foundation of distance-specific exercises can make a world of difference to help prevent many common running injuries. B enjoys spending the time outside of her running shoes cooking and baking. She loves to spoil her friends and family with delicious (and often experimental) homemade goodies. We are thrilled to have Bianca onboard to further enhance the experience of our athletes through strength and conditioning programs catered to the specific needs of runners.