Editor's note
An expert who has spent 35 years studying effective communication during public health crises recently shared his knowledge with The Conversation's readers. He advised that information be from credible sources. That it be honest. And consistent.
The Conversation communicates this way each day with you – and millions of other people worldwide. This work has never been more important than during this historic public health crisis.
Our staff is working long hours to find the most important information from academics about COVID-19 and make it accessible.
We need your help to keep bringing expert voices to the public. Please support this public service of our free and ongoing fact-based coverage of coronavirus, and other important issues, by becoming a monthly donor, or making a one-time gift. Thank you in advance.
In today's coverage of coronavirus:
Beth Daley

Editor and General Manager
Top story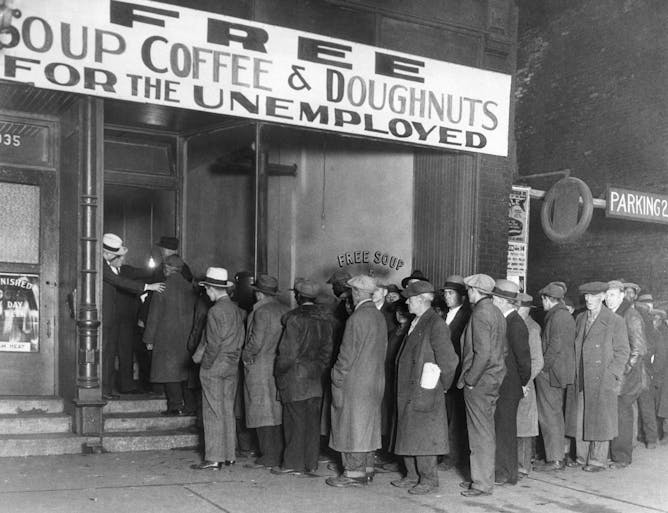 While the Great Depression reduced inequality and closed the racial wealth gap, the Great Recession of 2009 did the opposite.
Science + Technology
Among the more than 20,000 drugs approved by the FDA, there may be some that can treat COVID-19. A team at the University of California, San Francisco, is identifying possible candidates.
Politics + Society
The coronavirus pandemic alters who we are, writes a psychologist. It affects how we think, how we relate to others and what we value.

A scholar who has reviewed the efforts of nations around the world to protect their citizens from foreign interference says there is no magic solution, but there's plenty to learn and do.
Economy + Business
Environment + Energy
Water is essential for health, economic well-being and social equity, but too many people around the world still don't have access to clean drinking water and sanitation.
Health + Medicine
Schools are closed, houses of worship have suspended services, and many restaurants are down to delivery only. Must we also stop exercising? Two exercise physiologists explain what's safe.

Sexual health experts say it's a misconception that the cervix is insensitive, which can have implications for some medical procedures.
Education
Families may want to relax some of their usual rules for digital media use due to social distancing. But keeping bedtime screen-free still makes sense.

A new survey shows that people with advanced degrees make more money starting out on the same jobs as those with just bachelor's degrees. But there's more to the story, two sociologists note.
Arts + Culture
From our International Editions
There is currently no evidence showing it makes COVID-19 symptoms worse.

South Korea's COVID-19 testing programme relies on what many would call privacy invasions.

We're likely to see fewer airlines, and a greater proportion of them big, if not strong.