Editor's note
If American society today seems increasingly polarized and extreme, it could be because of how many people use social media, writes Robert Kozinets at the University of Southern California's Annenberg School for Communication and Journalism. The creator of the discipline of "netnography," Kozinets says that it's a sense of competition that drives online posting to extremes – whether it's uploading a photo of a bigger hamburger than a friend just did, or taking a more passionate political stance.
For the past 12 days, President Donald Trump has been on a charm offensive through Asia. One foreign leader Trump wooed was the Philippine's Rodrigo Duterte – a man who cursed at Barack Obama and threatened to break up with America. Jessica Trisko Darden of American University explains why a warmer relationship may be beneficial to the U.S. – and highlights the one key topic the leaders seem to have left undiscussed.
The city of Houston has suffered three 500-year storms in the past three years, including Hurricane Harvey. As climate change makes the potential damage from storms ever greater, three scholars of urban resilience argue that cities need to update their information systems to prepare for extreme weather.
Jeff Inglis

Science + Technology Editor
Top stories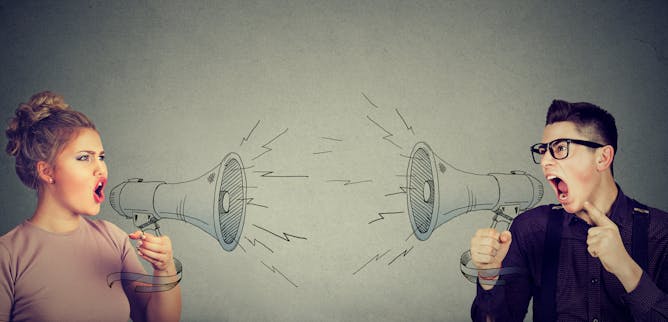 The way people use social media – and the algorithms inside those systems – increases passions, and drives people to polarizing extremes.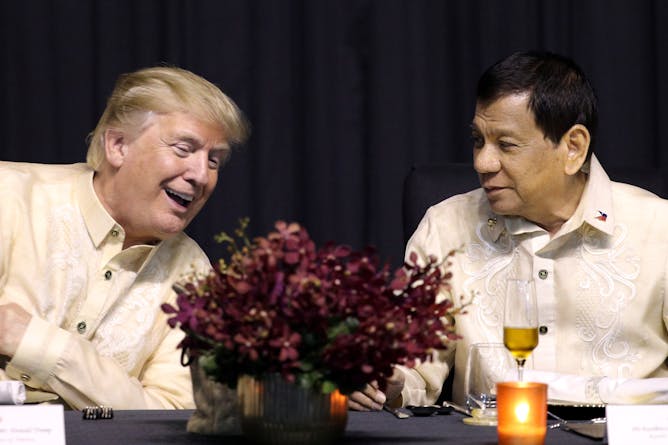 When Obama was president, Philippine President Rodrigo Duterte threatened to break up with America. Is it time to make up?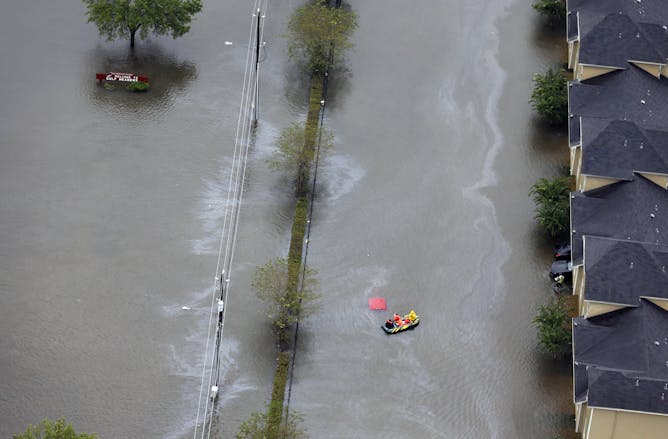 It's not just about rebuilding infrastructure after storms: Cities need to systematically rethink their knowledge systems which are at the heart of urban resilience.
Ethics + Religion
Nevada plans to use a new drug protocol for executing Scott Dozier, who murdered a 22-year-old. A scholar explains why this is problematic.
Politics + Society
Have you ever struggled to understand exactly what to do inside a voting booth?
Economy + Business
Rather than tinkering with the deduction, Republicans should get rid of it altogether and replace it with something that would actually help more Americans afford a home.
Health + Medicine
Researchers have found evidence of the same brain pathologies in dolphins that are present in the brains of humans who died with Alzheimer's. What might this suggest about Alzheimer's in humans?
Environment + Energy
After three years in which global carbon emissions scarcely rose, 2017 has seen them climb by 2%, as the long-anticipated peak in global emissions remains elusive.
Arts + Culture
Diet books aren't just fluff. They offer a powerful insight into who Americans are – and how we wish the world could be.
From our international editions
The deaths of four American soldiers in Niger last month highlighted the nature and implications of US military presence in Africa.

The Paris climate agreement aims to limit global warming to 2C above pre-industrial levels. We need to curb greenhouse gas emissions, but we can also make gains with carbon farming.

Remembering J. M. Creeth, 70 years after he discovered hydrogen bonds in DNA.