Editor's note
The Post-9/11 GI Bill has helped more than a million veterans go to college by paying for expenses such as tuition, textbooks and housing. However, writes UC Riverside's Ann Cheney, it fails to provide support for "emotional and psychological stress" as veterans make a difficult transition from military to student life.
There's no one story that describes the experience of America's more than 20 million veterans, writes James Dubinsky of Virginia Tech. Poetry by veterans, however, may help us connect to "those who have not come home, those who have and those who have but who are caught in that space between here and there."
And, a toxicologist turned genealogist did a bit of sleuthing to try to find out why thousands of World War I soldiers and service men, who were otherwise healthy, died from the flu during the infamous 1918 pandemic. "With men mobilizing for World War I, the flu spread to military installations throughout the U.S," writes Dartmouth College's Ruth Craig. But why?
Kalpana Jain

Religion + Ethics Editor
Top stories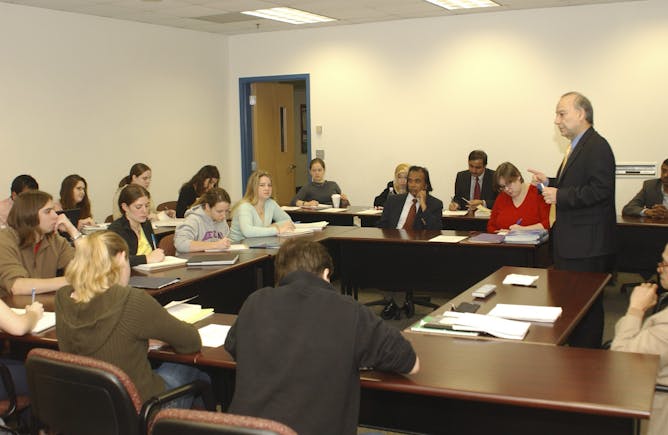 Since 2009, nearly one million veterans have benefited from the Post-9/11 GI Bill, which helps them pay for tuition and other expenses. A scholar explains how it's a hard transition.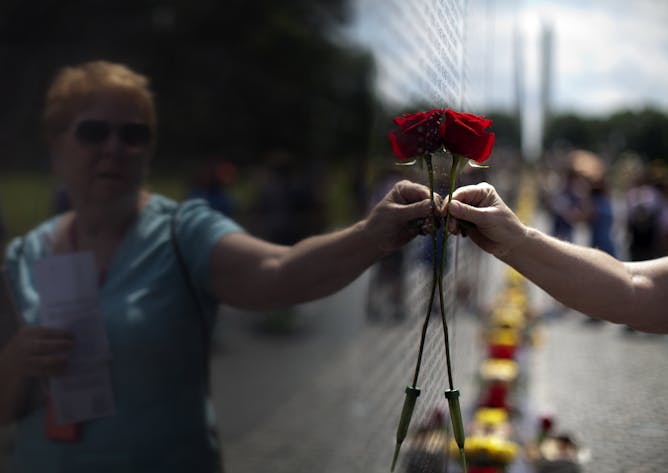 Civilians have become so far removed from the military and war, it can be hard to understand veterans. Their poetry can help us connect.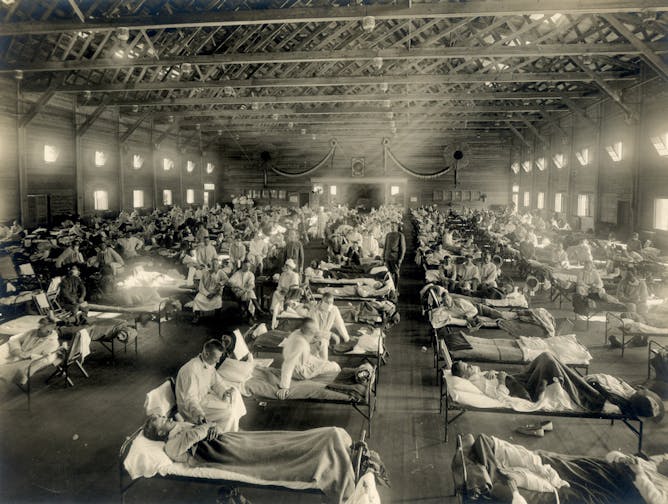 Many healthy young men and women, including military personnel, died in the 1918 flu pandemic. It's a reminder of how dangerous influenza can be.
Economy + Business
Science + Technology
Devices created for service members and veterans also help civilian children, elderly people and young adults maximize their mobility.

Large numbers of veterans hold misconceptions about IT work that discourage them from pursuing careers in the field.
Education
Every year, thousands of active military and veterans enroll as undergrads, but only half leave with a degree. What cheap and effective strategies could help our military complete college?
Ethics + Religion
Health + Medicine
Trending on site
It's time for newspapers to stop telling their dwindling number of subscribers how to vote.

Colleges and universities boast US$547 billion in endowment assets, yet only a handful of elite schools would be taxed under the proposal.

In our institutions of higher education and our research labs, scholars first produce, then buy back, their own content. With the costs rising and access restricted, something's got to give.
Armistice Day
| | | |
| --- | --- | --- |
| An executive order signed in 1917 created what's been called 'the nation's first ministry of information.' The media are still feeling its impact. | | Mental health trauma has always been a part of war. Treatments have come a long way over the last century, but we still don't understand why the responses change for different people and times. |
| Many associate post-World War I culture with Hemingway and Fitzgerald's Lost Generation. But for black artists, writers and thinkers, the war changed the way they saw their past and their future. | | A century ago, American women organized to protest World War I. The fact that their efforts failed isn't the most important point. |
| Before World War I, petroleum had few practical uses, but it emerged from the war as a strategic global asset necessary for national stability and security. | | Writings at the time of WWI aimed to construct a religiously diverse and conflicted America into a virtuous, Christian nation. This narrative continued in the cemeteries for the war heroes. |