Voters in six states cast ballots in a presidential primary today. Many will be asking themselves, "Which one's the most electable candidate?" as they consider who will get their vote.
"Electability" is a word that's been tossed around a lot in the last few months. Is a woman electable? Is a Democratic Socialist electable? Is a mainstream Democrat electable? Is a 78-year-old electable?
But is there an actual, fixed definition of "electable"? Political scientist Marjorie Hershey of Indiana University tackles whether everyone means the same thing when they use the word. Her answer: Turns out they do, mostly – but it's not what they think.
Also today:
Top story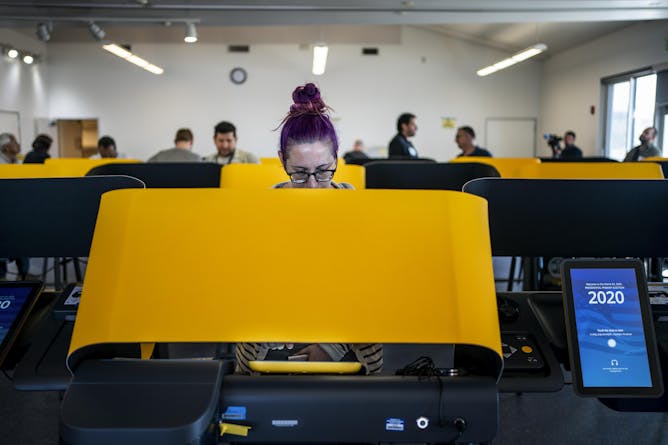 Why do some people think that Bernie Sanders isn't electable and Joe Biden is? Does anyone really know what makes one candidate seem electable while another doesn't?
Health + Medicine
Travelers may undergo screenings at airports to control the spread of coronavirus. Research shows that these efforts have little to no effect on slowing the spread of disease.

As the novel coronavirus spreads, an expert offers ways the elderly can stay safe while staying connected.

Rural African American families typically have more disadvantages than those living in urban areas. But high-tech options can help.
Economy + Business
A workplace scholar addresses some common questions workers may have about taking time off due to COVID-19.
Politics + Society
Since 2000, 89 new women have come to power in countries around the world – but the US still lags behind.

African American voters are indispensable to any Democrat strategy. Given party affiliation is increasingly split down racial lines, is the best tactic to get out the black, anti-Trump vote?
Ethics + Religion
Mennonites settled in Paraguay's arid Chaco forest a century ago, fleeing religious persecution. Their agricultural success is now driving deforestation, social change and rapid development.
Environment + Energy
Insect populations are falling as what they eat becomes more like iceberg lettuce and less like kale.
Science + Technology
A psychologist explains how to get a grip on anxiety triggered by COVID-19.
Education
Some graphic novels can spur teens' engagement with social justice issues.
From our international editions
The DNA of microbes and food trapped in the teeth can reveal information about diet and health.

An experiment in following China's lead while trying to respect democratic norms is causing tensions.

Hundreds of thousands of lakes, rivers and streams in the Arctic exist only because of the permafrost that lies beneath them. The warming Arctic threatens to change that.