The stock market is on edge as traders, policymakers and economists worry the economic impacts of the new coronavirus are bound to get a lot worse.
Michael Walden, an economist at North Carolina State University, says people increasingly ask him: Could a virus like COVID-19 actually trigger a recession? While it's too soon to tell in this outbreak, Walden considers the impact of the 1918 influenza pandemic – which infected a third of humanity – and identifies four ways the coronavirus could harm the U.S. economy.
Today the last episode of The Conversation's collaboration with WBUR and NPR's live national talk show "On Point" on the subject of truth airs. Guests will include Lee McIntyre, a research fellow at the Center for Philosophy and History of Science at Boston University, and Penn State political scientist and managing director of the McCourtney Institute for Democracy Christopher Beem.
Also today:
Top story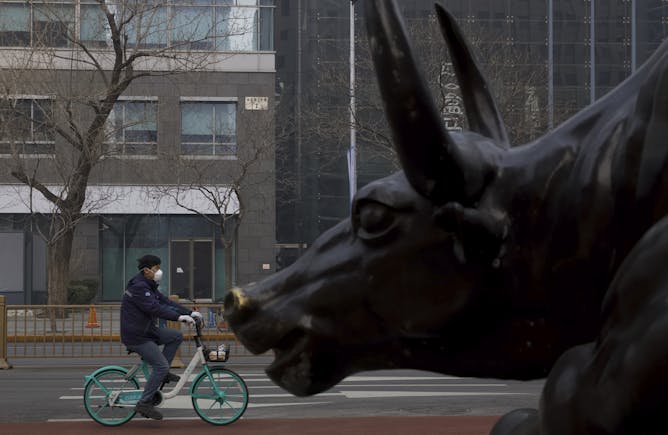 An economist explains how a virus like COVID-19 could disrupt the US economy – and why it's too soon to freak out just yet.
Health + Medicine
With the coronavirus spreading to more countries, public health officials in the US are warning Americans that coronavirus will become a problem in the US, too. What does this mean for you?

Women with less income and less education may be hurt most by gender discrimination.
Environment + Energy
Native Brazilians are among the Amazon's most effective defenders against logging and mining, because they're fighting not just for the environment but for their people's very survival.
Arts + Culture
When the holes – also called 'eyes' – don't appear in a batch, cheesemakers say the cheese is 'blind.'
Science + Technology
NASA scientist Katherine Johnson was instrumental in getting people to the moon. Here are some of the lessons one mathematics professor believes she taught us all.

A psychologist explains how to reestablish civil political conversation in your own life.
Politics + Society
Bernie Sanders is a Democratic Socialist, a potential problem for the presidential candidate. A Cold War campaign to link American-ness and capitalism helped create popular distrust of socialism.

This pillar of the American safety net originated as a solution to the paradox of hunger in the midst of plenty.

For more than two centuries, one particular epithet has resonated through US politics – and even helped inspire the unofficial mascot of a major political party.
Education
A reenactment of the largest slave rebellion in US history involves a plot twist. A scholar who studies race, history and memory says the new ending can spark new beginnings.
Ethics + Religion
During a recent visit to India, Trump spoke at the world's largest cricket stadium. Cricket came to India in the 18th century through British sailors and is a revered cultural institution in India.
Most read on site
As National Eating Disorders Awareness Week is observed Feb. 24-March 1, here are some things to consider.

Largely self-taught, Adams learned to harness the communicative power of photography during his years as a marketing photographer.

Films of the battle for Iwo Jima, being digitized 75 years after they were made, offer connections and lessons for Americans of today.